Are you spending 7 days in Thassos Greece, and can't decide on your Thassos itinerary? Seven days is almost enough since the island has a lot to offer, from stunning beaches to unique historical sites to charming mountain villages. To discover it all and have fun, here is a 7-day Thassos itinerary that will make your Thassos vacations unforgettable!
Day 1: Arrive in Thassos and Explore the Main Town, Limenas
After a pleasant ferry ride from Keramoti to Thassos, you'll arrive in the main town, Limenas. Drop your bags at your hotel and head straight to the promenade, where you can take a stroll and soak in the island vibes. You'll quickly find cute cafes and traditional tavernas, perfect for a coffee break or a delicious Greek meal.
Once you've had your fill, make your way to the lively market of Limenas. Here, you can admire and shop for various local products, including handmade jewels, Thassos marble products, and traditional Greek items. Take your time to explore the market and perhaps pick up some souvenirs to remember your trip.
Day 2: Beach Hop on the Northeast Coast
Thassos is famous for its stunning beaches, and today, you'll get a taste of the island's best. Start your day at Makryammos Beach, known for its crystal-clear turquoise waters. This secluded beach is surrounded by lush greenery, creating a picturesque setting for relaxation. Grab a beach chair, soak up the sun, and take a refreshing dip in the sea.
Next, head to Marble Beach, one of the most unique beaches on the island. As the name suggests, this beach is famous for its marble pebbles, which create a stunning contrast against the azure blue sea. Spend some time marveling at the natural beauty of this beach before heading back to your hotel.
End your beach-hopping adventure at Golden Beach, a long stretch of golden sand perfect for sunbathing and swimming. If you're feeling adventurous, you can even try your hand at water sports like jet skiing or windsurfing.
You can easily drive a car to Makryammos or Golden Beach, but Marble Beach is a bit more difficult to reach. Since the road there is not paved, prepare for some pumps and up to half an hour on the car.
If you want to avoid all this, you could easily rent an e-bike and get to Marble Beach faster while having much more fun. Even better, if you have an e-bike, you can cycle through the scenic dirt path that goes along the coastline and connects Marble and Golden Beach.
Not only will the e-bike save you time on the car, but it will also add thrilling views and picturesque scenery to your day. The road is good enough for everyone who can ride a bike.
Remember, if you take a car and want to reach Golden Beach from Marble Beach, you need to backtrack to Limenas or take the steep dirt road that leads toward Panagia village. Either way, it will add about an hour in the car, whereas you can spend 40 minutes on the ebike getting from Marble Beach to Golden Beach along the scenic coastline route.
Day 3: Visit the Archaeological Museum of Thassos and Tour the Ancient Sites
Immerse yourself in the rich history of Thassos by visiting the Archaeological Museum of Thassos. Here, you'll find a fascinating collection of artifacts and sculptures that date back to ancient times.
You'll learn about the fascinating Thassos history, the island's archaeological sites, and the significance of the artifacts on display.
You'll go through the museum's exhibits in chronological order, as if you're taking a journey through time. You would start with the earliest artifacts and gradually progress through the island's history. Along the way, you'll come across a wide range of items, such as pottery, sculptures, jewelry, tools, and more.
In my opinion, the highlight of the museum is its pottery. After all, Thassos is known for this art, and the museum showcases beautifully crafted ancient pottery from different periods, including the Archaic, Classical, and Hellenistic periods.
Once your tour of the archaeological museum is over, head out to explore the island's archaeological sites, such as the ancient Agora, the Roman amphitheater, and more, to see the history you've learned about in the museum come to life.
Finish with a hike to Akropolis, where you'll enjoy breathtaking views of the town and the sea. There, you can also notice remnants of the wall that used to surround the town. As you wander through the ruins, imagine what life was like in ancient Thassos.
Day 4: Rent a Car and Go for a Full Thassos Tour to make the most of your 7 days in Thassos
Today, it's time to explore the entire island of Thassos. Rent a car and start a full Thassos tour, starting with Paradise Beach. As the name suggests, this beach is a true paradise, with crystal clear waters and soft golden sand. Spend some time relaxing and swimming before continuing your journey.
Next, make your way to Aliki Beach and the archaeological site. This ancient site is home to the ruins of an old sanctuary dedicated to the gods Apollo and Athena. Explore the ruins and take in the breathtaking views of the turquoise sea. The area's beach is one of the most gorgeous and popular coves on the island.
As you continue your adventure, don't forget to stop by Giola, a natural swimming pool carved into the rocks. Dip in the emerald green waters and marvel at the stunning scenery. Giola is one of the top-rated attractions in Thassos and finds its way to the top lagoons in the world. So, consider yourself lucky and embrace this one-of-a-kind natural wonder.
Then, make sure to visit Archangel Michael Monastery, a picturesque monastery perched on a hilltop overlooking the Aegean Sea. Known for its stunning architecture and picturesque surroundings, the monastery will fascinate you with its beautiful courtyard, walkways, and gardens. You'll adore every second you spend in this serene ambiance.
If you have time, make sure to visit Gourna Waterfalls in the mountain village of Theologos and the scenic beach of Salonikios.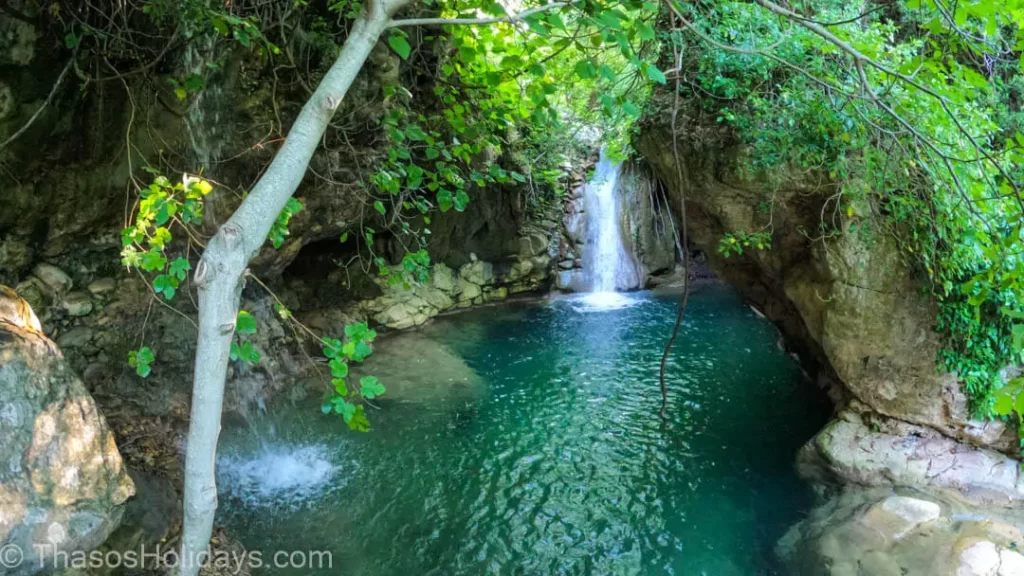 For lunch, head to Skala Maries, a charming fishing village known for its fresh seafood. Enjoy a delicious meal overlooking the sea while your kids can have fun at the island's unique aquapark, which is nearby.
The last stop before you complete the Thassos loop is Skala Kallirachi. Stop by Black Aroma, a local coffee shop, and savor a cup of Greek coffee while enjoying the laid-back atmosphere of the village.
Day 5: Hop on a Boat Tour to Limenaria
On day 5, let the sea guide you as you embark on a boat tour to Limenaria. There are several boat tour operators, such as Aegean Sea Cruises, Seamemories, or Smile Sailing, that offer day trips to this charming coastal town. Sit back, relax, and enjoy the scenic views as you cruise the coastline.
You'll stop by several popular Thassos beaches, including Pachis beach, with its shallow waters, and Tripiti Beach, known for its fabulous cave. But, most importantly, you'll have the chance to glimpse the hidden and remote beaches of Thassos. Those will be your favorite!
Once you arrive in Limenaria, take some time to explore the town. Stroll along the waterfront promenade, indulge in delicious seafood at a seaside taverna, or simply relax on the beach. The village offers a more laid-back atmosphere than Limenas, making it the perfect place to unwind.
While in Limenaria, it is worth walking to the nearby hidden cove of Limenaria to explore and swim with no one around. This is one of the best things to do in Limenaria.
A traditional alternative for a sea cruise would be to join a fishing boat tour in Thassos. If you do that, not only will you have the chance to witness the island's thrilling coastline, but you can also admire the locals' fish techniques and even catch your own dinner.
Day 6: Join an E-Bike Tour to Explore the Thassos Mountains
If you're up for an adventure, join an e-bike tour to explore the mountains of Thassos. The tour will take you through the picturesque mountain villages of Panagia and Potamia, where you can admire traditional stone houses and enjoy stunning views of the surrounding landscape.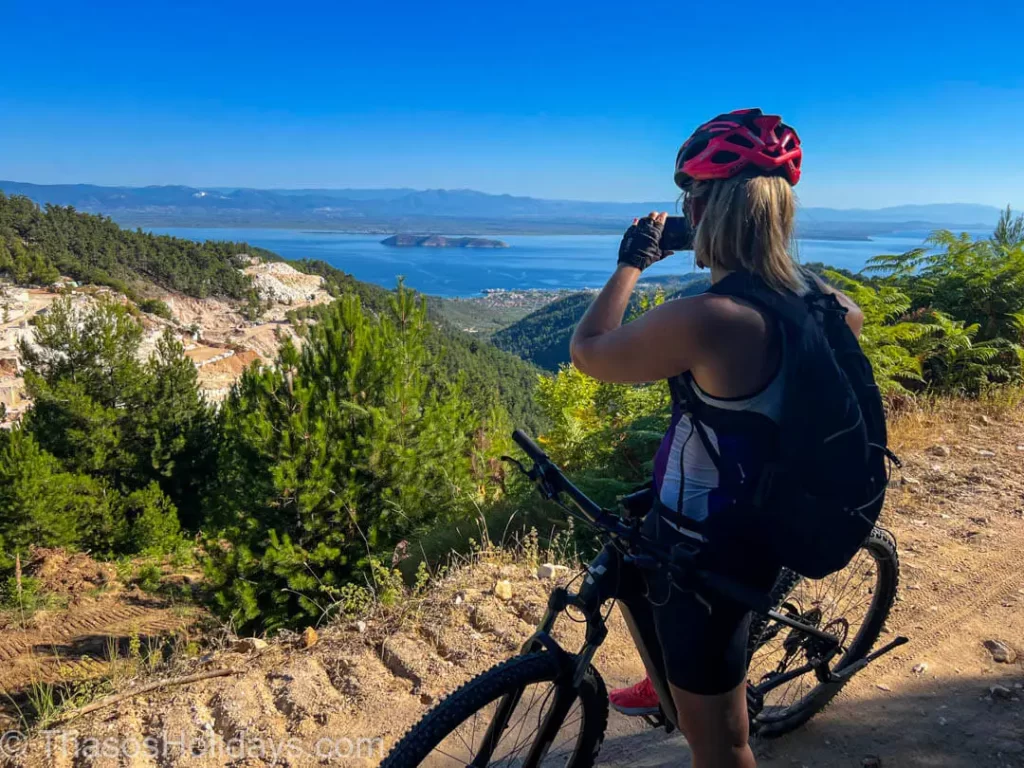 I promise you this e-bike tour will be the highlight of your Thassos vacations. You'll be able to step foot on spectacular places and viewpoints only few visitors get to see. It's a journey to the marvels of Thassos nature, and you'll be in the front row.
As you cycle through the Thassos mountains, you'll have the opportunity to stop at local tavernas and taste traditional Greek cuisine. You can even try some of the island's famous honey, which is produced in these mountain villages.
You can take an idea of the path you'll follow in the video below.
This route is recommended for anyone who knows how to ride a bike and does it regularly. If you're new to the sport, we'll avoid most dirt paths and still be able to experience life on the mountain villages and even go as far as Paradise Beach.
Day 7: Relax at La Skala Beach and Last-Minute Shopping for your 7 days in Thassos
On your last day in Thassos, take some time to relax and soak up the sun at La Skala Beach. This beautiful beach is known for its luxury amenities and tranquil atmosphere, making it the perfect spot to unwind before your departure.
To make things even better, you'll love the crystal-clear waters of La Skala Beach, inviting you for a refreshing swim. The gently sloping sandy bottom makes it safe and enjoyable for swimmers of all ages.
If you're feeling adventurous, you can try water sports such as jet skiing, paddleboarding, or parasailing, available for rent at La Skala Beach. Snorkeling is also a popular activity here due to the underwater beauty and the visibility.
Alternatively, take a stroll along the coast or explore the nearby area. You might discover small coves, charming fishing boats, and picturesque scenery. Whenever I go to La Skala, I love heading north along the coastline towards the next beach. The rocks are simply spectacular.
Finally, before leaving Thassos, make sure to do some last-minute shopping. Limenas is home to multiple shops where you can find everything from local handicrafts to designer clothing. Pick up some souvenirs to remember your time in Thassos and bid farewell to this stunning island.
Additional Tips for Planning Your 7 Days in Thassos Itinerary
How to Get to Thassos
The easiest way to reach Thassos is by taking a ferry from the port of Kavala or Keramoti. There are regular ferry services that connect the mainland to Thassos, usually every half an hour from Keramoti or every 2 hours from Kavala.
Is Thassos Worth Visiting?
Absolutely! Thassos offers a unique blend of natural beauty and ancient history, making it a perfect destination for those seeking a relaxing and culturally enriching vacation.
Are 7 days in Thassos enough?
7 days in Thassos could be enough if you plan it wisely. You certainly can't see everything on the island, but you'll have plenty of time to relax and explore. Regardless, I'm sure you'll love Thasos and want to return; in that case, you have time to view almost all Thassos attractions during your two visits.
Thassos Ferry
When booking your ferry tickets to Thassos, it's advisable to get on the ferry at least half an hour ago and book on the spot, especially during the peak summer season. This will ensure you have a place on the ferry and can avoid any last-minute stress. Sometimes, the ferries are full and if you have a car, you must wait for the next.
Thassos Reviews for 7 days in Thassos
Before planning your trip to Thassos, read reviews from other travelers to get an idea of what to expect. You'll find that most people rave about the island's wonderful beaches, friendly locals, and delicious food.
Marble Beach Thassos
Marble Beach is undoubtedly one of the highlights of Thassos. Make sure to visit this unique beach and marvel at the natural beauty of the marble pebbles.
Where is Thassos Greece
Thassos is a Greek island that offers a true taste of Greek culture and hospitality in northern Greece. It's the northernmost island in the Aegean and only a 30-minute ferry from the mainland. From its ancient ruins to its picturesque villages, Thassos is a destination that will leave you wanting more.
When you arrive on the island, make sure to follow these 24 Thassos Travel Tips and avoid the following 20 common Thassos Travel mistakes.
And when you want to read something fun about the island during your holidays, here are 35 fun facts about Thassos.
If you want to show off your Thassos holidays on Instagram, visit the 20 most Instagrammable places in Thassos or these 22 off-the-beaten-path Thassos locations.
To look even cooler in your posts, remember to spice up your Instagram or Facebook feed with one of these 106 Captions and Quotes about Thassos.
Conclusion for 7 days in Thassos Itinerary
With its stunning beaches, rich history, and charming villages, Thassos offers a vacation experience like no other. Whether you're a beach lover, a history enthusiast, or simply looking for a relaxing getaway, Thassos has something to offer everyone. So pack your bags, book your tickets, and prepare for an unforgettable adventure with this 7-day itinerary in Thassos!
Do you want more ideas for your Thassos holidays? Check out this 5-day Thasos itinerary or even this shorter 4-day Thassos itinerary for more inspiration!
For even more ideas, check out this complete list of 101 Things to Do on the Island, read my Comprehensive Guide on all Thassos Villages, or get inspiration from these 21 ideas for Day Trips in Thassos!
Bonus: where to stay in Limenas during your Thassos Day trips adventures
A Thassos day trip is never complete without beautiful accommodation for you to shower and relax at the end of your day. Toward that goal, here are some suggestions on where to stay in Limenas Thassos:
It's a good idea to book your accommodation well in advance, especially during the peak tourist season (summer), as Thassos can get crowded. The right choice depends on your preferences, budget, and the kind of experience you want to have during your stay in Limenas Thassos.