Are you trying to find the best time to visit Thassos? Or do you want to know more about Thassos weather yearly? Here's everything you need to decide when to visit Thassos!
After all, timing your trip to Thassos is crucial to ensure you have the best experience possible. In this ultimate guide, we will explore the best time to visit Thassos Greece, the island's weather and climate, and the pros and cons of visiting during different months.
So, grab your sunhat, and let's dive into the world of Thassos!
When to visit Thassos, Greece?
Thassos is a year-round destination, but the best time to visit depends on your preferences and what you want to experience on the island. Each season offers its own unique charm, from vibrant summers to peaceful winters. You can maximize the fun and minimize the crowds by timing your trip correctly.
If you're a fan of long, hot summer days and high temperatures, July and August will be the ideal months to travel to Thassos. All businesses on the island are open, such as the Aqua Park in Skala Maries, open from the end of June to the beginning of September. On the downside, these are the most crowded months, and prices tend to be higher.
The shoulder seasons
The most popular times to visit are from the end of May to the middle of June, as well as from the second week of September through the end of October. For many, this period is the best time to visit Thassos.
These are the months when the weather is warm and often sunny, showers tend to disappear, and the island is not as crowded as in summer.
These two periods – from May to June and from September to October are known as shoulder season, a time of the year that's particularly warm in Thassos, with pleasant weather to enjoy outdoor activities without breaking a sweat.
You can comfortably hike in the Thasos mountains, go sightseeing in the old towns, visit traditional villages and open archaeological sites, and – of course – go to the beach.
Especially during September and the beginning of October, and after a long hot summer, the sea temperature is pleasantly warm and perfect for swimming!
In my opinion, the shoulder season is the best time to rent an ebike and explore the mountain and Thassos with more comfort. You can have the e-bike delivered to your accommodation or even join a Thassos eBike tour.
Why timing your trip to Thassos is important
Timing your trip to Thassos is important for several reasons. Firstly, the weather and climate play a significant role in the activities you can enjoy. Secondly, the number of tourists varies throughout the year, affecting the overall atmosphere and availability of accommodations and attractions. By understanding the timing, you can plan your trip accordingly and make the most of your time on this beautiful Greek island.
Choosing the right time will unlock all the fantastic day trips in Thassos that you can do only in certain seasons. Ultimately, the best time to visit Thassos might be subjective, but it's almost always a matter of timing.
Thassos weather and climate
Thassos enjoys a Mediterranean climate with hot, dry summers and mild, wet winters. The island experiences plenty of sunshine throughout the year, making it an ideal destination for beach lovers. However, it's worth noting that the temperatures can soar during the summer months, so be prepared for some scorching sun.
High season vs. low season
Thassos experiences a high season during the summer months, from June to August, when the island is bustling with tourists. The beaches are packed, and the streets of Thassos town are filled with excited visitors. On the other hand, the low season, which includes spring and autumn, offers a quieter and more peaceful atmosphere. The beaches are less crowded, and you can truly immerse yourself in the local culture.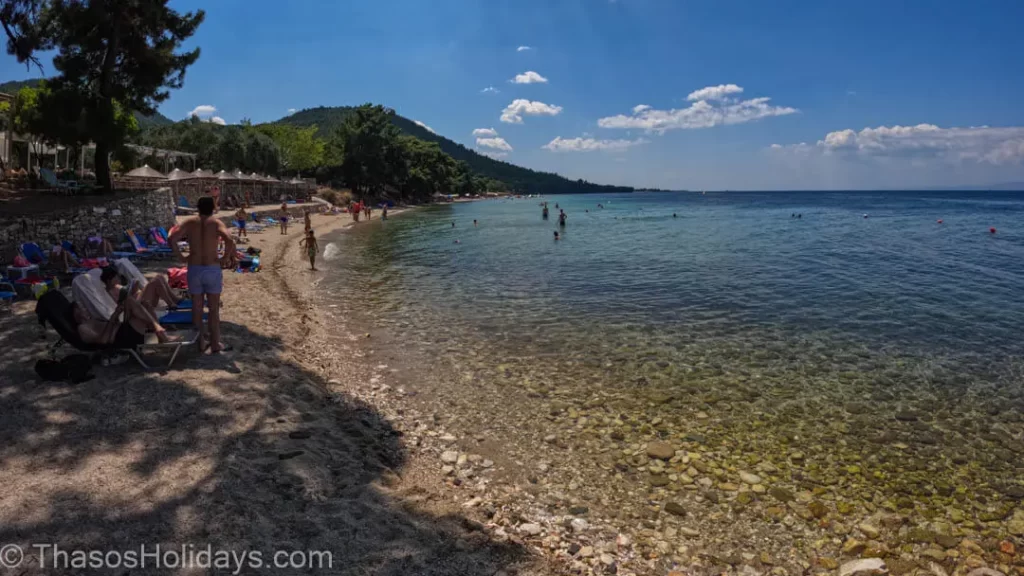 Planning your trip: choose the best time to visit Thassos
March, April, and May are perfect for visiting Thassos if you prefer a peaceful getaway. The island is in full bloom during spring, with colorful flowers adorning the landscapes. The weather is pleasant, making it ideal for exploring the archaeological sites and hiking trails. The only downside is that some hotels and restaurants may remain closed during this time.
By the way, if you haven't decided on your Thassos itinerary yet, check one of my suggested itineraries for your Thassos holidays: a 7-day itinerary, a 5-day itinerary, or a shorter 4-day itinerary.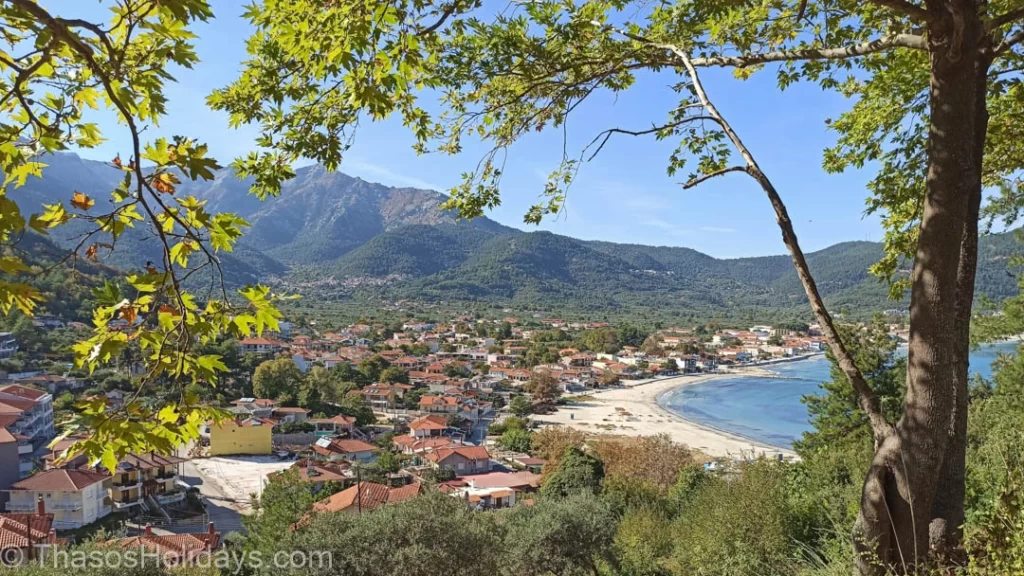 Pros and cons of visiting Thassos in different months
Things to do in Thassos during the low season
During the low season, there are plenty of activities to enjoy on Thassos. You can take leisurely walks along the beach, visit the charming villages, explore the island's waterfalls, or indulge in local cuisine at the traditional tavernas. It's also a great time to visit the famous natural pool, Giola Lagoon, where you can dip in its crystal-clear waters without the crowds.
Best beaches to visit during the high season
If you plan to visit Thassos during the high season, you'll love the water. The island boasts some of the most beautiful beaches in Greece, such as Marble Beach, Paradise Beach, and Golden Beach. These sandy stretches are perfect for sunbathing, swimming, and water sports.
Just be prepared for the crowds, especially during July and August. For a more serene and peaceful experience, head to Salonikios Beach.
Summer in Thassos (June, July, and August)
Summer in Thassos is a vibrant and lively time and, for many, the best time to visit Thassos. The island comes alive with tourists from all over the world. The beaches are buzzing with activity, and the beach bars and clubs are in full swing, especially in Potos and Limenas. It's the perfect time to soak up the sun, enjoy water sports, and indulge in delicious Greek cuisine.
In general, summer is the season preferred by beach enthusiasts. This is when tourists from all over Europe flock to Thassos, especially from the Balkans.
Since the island offers plenty of different types of shores, you will undoubtedly find the kind of beach you prefer, either with fine sand or with pebbles, ideal for snorkeling, sunbathing, or naturist-friendly.
For instance, Marble Beach and Paradise Beach are two of the most popular beaches on the island, and they get hundreds of visitors during the whole season.
Other shores might be less popular (Psilli Ammos, Pachis, and Golden Beach) but can still be overcrowded, especially on the weekends when the locals choose to go to the beach.
Thankfully, Thasos is home to tens of hidden beaches you can visit.
If you want to learn more, check out the top reasons to visit Thassos in the summer! Although a lot of them apply throughout the year, some are exclusive and available only during summer.
SUMMER IN THASSOS OVERVIEW:
From late June to the end of August (and the first week of September), Thassos experiences the high season, with very hot weather, sunny days, and tons of water activities to enjoy.
During this time, prices are also higher, yet it won't be difficult to find ferries to visit other islands since the frequencies are higher, too.
The sea temperature is warmer, especially from August to September. This is also the best time to enjoy the island's nightlife.
The weather is very hot, and many travelers seek relief in the mountains. On some days, there might be strong winds.
Spring in Thassos (March, April, and May)
Spring is, in my opinion, the best time to visit Thassos. The island is covered in colorful flowers, and the weather is mild and pleasant. It's an excellent time for outdoor activities such as hiking, exploring the ancient ruins, and discovering hidden gems. The only drawback is that some attractions may have limited opening hours during this time.
The atmosphere that invades Thassos during Spring is, at the very least, festive. Summer is in the air, and locals will make sure you won't forget by organizing plenty of celebrations.
On the island, the fields blossom with wildflowers, and everyone is getting ready for Easter's major religious celebration in the Greek Orthodox calendar. If you are on the island during this time, you will enjoy the celebrations.
For instance, you can attend the candlelit processions on Friday night or assist in the spectacular fireworks of Easter Saturday at midnight.
It will be easy to find accommodation in the weeks leading to Easter, yet most hotels and tourist activities open right during the week of Easter or a few days after.
If you look at the weather, this is a great time to visit the beach if you enjoy deserted shores. Overall, days start to get longer, and it's not rare to find people swimming.
By May, the weather is way better, with warmer temperatures that allow for outdoor trips, while the most intrepid ones start visiting the local sandy beaches for an early tan.
There might be occasional showers, but not on a daily basis.
SPRING IN THASSOS OVERVIEW:
Due to its geographical position (north Mediterranean), the weather is often warmer than in the rest of Europe. Yet, swimming at the end of May might not be for everyone, as the sea temperatures can still be low!
Road trips can be most enjoyed during this time since it won't be scorching hot, and you can enjoy driving even on the hottest hours of the day.
Hotels tend to be cheaper during March, April, and May, and there will be more availability. However, there might be fewer activities available and most museums and attraction sites often operate on reduced hours.
Autumn in Thassos (September, October, and November)
Autumn brings a sense of tranquility to Thassos. The crowds have dispersed, and the temperatures remain warm enough to enjoy the beaches. It's the perfect time for nature lovers, as you can witness the landscape's changing colors and take leisurely walks along the coast.
While the weather is warm until almost the end of October, most activities return to normal, with schools opening during the first or second week of September.
From mid-October, also expect to find many resorts and seaside hotels closing their doors – although as years go by, many hotels tend to operate all year round.
In the fields, locals get ready to harvest the grapes and start the winemaking season.
If you're looking for pleasant weather, with plenty of sunny days and beach time, then you can't go wrong picking September.
This is when the island is less crowded, but there's still a lot to do and plenty of activities to attend. September is also the best month for holidays on the island with small kids. (Older kids tend to like October). The sun's rays in September and early October are still intense but the temperatures are not so high. Therefore, there's less risk of heatstroke.
During September, you will find the warmer sea temperature of the year. Nights can be a bit cooler, which brings a lot of relief.
In general, early September, in my mind, makes for the best time to visit Thassos, along with late spring.
If you enjoy local celebrations, don't miss the parade on October 28th to commemorate Oxi Day, the famous "no" that the Greeks answered to Mussolini upon his request to allow the Italian troops to enter Greek territory. The date marks the entrance of Greece in the II World War.
The end of October and a good part of November are dedicated to producing the delicious Thassian extra virgin olive oil.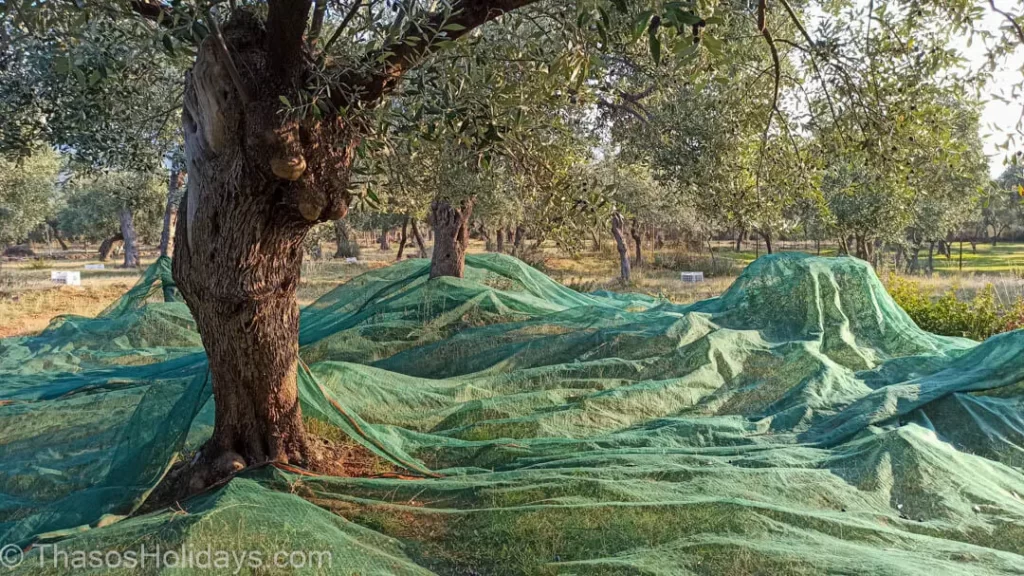 AUTUMN IN THASSOS OVERVIEW:
The weather is still warm, and the days are sunny, but the temperatures won't be as high as they are between July and August, making a stay on the island more bearable.
Especially in early September, the sea temperature is very warm (after months of basking under the sun), which makes it a perfect condition for kids who love to swim but don't enjoy cold waters.
Since tourism on the island goes until mid-September, prices won't be as convenient as in October. It's common to find the same fees you would find in summer during the first half of September.
The first rains of the year start around mid-September, but they aren't as copious as they become by the end of November. Pack accordingly, yet you might not encounter more than one or two rainy days.
Winter in Thassos (December, January, and February)
Winter is the quietest time on the island. Thassos becomes a peaceful retreat, ideal for those seeking solitude and relaxation. The temperatures can drop, but you can warm up with traditional Greek coffee or explore the quaint villages. Just remember that some accommodations and restaurants may be closed during this time.
And since Greece is mainly known as a summer destination, Winter is not a usual time to visit the island. Besides, flights are often reduced during the season. However, regular ferries still connect Thassos to the mainland, making visiting it possible.
In winter, days tend to get shorter and colder; sometimes, it can be windy. Rains are also common throughout the island.
However, there are plenty of reasons why you should visit Thassos in winter. The island has a unique charm, and – if compared to the rest of Europe – winters are pretty mild, and temperatures will rarely go below zero. In fact, average temperatures range around 10°C (about 50°F).
You might find snow in the mountains, yet all dirt paths and hiking or cycling routes are accessible.
WINTER IN THASSOS OVERVIEW
Whatever you think or know about the island in summer, it does not apply in winter.
Thassos is an entirely different island during the colder months of the year. Forget about congestion and crowds; life now is slow and quiet. Yet, it is still captivating and worth discovering.
Although most stores, bars, and taverns are closed, there are places to visit, mainly in Limenas and Limenaria. These two largest settlements of the island are the meeting points for the youth and those up for shopping.
Although there are a few agricultural tasks, such as olive harvesting and gardening, winter for Thassians is the time to relax and recharge their batteries. Read more about Thassos in winter here.
In short, Winter in Thassos is windy and chilly, although dry enough for outdoor activities. You need a warm jacket to move around, even during sunlight. And the temperatures at night drop even further, sometimes below zero degrees.
Weather in Thassos Month by Month: Choose your best time to visit Thassos
To help you plan your trip to Thassos, here's a month-by-month breakdown of the weather:
March: Mild temperatures, occasional rain showers.
April: Increasing temperatures, more sunshine, blooming flowers.
May: Pleasant temperatures, longer days, perfect for outdoor activities.
June: Hot temperatures, sunny days, ideal for beach lovers.
July: Peak of summer, high temperatures, crowded beaches.
August: High temperatures, busy beaches, lively atmosphere.
September: Warm temperatures, quieter beaches, pleasant weather.
October: Cooling temperatures, occasional rain showers, peaceful ambiance.
November: Cool temperatures, fewer tourists, great for exploring.
December: Cold temperatures, quiet island, ideal for a cozy winter getaway.
January: Cold temperatures, limited services, perfect for solitude.
February: Cold temperatures, limited activities, suitable for relaxation.
Festivals and events in Thassos throughout the year
Thassos is not just about beaches and sunshine; it also hosts various festivals and events throughout the year. Here are some highlights:
Carnival (February/March): Thassos town comes alive with colorful parades, music, and dancing.
Panagia (August 15th): A religious festival celebrating the Assumption of the Virgin Mary with processions, feasts, and live music.
Olive Harvest Festival (October/November): A celebration of the island's olive harvest featuring traditional music, dance, and delicious food.
These are some of the best times to visit Thassos! If you have decided to visit the island, here is how to get to Thassos via ferry or air.
Tips for avoiding crowds in Thassos
If you want to avoid the crowds in Thassos, here are a few tips:
Visit during the low season: Spring and autumn offer a more peaceful experience.
Explore off-the-beaten-path beaches: Venture away from the popular tourist spots to discover hidden gems.
Avoid weekends: Weekdays are generally less crowded than weekends.
Book accommodations in advance: Secure your hotel or villa reservation early to avoid disappointment.
Final Thoughts about the best time to visit Thassos
Thassos is a destination that can be enjoyed year-round, each season offering unique experiences. If you prefer a lively and vibrant atmosphere, summer is the best time to visit.
If you're looking for a quieter and more relaxed vacation, spring and autumn are ideal. Winter is perfect for those seeking solitude and a cozy retreat. Consider your preferences and plan your trip accordingly to make the most of your Thassos adventure.
To help you with planning, make sure to check my ultimate Thassos Holidays guide or my supreme list of 101 Things to do in Thassos!
When you arrive on the island, make sure to follow these 24 Thassos Travel Tips and avoid the following 20 common Thassos Travel mistakes.
And when you want to read something fun about the island during your holidays, here are 35 fun facts about Thassos.
If you want to show off your Thassos holidays on Instagram, visit the 20 most Instagrammable places in Thassos or these 22 off-the-beaten-path Thassos locations.
To look even cooler in your posts, remember to spice up your Instagram or Facebook feed with one of these 106 Captions and Quotes about Thassos.
Conclusion on the best time to visit Thassos
Timing your trip to Thassos, Greece, is crucial for maximizing your fun and minimizing the crowds. Whether you prefer a bustling summer getaway or a peaceful winter retreat, Thassos has something to offer year-round.
From its stunning beaches to its charming villages, this Greek island is a true gem. So, pack your bags, plan your trip, and get ready to create unforgettable memories in Thassos. Opa!
Ready to experience the beauty of Thassos? Start planning your trip today and book accommodation to secure the best deals and availability.
One of the ultimate Thassos travel tips is finding the right accommodation. To help you with choosing, here are some stays I recommend on the island:

One of the ultimate Thassos travel tips is finding the right accommodation. To help you with choosing, here are some stays I recommend on the island:
Apartments and Studios
Renting an apartment or studio is a great option for those who prefer a more independent stay. These are available in various sizes and locations around the island. Among all the options, I'd highly recommend Studios Plaka.
Hotels
Thassos has numerous hotels, ranging from budget-friendly options to luxury resorts. Some of the most popular areas for hotels are Limenas (Thassos Town), Limenaria, and Golden Beach. My favorite one-of-a-kind hotel experience is A For Art Design Hotel. You need to book in advance because their rooms sell out so fast!
Traditional Guesthouses
You can experience Greek hospitality and immerse yourself in the local culture by staying in a traditional guesthouse. These are often found in picturesque villages like Theologos. My favorite pick is Elaion Terra Boutique.
Camping
Thassos is also a popular destination for camping enthusiasts. Several campsites on the island allow you to enjoy nature and the great outdoors.
Agrotourism and Eco-friendly Accommodation
Thassos is known for its lush landscape, and you can find eco-friendly and agrotourism accommodation options that connect you with nature and the island's sustainable practices. Check out Villas Thassos, where the owner plans to offer such services.
Boutique Hotels
If you're looking for a more unique and personalized experience, Thassos has boutique hotels that offer a more intimate atmosphere. My favorite high-end option is the Alexandra Golden Boutique Hotel in Skala Potamia.
All-Inclusive Resorts
For a hassle-free vacation, there are all-inclusive resorts on Thassos that offer meals, drinks, and various activities as part of the package. I'd recommend Blue Dream Palace for such holiday types.
Beachfront Accommodation
Thassos has many options for beachfront stays, so you can wake up to the sound of the waves and have the beach at your doorstep. I would recommend Navis Luxury with eyes closed.
Budget Accommodation
If you're traveling on a tighter budget, you can find budget-friendly hostels and guesthouses in various parts of the island. Goutadika in Limenas is one such option.
Villas and Vacation Homes
Thassos offers many beautiful villas and vacation homes for those seeking a comfortable private retreat. These are ideal for families or larger groups. My favorite pick is Pine Beach House, right on the beachfront.
And if you haven't decided on your Thasos itinerary yet, check one of my suggested itineraries for your Thasos holidays: a 7-day itinerary, a 5-day itinerary, or a shorter 4-day itinerary.
While you're on the island, make sure also to follow these 24 insider Thassos travel tips and avoid these common 20 Thassos Travel mistakes.
And when you want to read something fun about the island during your holidays, here are 35 fun facts about Thassos.