Get to know Giola Thassos: everything you ever asked about Giola!
Giola is to Thassos what the Eiffel Tower is to Paris! A landmark you should not miss visiting. But before you do, here is everything you need to know about the picturesque lagoon of Giola Thassos.
GET TO KNOW THASSOS GIOLA
What is Giola?
Giola Lagoon is a natural pool surrounded by rocks and the ocean on the island of Thassos, Greece. Said to be created by Zeus, this beautiful natural swimming pool is the diamond and landmark of Thassos. You will love it for its tall rocks and crystal clear waters.
How did Giola form?
Giola is a natural lagoon carved out of the Thassos rocks over millions of years. The reason? The constant waves and erosion dissolved many rocks and allowed this body of water to form from ocean water.
What is the mythology behind Giola?
There are two mythological stories about Giola. One says that God Zeus created the lagoon so that his wife Aphrodite would use it to bathe. The other myth says that Zeus made Giola as an eye through which to gaze upon his lover, Aphrodite.
Is Giola worth visiting?
Yes! Giola is one of the rarest natural lagoons of its kind. It frequently appears in magazines and journals worldwide. Yet, the number one reason you want to visit Giola is the experience of swimming inside rocks centimeters away from the rough sea. You don't want to miss that.
What is the height of Giola Thassos?
The rocks surrounding Giola reach up to 8 meters in its tallest northern part. As you come closer to the sea, the rocks slowly get shorter, so you can jump into the water from any height you wish. You can even walk into the pool if you want.
How is the water in Giola?
The water you see inside the Giola lagoon comes from the ocean but is always warmer than the sea due to longer exposure to the sunlight. The waves replenish it and always keep it clean. The locals have also installed a pump water system to remove any excess dirt when needed.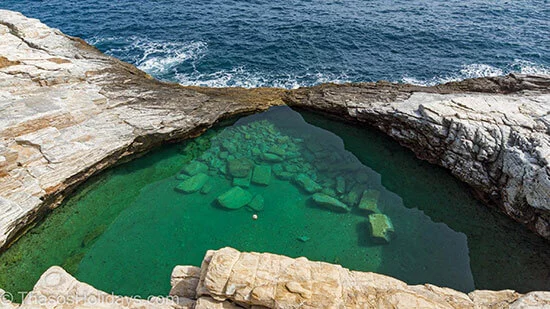 What is the shape of Giola?
If you see Giola from the sides, you may notice it looks like a heart. If you, however, look at it from above, it resembles a drop of water. Yet, ancient Greeks disagree! According to Greek mythology, Giola has the shape of Aphrodite's Tear.
How deep is Giola?
The waters in Giola Thassos reach up to 3 meters in-depth, but this is only at the northern part of the pool. On the sides and closer to the ocean, the water is shallow enough for you to step into it and walk. The total area of Giola is about 15*20 meters.
Frequently Asked Questions About Giola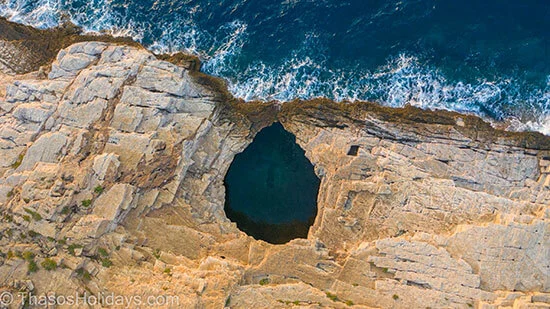 Is it safe to jump to Giola?
Although there may be many points from where you can jump into Giola, it is not always safe. Explore first the depth of the place you want to jump into, and see if you feel comfortable. In any case, make sure you don't hurt anyone on your way down.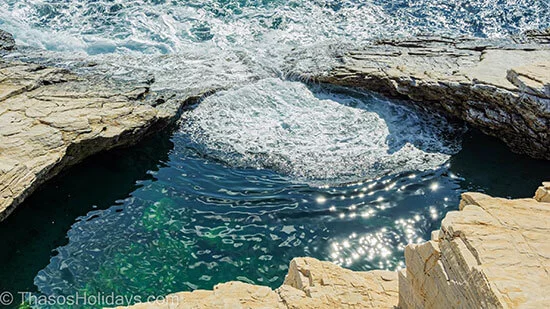 Is it easy to walk out of Giola?
After you jump into Giola, getting back onto a solid surface may not be the easiest feat for everyone. There are no steps to climb, but the pool's southern part is shallow enough for you to get out. At most, you may need to use all four limbs of yours.
Is Giola a beach?
Giola is not a beach. So you won't find any sunbeds or umbrellas around. Yet, you can lie your towel on a flat rocky surface to sunbathe and relax as you take in the views of this unique natural pool. Please note that there is no sand either.
Can I swim into the ocean in Giola?
The short answer is you can't. However, if the waves are calmer than usual, and you feel a sense of adventure, you can attempt to enter the ocean. Be aware, though, that getting back may be more challenging. In any case, make sure to wear swimming shoes to avoid sea urchins' stings.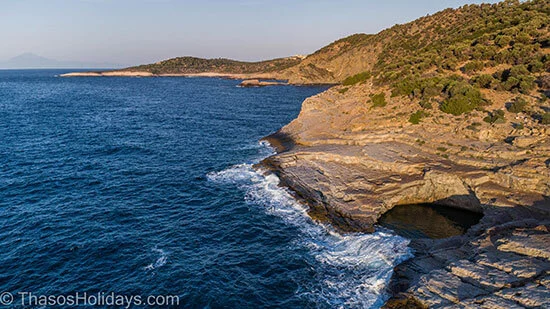 What to expect in Giola?
Expect to enjoy the breathtaking scenery that may leave you speechless. At the same time, the unparalleled beauty of this natural lagoon means many tourists want to see it too. As a result, Giola can get so busy that the whole experience may turn negative. So choose the time of your visit wisely!
Can I eat in Giola?
There are two places you can buy a snack or dine near Giola. Near the parking area, you will find the canteen from where the dirt road to Giola starts. Midway, you will come across a small traditional tavern where you can dine while enjoying the sea view.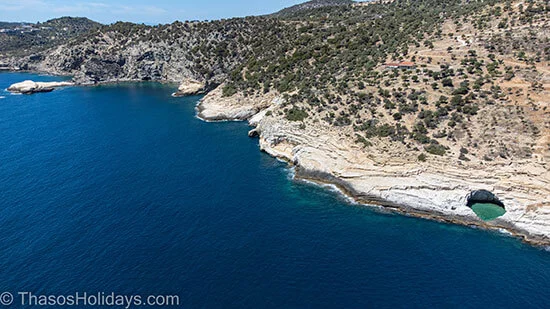 Where is Giola Thassos?
You will find Giola in the southern part of Thassos island, in an area called Astris. The nearest point of attraction is the Archangel Monastery, less than 5 kilometers away. To access Giola, you need to walk for about 10 minutes on a dirt road.
How to get to Giola Thassos?
The easiest way to reach Giola in Thassos is to drive from Potos to Astris. Once you get to the Canteen of Aphrodite's Myth, you will find plenty of space to park your car, 500 meters from the main road. Then walk on a dirt path for about 10 minutes to arrive at Giola.
Is it difficult to reach Giola Thassos?
Although it used to be challenging, the path that leads to Giola has now become considerably more manageable. A new cement road allows easier access and shortens the distance you have to walk. As a result, you only have to walk for about 10 minutes to visit Giola!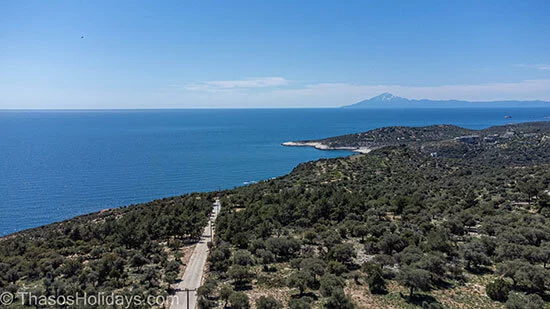 Can I drive to Giola?
You can drive to Giola up to a certain point. A few years ago, you had to leave your car on the main road or access Giola from the nearby Kalami beach. Today, you can drive to the area's canteen and walk about 500 meters to Giola.
Is it safe to drive to Giola?
Although safe, the new cement road leading to Giola is a bit steeper than many drivers would prefer. As a result, you may choose to leave your car on the main road and walk an extra 400 meters to the canteen, from which Giola is 10 minutes away.
Can I visit Giola by boat?
Indeed, you can. The only caveat is that you won't be able to swim in it because it is difficult to access the pool from the ocean. However, the photos you take will be stellar, and you will still love the whole experience!
From where can I take a boat to Giola?
The nearby ports of Potos and Limenaria are home to various boats you can rent or join for a trip to Giola. Whether you opt for a boat tour or a fishing trip, remember that Giola will be just one of your many stops. So, prepare for a day you'll long remember!
What is the best time to visit Giola?
Since Giola is the landmark of Thassos, it can get particularly crowded from late morning until sunset. As a result, you may be better off visiting Giola early in the morning. However, the crowds would be considerably less if you are in Thassos before July or after August.
I hope this small guide about Giola Thassos proves helpful.
In any case, I would like to hear your opinion about Giola.
Are you looking forward to seeing it?
Maybe you have a question about it that is not answered here.
Or, if you have been to Giola before, what are your thoughts about it?
Leave a quick comment below now!
And if you like what you see, follow ThasosHolidays on Facebook or share this post!