Get to know Golden Beach Thassos: everything you ever asked about the longest beach of Thassos!
Here is everything you need to know about Golden Beach Thassos before visiting this 2-kilometer-long Thassos Beach. Keep reading to discover the ins and outs of Golden Beach Thassos and get ready to explore its endless beauty!
GET TO KNOW GOLDEN BEACH THASSOS
What is Golden Beach Thassos like?
Golden Beach Thassos is a 2-kilometer-long sandy beach with everything you ever wished for your Greek holidays. Endless gold sand, crystal-clear waters, traditional taverns, modern bars, deluxe sunbeds, all-around accommodation, and watersports create the perfect setting for your Thasos Holidays.
What is the highlight of Golden Beach?
Although it is difficult to pinpoint just one thing that makes Golden Beach stand out, there is something that does make the difference. And that is no other than watching the sunrise from its shore. Imagine having your early morning coffee on the perfect sand of Golden Beach, overlooking a view that will leave you breathless.
What is the view from Golden Beach?
Golden Beach offers unparalleled views over the Easter Aegean and the Thracian sea. But that's just one side of the coin. If you turn around, you'll see vegetation reaching all the way to the shore. And just behind the olive groves, Mount Ipsarion rises over the bay, adding an extra beautiful touch to the already breathtaking scenery.
GOLDEN BEACH THASSOS VIDEO
GOLDEN BEACH THASSOS NAME
Is Golden Beach different from Golden Coast Beach?
Technically, they are the same beach, although they may refer to different sections. Golden Coast Beach is the southern part near Skala Potamia, and Golden Beach is the northern part near Skala Panagia. Although they used to be separate due to a small river, they are now part of the same beach.
From where does Golden Beach take its name?
If you visit Golden Beach on a hot summer day, you may notice the sun rays making the sand glow and sparkle. And because the beach is clean and well maintained, this phenomenon is more common than on other beaches. That is why they named it Golden Beach.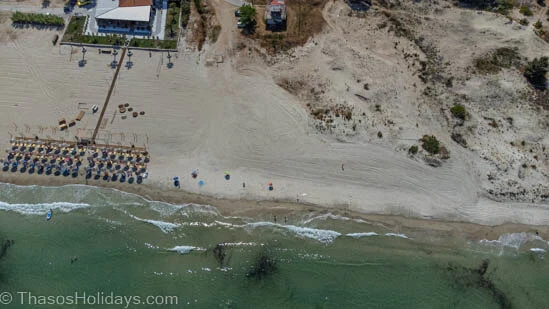 Is Golden Beach ideal for kids?
Thanks to its shallow and calm waters, your kids will love Golden Beach. The deep swimming part only starts once you walk about 50 meters into the water. Hence, you can relax on your sunbed and let your kids safely play on the shore, build sandcastles, and have fun.
GOLDEN BEACH THASSOS LOCATION
Where is Golden Beach Thassos?
You can find Golden Beach on the eastern part of Thassos, 11 kilometers from the island's capital. It spans two kilometers from the village of Skala Potamia on the southern tip to the northern end of the bay. Due to its proximity to Panagia, Golden beach also brings the name Skala Panagia.
What are the villages near Golden Beach?
On one end of the bay lies the picturesque fishing village of Skala Potamia, where you can indulge in one of the most delicious fish meals in Thassos. About 4 kilometers inland, the mountain villages of Panagia and Potamia offer scenic views over the entire length of Golden Beach.
How to get to Golden Beach Thassos?
The best way to get to Golden Beach is to drive there. If you are in Limenas, head towards Panagia in the east. Before entering the village, take a sharp left and continue your descent towards Golden Beach. If you are near Paradise Beach, drive north, and you'll see it on your right.
GOLDEN BEACH THASSOS ACTIVITIES
What to do in Golden Beach?
Your number one priority would be sunbathing, of course. However, that is just the tip of the iceberg. Whether you want to dine by the water in a fish tavern, go snorkeling, ride a jet skip, have fun with water sports, or walk from one end to another, Golden Beach has you covered!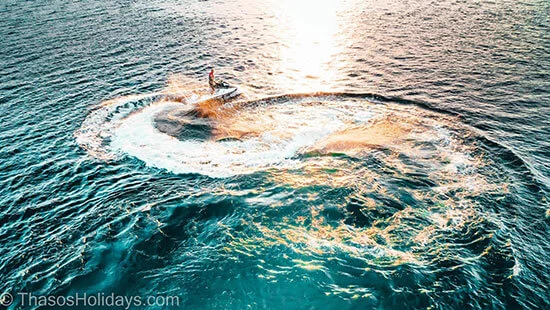 What water sports can I do in Golden Beach?
The water sports facilities in Golden Beach offer a wide range of activities, including ringos, fly bananas, sofa, twisters, water bicycles, sting rays, and more. You will find two water sports centers in the northern part of Golden Beach.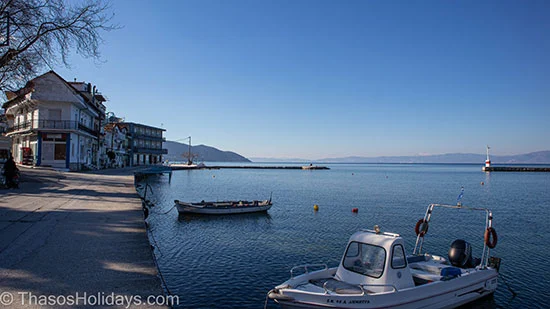 What can you buy in Limenas Thassos Town?
Expect to find a wide range of products and souvenirs in Limenas. Whether you want to buy original Greek folk art, brand clothes, or the latest style accessories, Limenas has your match. Above all, you will love the experience of exploring the picturesque local market.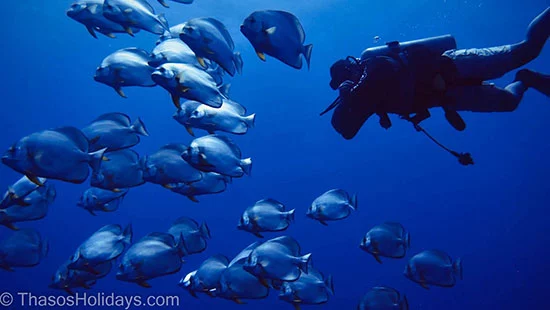 Can I go scuba diving from Golden Beach?
Yes, you can, and scuba diving is one of the best water activities in Golden Beach. You would need to book your trip at least one day ahead as the day starts early, and you must learn a few basics before you get into the water. There are two divings centers in the southern part of Golden Beach.
Feel free to also check this ultimate list of 101 things to do in Thassos!
FOOD IN GOLDEN BEACH THASSOS
Where to eat in Golden Beach Thassos?
Although there are taverns and bars across the 2 kilometers of Golden Beach, you will find most of them on the southern end, near the village of Skala Potamia. As you approach the area, you'll see on your left a series of traditional taverns right by the water.
Choose any of them, and you won't regret it. Although it may not always be accurate, the best option usually turns out to be the tavern with the most locals. So all you have to do is listen for the noise. Yes, Greeks can be loud when dining, but that's part of the appeal too
What to eat in Golden Beach?
Since you are by the water, it makes sense to opt for fresh fish or any seafood you like. Grilled octopus and fried squid are two of the most typical dishes you can have in Golden Beach. Above all, remember to ask the waiter what fresh fish they have, and they'll be happy to help you.
I hope this condensed guide about Golden Beach Thassos proves helpful.
In any case, I would like to hear your opinion about Golden Beach.
Are you looking forward to exploring its 2 kilometers of sand?
Maybe you have a question about it that is not answered here.
Or, if you have been to Golden Beach before, what are your thoughts about it?
Either way, leave a quick comment below now!
And if you like what you see, follow ThasosHolidays on Facebook or share this post!