Thassos is an absolutely spectacular destination to go walking in the mountains!
And the best part is that few people know it! Thassos is famous for its beaches, but its mountains remain a hidden marvel. At least for now.
Here is a complete guide to the most amazing hikes in Thassos!
Are you ready for amazing video footage, hidden routes, and insider tips? Keep reading to discover it all and more!
And above all, prepare to be amazed!
ABOUT HIKING IN THASSOS
First of all, walking is different from hiking, which is more demanding since you have to move on hills or mountains. Still, hiking is one of the 101 best things to do in Thassos.
Whereas this guide focuses on hikes in Thassos, there are 5 walks almost everyone can do in their Thassos holidays.
The guide starts with the top 10 hikes in Thassos. The main criterion for including a route here is its beauty. And that boils down to scenery and landscape.
Although I have hiked every mountain of Thassos, this list of top 10 hikes is only my opinion. In short, you may enjoy other hikes more, especially if they are easier to walk.
The degree of difficulty was not a criterion for this list. However, I have sorted these 10 hikes from the easiest to the most difficult. In other words, these are all spectacular routes, each with its own appeal.
Next are 15 beautiful Thassos hikes, similarly sorted from the easiest to the most difficult. Whereas the first 10 hikes occasionally require some off-road walking, most of the next 15 walks go through normal dirt roads or flat enough paths to cross them with a mountain eBike. Some of the paths are also part of the guided eBike Tours available.
Finally, you will see 5 coastal walks in Thassos. These are flatter routes than the rest and mainly pass by the water or have views over the ocean.
So, ready to roll? Here you go!
TOP 10 HIKES IN THASSOS
Skala Kallirachi Hike Loop 2.32km
This 2.5-kilometer hike from Skala Kallirachi is so easy that anyone can do it. You will walk through olive groves and enjoy a lovely view of the fishing village. And above all, you would never expect such a short walk to be that beautiful.
The hike starts and ends at the fishing port of Skala Kallirachi, which is the biggest in Thassos. You will first walk south and enter the region called Gonia. The name means Corner in Greek and comes from the area's natural protection against strong winds.
Next, you hike on top of the cliff behind the village, following a tiny trail that sheep and goats use. You will also enjoy a scenic view of the village until you arrive at a wider dirt road and complete your circle back to the port.
Limenas to Akropolis Hike 1.86km one-way
This iconic route from the old port of Thassos town to the historical Acropolis is full of history. And if that is not enough, you will get a splendid view of the island's capital at the end. All in under 2 kilometers.
The route passes above Evraiokastro, which today is home to one of the most scenic bars in Thassos: Karnagio. As you move towards Makryammos, you will see a sharp right with old stairs and an ancient deserted wall on the side. That is where you go. Then, you'll notice the ancient theater of Thassos, which is currently closed for renovations, but you can still see it from outside.
Despite the above sights, the trip's highlight is no other than the Acropolis and its views. You would need to follow the same route back for the return trip unless you feel adventurous (like I did once) and try to make way through a lost path to a local chapel. I won't recommend that, so you better be safe and turn back the same way.
Agia Marina to Kallirachi Hike Loop 5.26km
This 5-kilometer loop around the traditional village of Kallirachi will captivate you with its views and ever-changing scenery. Ideally, start your path from Agia Marina chapel. That is the most challenging part of the route, as you essentially have to walk on tiny goat paths for a while.
As you climb towards a dirt road, you will have a panoramic view of Skala Kallirachi and the coastline up to Plaka and Lagkada. Just remember to turn your head back to enjoy that view.
Finally, turn to the right towards a viewpoint of the mountain village Kallirachi. You'll know you are at the right place if you see a deserted truck with no wheels and no back. That would be a slight diversion from the loop before you pass through the village and find the main cement road leading back to Agia Marina chapel.
Tzines Cave Hike Loop 9.44km
Tzines cave is an overlooked historical sight and attraction of Thassos. Yet, it is a must-visit for every nature enthusiast or history lover. Although there is a shorter route to the cave, you can follow the hike I did to find its exact location.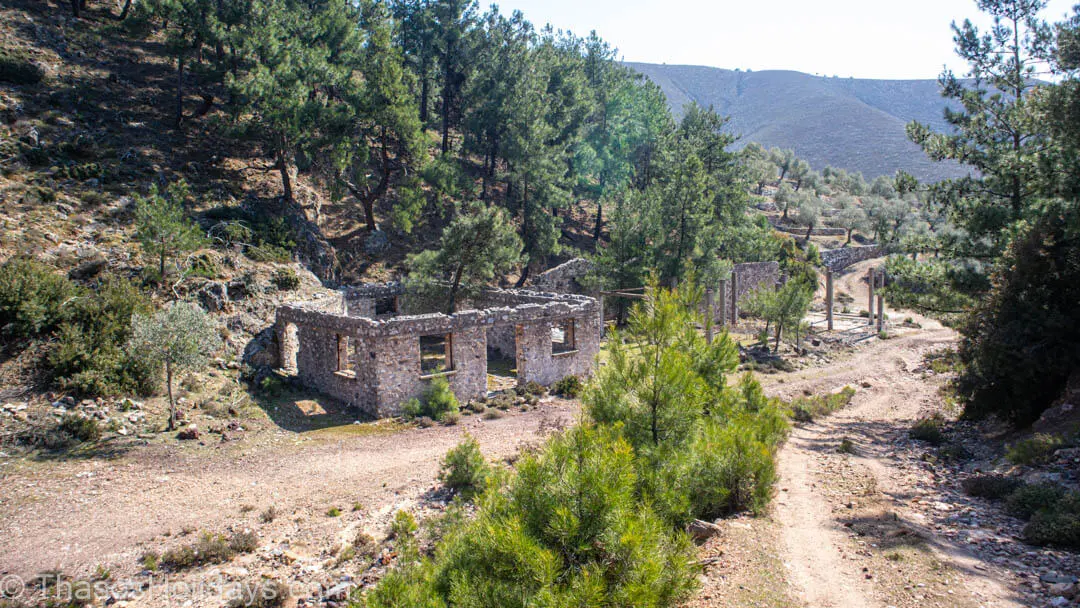 When I first hiked that path, Tzines cave was not on the map, and I couldn't find its coordinates. However, historical books have small maps of the cave, so I knew it would be between Maries, Limenaria, and Kastro. To find it, I started my path from the chapel of Agios Eleftherios, and the landscape impressed me.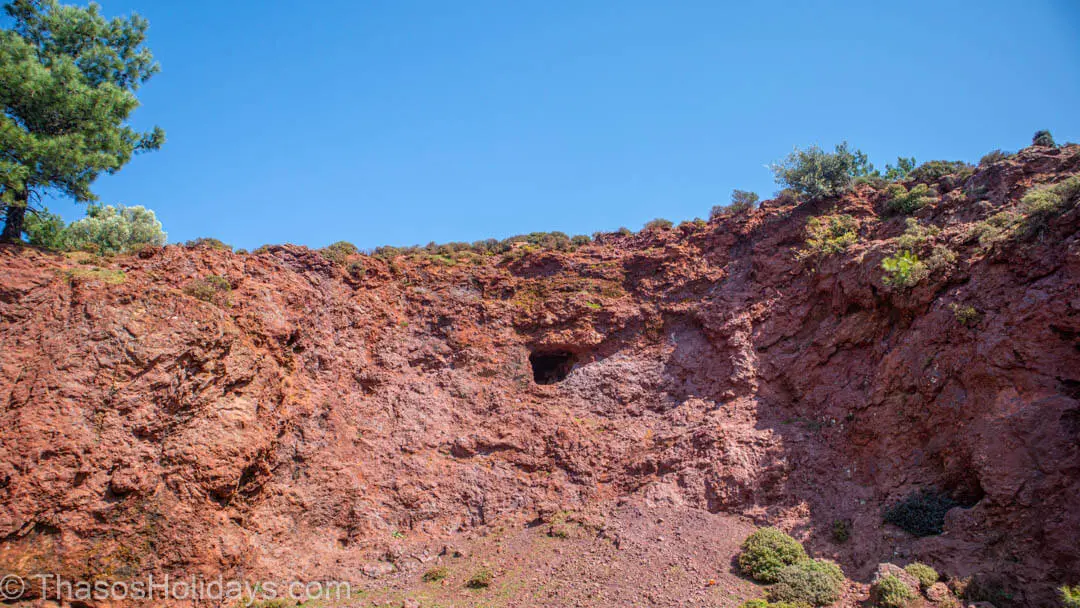 The first part of the hike goes through the main road, but it turns off track until you meet another dirt road leading to Tzines. Then, you will reach the road that connects Limenaria with Kastro and move your way down to the starting point after 10 kilometers in total.
Skala Kallirachi to Sotiras Hike 7km one-way
Although only 7 kilometers, this thrilling one-way hike from Skala Kallirachi to Sotiras is ideal for everyone seeking an adventure. Much of the route is off-track, yet that is where all the fun lies.
You will start from the port of Skala Kallirachi and climb the hill on the northern side of the village. Then, you would go halfway down the mountain from the other side to reach a dirt road leading east to the mountains. Note that, along the way, you may see wires that shepherds put on the streets to keep their sheep inside an area. Feel free to move them and then put them back as they were.
The dirt road leads to a seemingly dead end, but that is not a typical hike, as you have guessed already. Go ahead, and you will find a goat track that starts at the base of the northern hill and slowly goes up and connects with a direct path leading to Sotiros village. Have the above map on your phone throughout the route to help you keep on track.
Kinira Hike Loop 14.3km
Another demanding hike with a large section going off track starts from Kinira. Follow a deserted dirt road that leads to the base of a smooth hill. From there, slowly move up the mountain and once you are at its ridge, turn left.
You have only a few hundred meters left off-track before you get into the main dirt road near Theologos. The new path will feel like a grand avenue after the first stage! Yet, you only have to look at the lush vegetation to know you are in the heart of Thassos forests.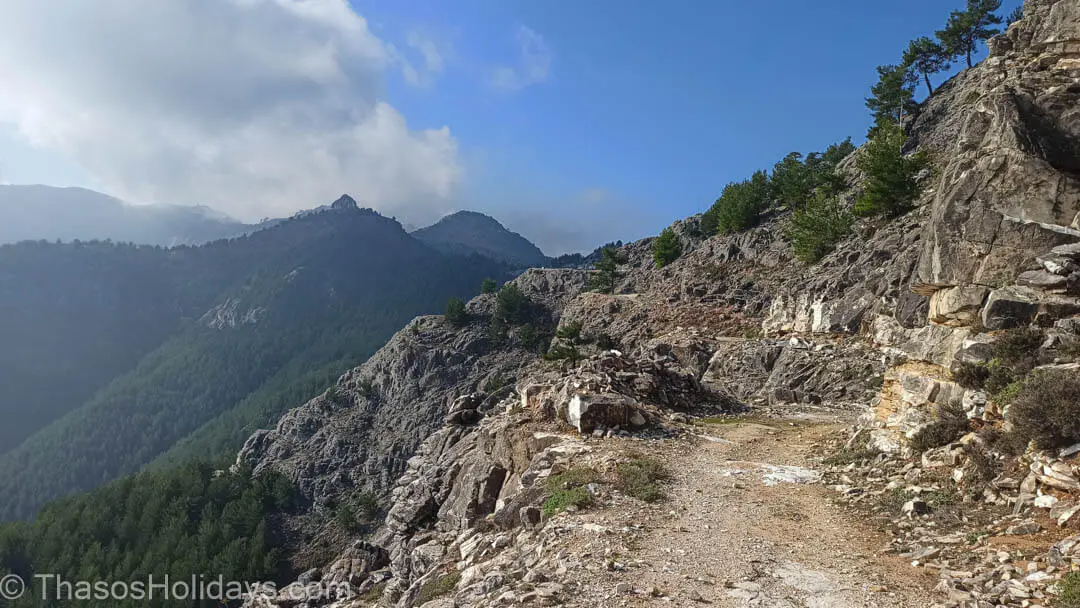 Once on the dirt road, go northeast towards Paleochori and enjoy the scenic views along the way. Then, the road takes a sharp right and heads back to Kinira village, where you started.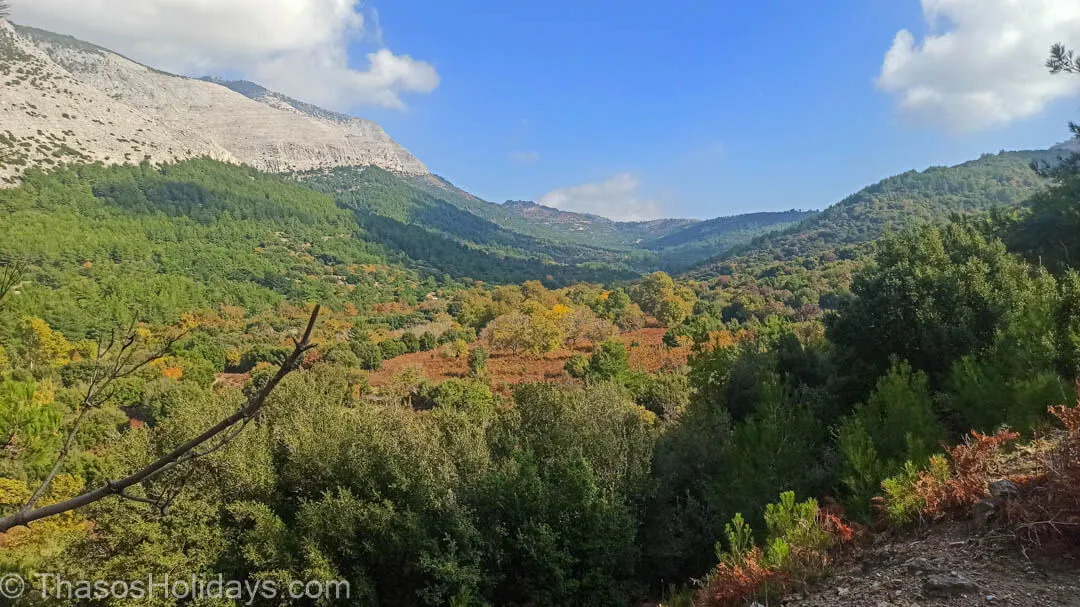 Plaka To Antennas Hike Loop 18.5km
My favorite hiking route in Thassos is a bit long but worth every meter! You start at Plaka and enter the olive groves towards Kallirachi. Before you reach the village, though, you turn right and keep going parallel to the coastline. Enjoy the view on your right until you reach a dead end from where you can see Skala Maries.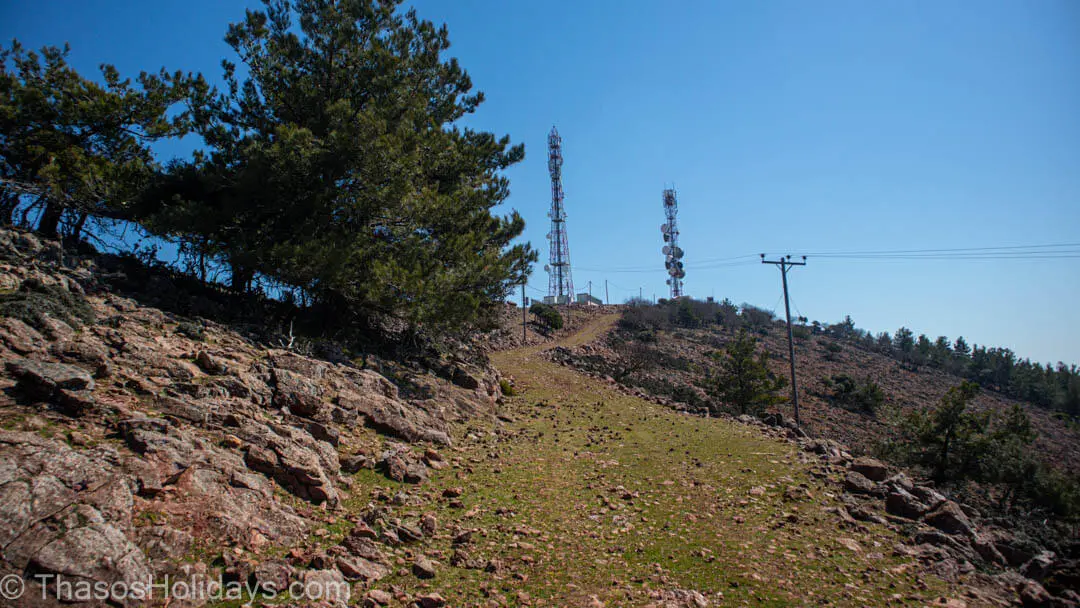 Then it is time to go a bit off-track and follow the ridge east until the region's antennas. Although it is not a designated path, you can easily walk it. Once you reach the top, you start your descent by continuing your way north. And here is where the best part begins.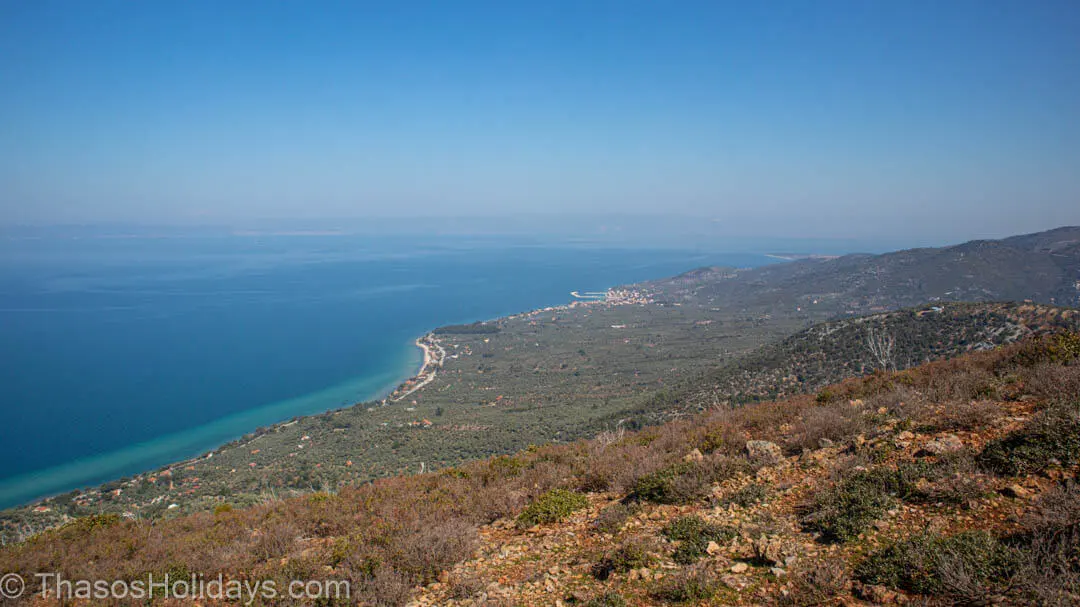 You will have a panoramic view of Skala Kallirachi on the north and Limenaria on the south. You won't know where to turn your head first! See the video below, and you'll understand. Finally, the way back passes through the village of Kallirachi and then the fishing taverns of Kilsma.
In short, exploring this part of Thassos on foot should be part of your Thassos plans. By the way, if you haven't decided on your Thassos itinerary yet, check one of my suggested itineraries for your Thassos holidays: a 7-day itinerary, a 5-day itinerary, or a shorter 4-day itinerary.
Potamia to Ipsario Hike 6.22km one-way
This hike from Potamia to Ipsario is probably the most known and popular in Thassos. And that is for a reason. Apart from its proximity to the main tourist centers of Golden Beach and Limenas, the track offers unparalleled views from start to finish.
You will start from the mountain village of Potamia and follow a smooth, well-maintained dirt road west towards Ipsario. The closer you get to the mountain, the steeper and the more complex the path gets. Although only about 6 kilometers, it is a very tough hike that will put a lot of pressure on your knees, especially on the way down.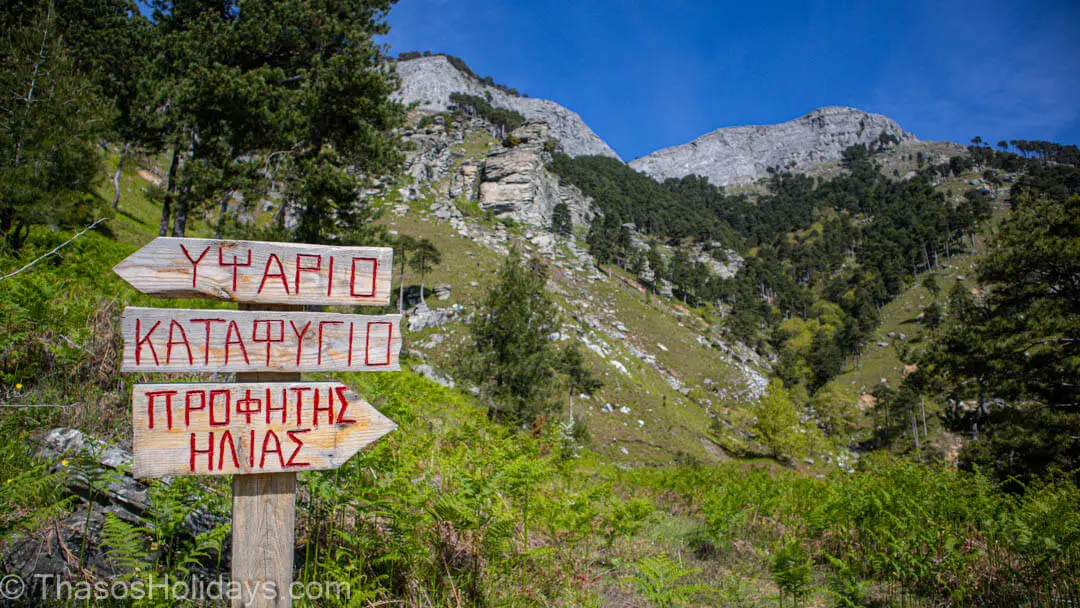 Along the way, you will see a traditional wooden house, which works as a refuge and inn, managed by the hiking association of Thassos. Follow the path towards Ipsario and embrace the view of Golden Beach. Because Ipsario is easily reachable by road, it may be busy, especially during August, so it is best to start the hike early.
Theologos to Viewpoint Paradise Hike 5.6km one-way
Another scenic route to Ipsario starts from Theologos village. However, the path is so difficult that you need an above-average fitness level to complete it. You can make things a bit easier if you don't go all the way to Ipsario and instead look for the viewpoint over Kinira.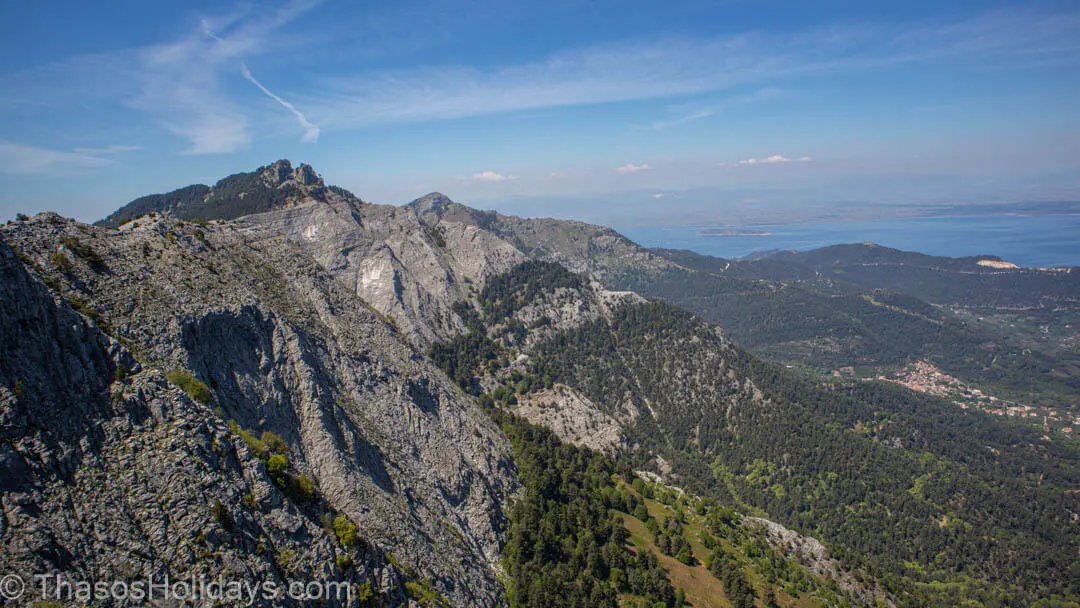 The first part of the route goes through a hill in a zig-zag formation. Pay attention to the red signs because otherwise, you would not be able to make out the track. Another alternative is to use the above precise map route. It took me a significant amount of effort as I had to pinpoint every 10 meters the coordinates of the path. You won't find any more precise map than that.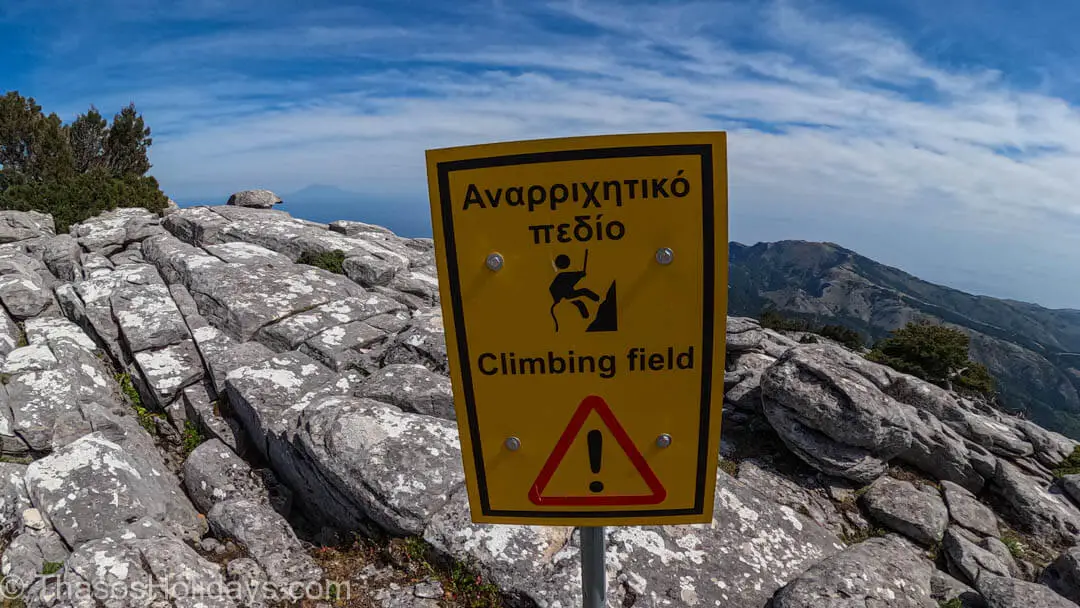 As you reach the ridge of the mountain that leads to Ipaario, turn right rather than left where Ipsario lies. You will see a sign that says it is a climbing field, but it is safe to walk a few hundred meters further. You will notice the point you need to turn back when you have a panoramic view of Golden Beach and Paradise Beach. After you enjoy the scenery, turn back the same way.
Theologos to Ipsario Hike 7.10km one-way
The path from Theologos to Ipsario makes the most demanding hiking route in Thassos for this top-ten list. The signs say 8 kilometers, and Google Maps says 7.10 kilometers. Still, if you count all the zig zags you inevitably make in such adventures, the hike could be 8 kilometers.
Regardless, it is not the length of the hike that will tire you. The landscape and the steep sections of the path will be your knees" worst enemies. Essentially, you will be walking 90% of the route on top of hard rocks and terrain. There are no dirt roads up here.
Thankfully, once you reach the main ridge, the fun part starts. You will be walking almost in a flat straight line for around one kilometer while you have a breathtaking view over Golden Beach on your right. And the same will happen on the way back. Note that the final ascend to Ipsario is particularly steep and demanding.
15 BEAUTIFUL HIKES IN THASSOS
Limenaria Hike Loop 9km
Turning back to more accessible hikes, this 9-kilometer loop from Limenaria is an excellent way to combine sea and mountain in one route. You will start from the port of Limenaria and pass through Palataki sight, the landmark of the village.
Once you reach the main street, you will cross to the opposite dirt road and slowly go up the hill surrounding the only open-air dance club of Thassos. Along the way, you will also get some interesting views of the taller mountains of Thassos.
The dirt road leads back to the main street, but this time you will be near Pefkari. Head towards the beach and follow a scenic footpath on the side until you pass near Metalia Beach and Palataki once again.
Skala Panagia Hike Loop 9km
If you stay in Skala Panagia and feel like hiking in the nearby area, you will love this route. The second half of the hike is through the settlement and the nearby plantations, so it may even feel like a walk. However, the path starts with an uphill section.
From the upper corner of Golden Beach, head further north on the dirt road that leads to Marble Beach, and then take a sharp turn left before you lose sight of Skala Potamia. You will then walk along a scenic route with views over the 2-kilometer-long Golden Beach.
As you move uphill on the dirt road, you will notice Panagia village is coming into the picture. Although you won't visit the settlement, you will enjoy a fabulous view of its traditional houses packed together inside a pine tree forest. After that, you will return to Golden Beach from the west.
Panagia Hike Loop 10.3km
Panagia village stands at the side of a tall hill covered with a dense forest of pine trees. In other words, this is a paradise for every hiker! That is why you will love walking around the village and exploring the area's lush vegetation.
This hike starts near the Dragon Cave and continues north through a walking path that leads to a wider dirt road near the main street. You head back south on elevated ground and pass above the village, effectively looping it.
The last part of the hike includes a smaller loop near the village of Potamia. You will also get views of the imposing mountain peak of Ipsario along the way. Finally, the way back to Panagia passes through the main road, offering scenic views over Golden Beach.
Potamia Hike Loop 10.2km
Another 10-kilometer hike around the plateau below Ipsario includes a loop around the traditional village of Potamia. The route starts from the same smooth dirt road that leads to the path for Ipsario.
However, before you get into the challenging section of the hike to Ipsario, you turn left and follow the dirt road south. You will be waking amidst a dense forest with lush vegetation that will relax you in no time.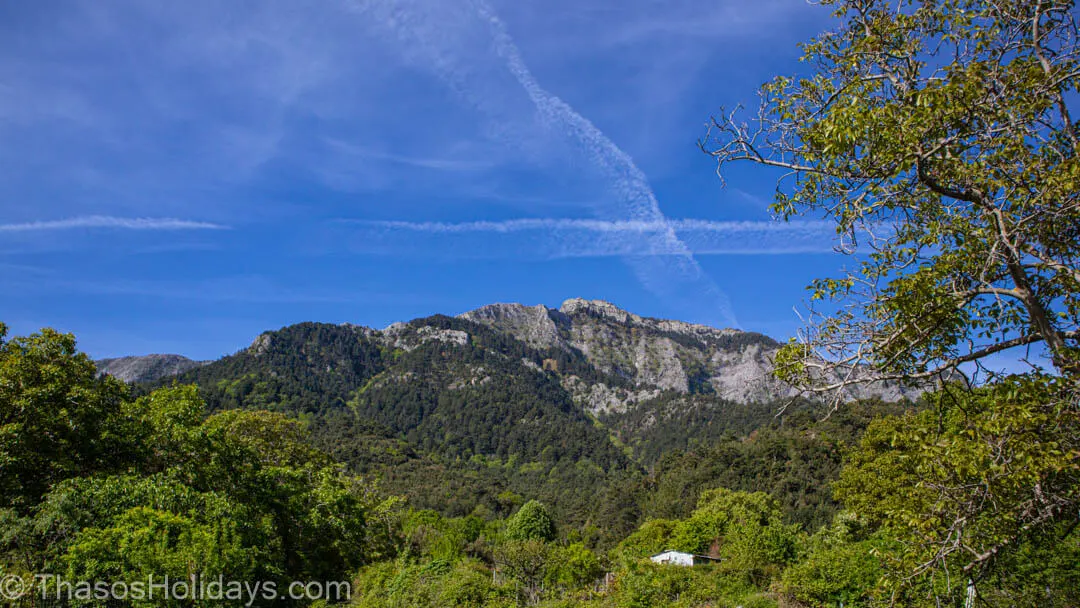 As you approach the southern tip of the loop, turn left and pass through a local water source near the area's camp facilities. Then, catch another dirt road that leads back to Potamia through an even more scenic route.
Kastro Hike Loop 10km
Kastro is one of the most picturesque and beautiful mountain villages in Thassos. Although it is more of a getaway resort for locals from Limenaria, you have every reason to visit and explore it. And when you do, consider hiking the area around it.
First, enter the dirt road near the Mountain Inn House at the village entrance. This path will lead you north towards the main crossroad of Thassos mountain routes. While you walk along the flat ridge, enjoy the scenery and the relative easiness of the path.
When you reach the crossroad, you will take the fourth path that goes down at a steep angle on your right. That route leads to Apostolus Waterfall, a scenic, isolated waterfall in Thassos. Take a break for a few minutes or more before you walk the most challenging part of the route that goes uphill back to Kastro.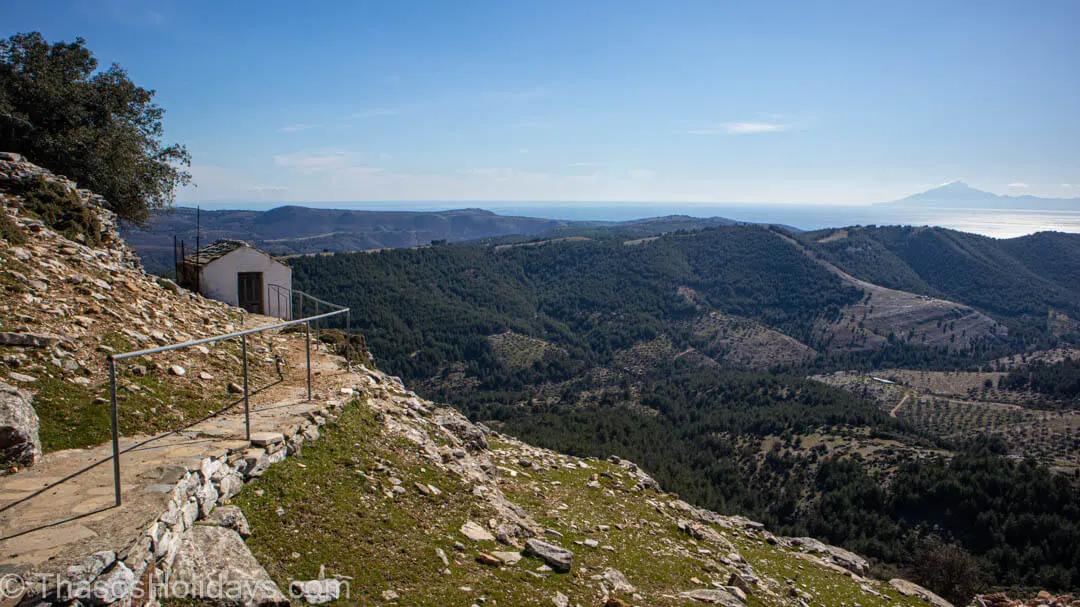 Kallirachi Hike Loop 10km
If you love local history, wanna see views, and walk in an ever-changing landscape, then this 10-kilometer hike loop is for you. You will start at the village of Kallirachi and head north before you follow a dirt road on your left.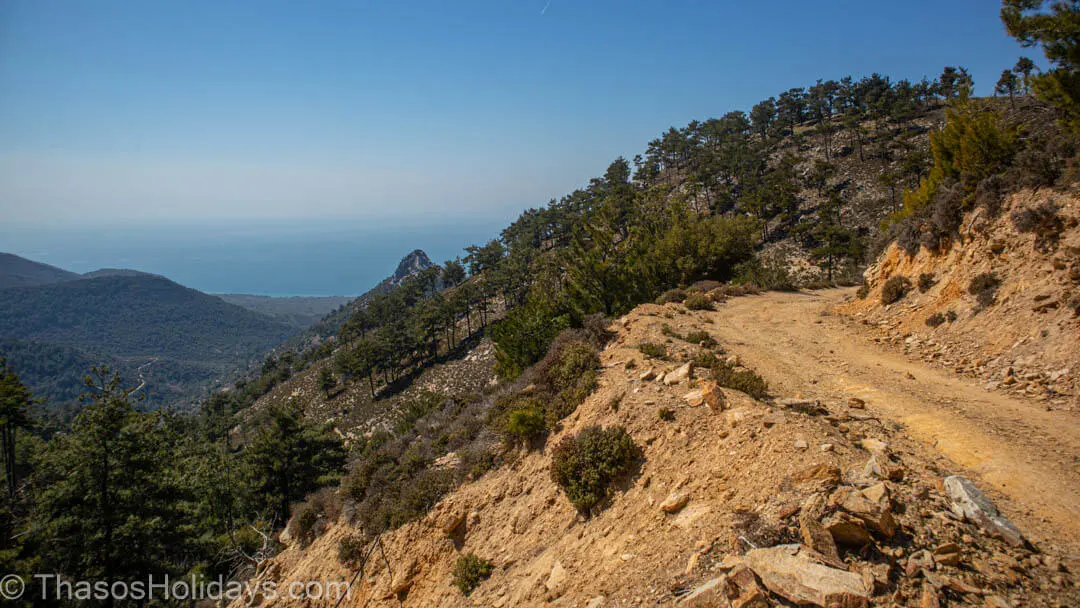 You will first pass through some wineries and a local water source, where you can enjoy some scenic views over Kallirachi and its brotherly fishing village. In the middle of your hike, you will visit the church of Metamorphosis on top of a steep hill, which the locals once used to protect themselves from pirate raids.
Finally, you will start your descent, passing through a barren section before entering a dense pine forest. The way back to Kallirachi also passes through two local chapels, which you can enter and admire their interiors.
Sotiros Hike Loop 10.7km
Sotiros is a tiny mountain settlement with just a few permanent inhabitants. However, the village makes a fabulous summer destination and a great starting point for a nature excursion. You will first head south along a small dirt path that passes through an area with lush vegetation.
You will then get to a viewpoint where you will enjoy a fantastic view of the west coast of Thassos. Take a break here and let the beauty of the place and the surrounding area captivate you.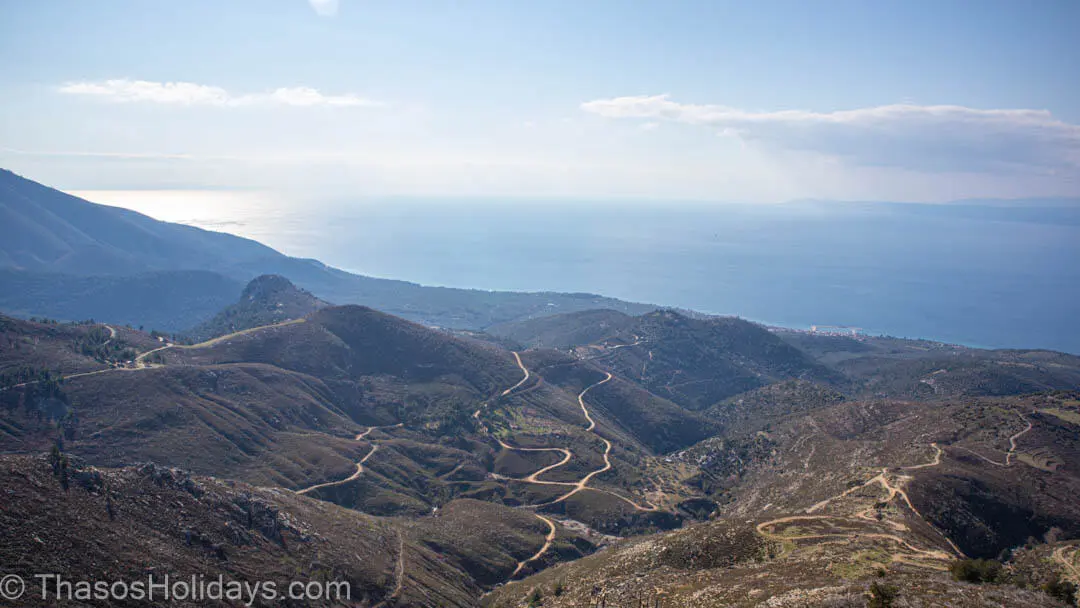 Finally, the way back to Sotiros passes through the monastery of Agios Panteleimon and the smaller chapel of Analipsi. Along the way, you will love both the views of Sotiros and the ever-changing landscape.
Limenas Hike Loop 16km
If you stay in Thassos town and are looking for a moderate hike near the capital of Thassos, you will love this 16-kilometer route. The path starts from the old port and passes through Evraiokastro and Makryammos.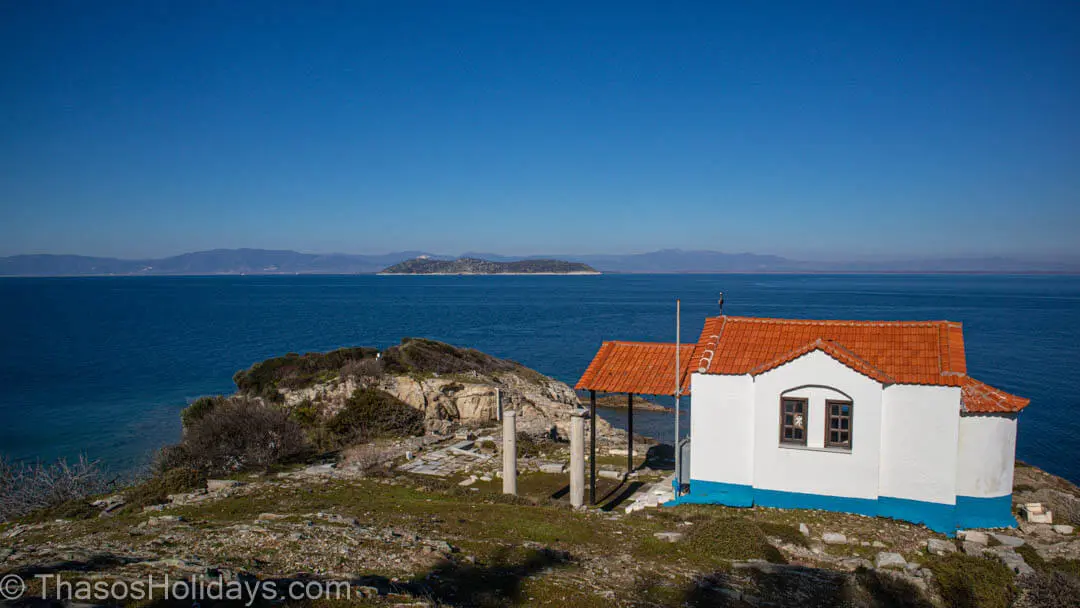 Apart from enjoying the views over the mainland, you will come to visit two famous marble beaches in Thassos. Porto Vathy and Marble Beach will captivate you with their sheer beauty, especially if you arrive early enough and the beaches are empty.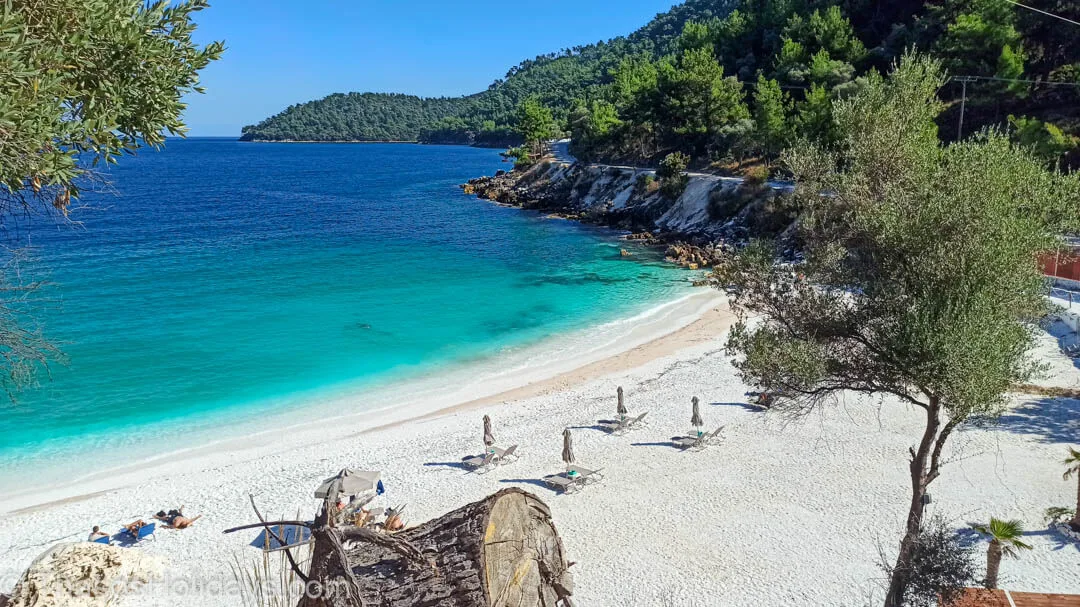 Once you see the marble extraction point near Porto Vathy, it is time to turn to the right and pass through the marble quarry. Continue your way northwest, and return to Limenas, following a more elevated route through dense forest.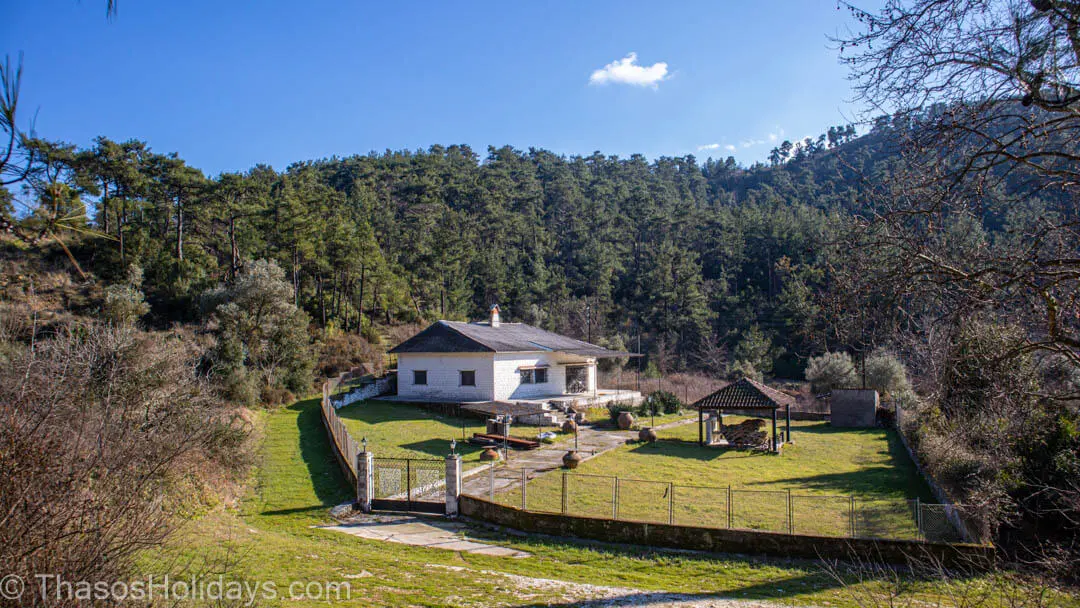 Kazavitis Hike Loop 11km
Kazaviti is one of the most scenic villages in Thassos. You will find it inside a dense forest that keeps it cool no matter how hot the rest of the island is. That forest will be your starting point for this 11-kilometer hike.
Prepare yourself for going uphill for quite some time. You will first head east through a steep mountain path that leads to a wider dirt road. Remember to wear a hat and apply sunscreen to your body throughout the route since much of the area has recently suffered from a fire, and you won't have much shade.
At point A on the above map, go to the cliff's edge to get a fantastic view of how the area used to be before the fire. The forest is so dense that it will leave you breathless. On the way back, pass through the church of Agios Ioannis before you descend down to Kazaviti through a secondary footpath.
Rachoni Hike Loop 11.8km
Another scenic hike loop starts from the mountain village of Rachoni, which is a relatively quiet and unspoiled destination. The route starts east of the settlement and first passes through a dense forest where you will see a local animal shelter and a chapel dedicated to Saint John.
You will continue your path southeast amidst lush vegetation until you come to a crossroad. At that point, take the northwestern route. The landscape continues to be full of pine trees, which you will love for their shade during this uphill section of the hike.
Once you reach the church of Saint Georgios, turn left and enjoy a scenic view over Rachoni and Agios Georgios. The latter settlement extends the main village and is on your way back to the starting point.
Theologos Hike Loop 15km
Although Theologos is famous for its path to Ipsario, there is a more accessible hike you can enjoy almost as much with a portion of the effort. You can leave your car near the eastern end of the village and take the dirt road that leads northeast.
After you walk the first relatively easy section, you will reach the chapel of Profitis Ilias. Have a break here and take in the majestic views on all sides. Then, it is time to turn southwest back to Theologos.
You will follow a different, rugged terrain that will treat you with beautiful views of the unique natural landscape. On your way back, do not forget to pass by Goruna waterfalls, which form a pool of cool fresh water. If you feel like it, you can even swim. It will be the ultimate cool down!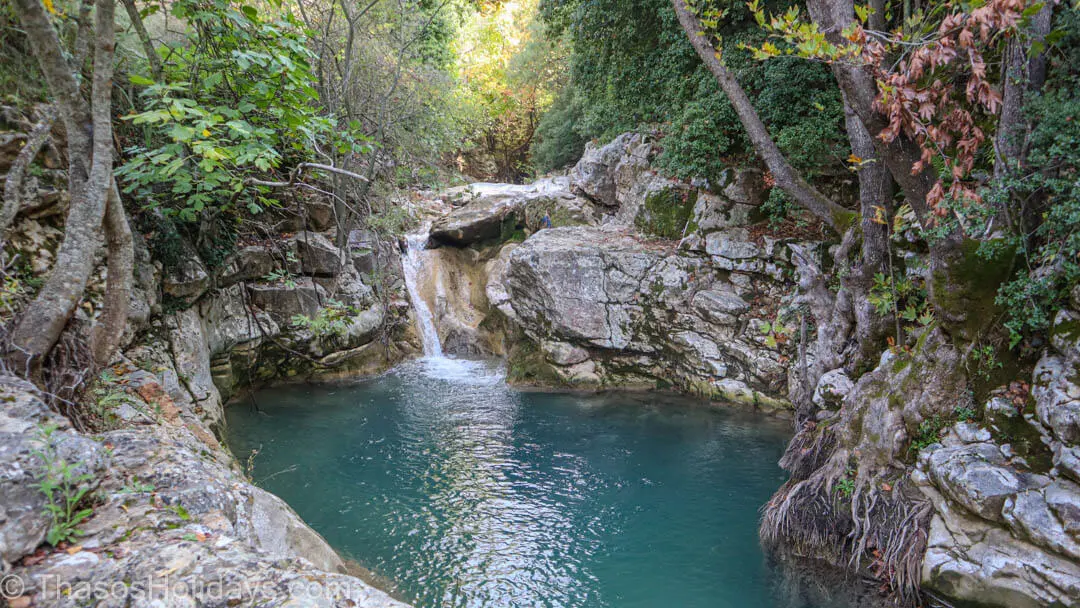 Maries Hike Loop 14.5km
If you are after an adventure or a relatively challenging hike, you will love this 15-kilometer hike loop from Maries. Although the first uphill stage is relatively smooth and easy, expect to walk off the track and in challenging terrain.
The first section includes the artificial lake of Maries and the nearby waterfall. Make sure to also walk a few meters down the stream after the waterfall to see how beautiful the place is. You will then continue your path towards another waterfall named Apostolus.
You would need to walk a few hundred meters further to reach the second waterfall, but it will be worth it, especially if you want to have a snack or launch there. It is so quiet, calm, and scenic! Finally, your way back to Maries passes through a challenging mountain path that leads to a local chapel and then the village through the main road.
Monastery to Panagia Hike 24km one-way
Not everyone likes going in loops. So, if you are keen on crossing the island from one side to another, then take this route from Panteleimon Monastery to Panagia.
The path starts relatively flat and offers spectacular views over Kazaviti on the left and a dense pine forest on the right. You will also pass above two marble quarries on each side of the same cliff.
When you're above the second quarry, you will enjoy an unparalleled view of Limenas and Thasopoula islet. That scenery will be your companion for quite a while until you reach the area above Panagia village, where another equally scenic view will greet you.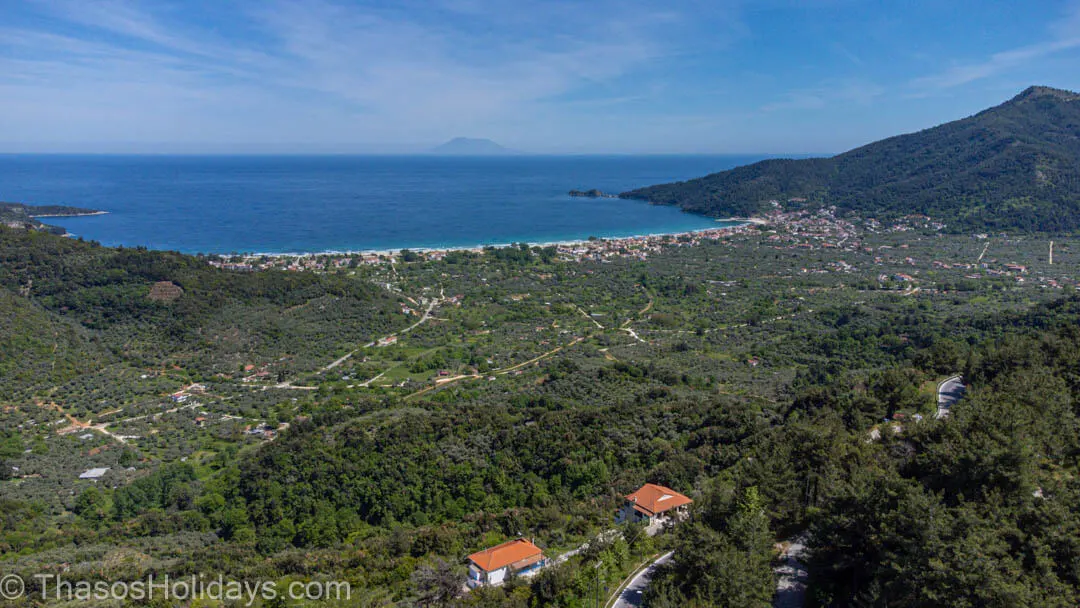 La Skala Hike Loop 24.4km
The mountain area between Pachis and Limenas is the greenest part of the island and one of the very few places not affected by recent fires. For that reason, a hike into this region will treat you to nature's finest scenes.
Although a long and probably tiring hike, it is not technical. In other words, you can enjoy the views without worrying much about your footsteps. Note, however, that the first section is a continuous uphill path, which may require a few breaks.
The good news is that once you reach the top of the hike, you will have a breathtaking view that will accompany you almost until the end of the walk. At some point, you will also pass through a marble quarry and get to witness the famous Thassos marble close by.
Theologos to Kastro Hike Loop 26km
One of the most lengthy and tiring hikes in Thassos is this 26-kilometer loop that starts in Theologos and passes through Kastro. You will first go uphill from Theologos to the main crossroad, and this route, although scenic, may give you a hard time.
Once at the crossroad, you take the path towards Apostolus Waterfall before going up towards Kastro again. After you enjoy the views from Kastro and its picturesque setting, the rest of the trip is mainly downhill.
You will pass through a small chapel and a diverse landscape before reaching Theologos. If you haven't had lunch yet, grab this chance and visit one of the local taverns specializing in fresh meat. After such a long hike, you deserve that meal a hundred times over!
TOP 5 SEASIDE WALKS IN THASSOS
Alikes Historical Walk 1.5km Loop
Although Thassos' unspoiled beauty lies in its interior, you can still enjoy the island with shorter and flatter walks that pass by the sea. The easiest path of them all is the historical walk in ancient Alikes.
The path starts from the popular beach of Aliki and makes a loop around a tiny peninsula. The place is home to an ancient quarry that dates thousands of years. As you walk the path, you will see labels and explanation sights that give you more details about the archaeological site.
As you approach the end of the route, you will see another beach behind Aliki. That is where the ancient man moved the marbles into the boats. For their time, that was an incredible architectural and mechanical achievement.
Pefkari to Limenaria Seaside Walk 5km one-way
The path from Potos to Limenaria passes through Pefkari beach, where a footpath offers scenic views over the Aegean. The whole hike takes 5 kilometers, and you can return from the same route or take a taxi back.
As you approach Limenaria, remember to visit the Crown of Limenaria, a modern artistic monument that looks like Stonehenge. After that, head towards Metalia Beach and get into the water if you feel like it.
Finally, when you reach Palataki, the landmark of Limenaria, go to the side of the cliff to take a scenic photo of Limenaria from above. Maybe you will spot the tavern or bar you want to visit.
Skala Sotiros to Skala Prinos Seaside Walk 6km one-way
The west coast of Thassos is home to the largest valley on the island. In other words, the mountains are not as close to the shore as elsewhere. As a result, the landscape is flatter and is ideal for a leisurely walk by the sea. One such route starts from Skala Sotiros.
The village of Skala Sotiros is one of the oldest settlements of Thassos. As you start your walk from its port, you will notice that the local church sits upon remnants of the ruined prehistoric wall. After you admire that, continue north into the olive groves.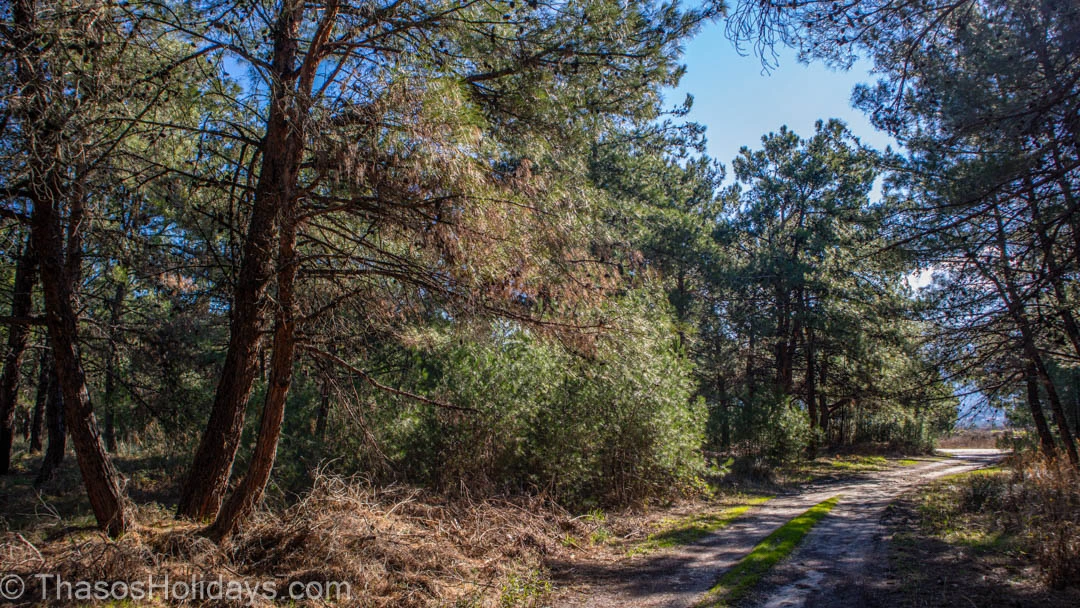 As you approach Skala Prinos, the second port of Thassos, you will see a relatively dense area covered with pine trees. That is an excellent and shady spot to have a break. You can even get into the water before heading to Skala Prinos and enjoy a meal or drink in the local bars and taverns.
Skala Kallirachi Seaside-Olive Grove Walk 6.7km Loop
Another easy and flat walk starts and ends in the fishing village of Skala Kallirachi. The route begins from its picturesque port and covers less than 7 kilometers until you return.
As you move forward, you will pass through the village's residential area and an ever-ending olive grove that reaches the water. The first section goes through the dirt roads above the main street, which you will walk in the second half.
Once you reach Plaka, you will turn back towards Skala Kallirachi. You can have lunch in the village or in Klisma, where you will find two famous fishing taverns by the water. You can even dine on the pebble beach just a meter away from the waves!
Limenas to Golden Beach Seaside Walk 14km one-way
Finally, the most challenging seaside walk starts in Limenas and ends in Golden Beach. Its total length is 14 kilometers, and although flat, the route can be tiring because of the heat you have to take in along the way.
You will follow the coastline and the dirt road that leads to Marble Beach and Porto Vathi. Remember to bring a hat and a mask to protect from the rising marble dust any passing car leaves behind.
At the latter part of your walk, you will start to witness a scenic view of Golden Beach with Mount Ipsario right above it. That is a view you will long remember.
What do you think?
I hope you enjoyed this ultimate Thassos hiking guide.
In case you would like a customized itinerary or a guided hiking tour, feel free to message me or check my TripAdvisor listing.
In any case, I would love to see any review or comment from you below.
And if you like what you see, follow ThasosHolidays on Facebook or share this post!
Remember, hiking Thassos is among the Top 21 Reasons to visit Thassos!
To explore more, view these Top 17 Day Trip Ideas in Thassos.
If you're convinced you should hike and visit the island, here is how to get to Thassos via air and ferry routes.
You also want to be smart about the timing of your holidays, so check the Thassos weather patterns and the best time to visit the island.
My favorite times are late spring and early autumn, but you may also want to visit Thassos in winter.
Whichever season and time you arrive on the island, make sure to follow these 24 Thassos Travel Tips and avoid the following 20 common Thassos Travel mistakes.
And when you want to read something fun about the island during your holidays, here are 35 fun facts about Thassos.
If you want to show off your Thassos holidays on Instagram, visit the 20 most Instagrammable places in Thassos or these 22 off-the-beaten-path Thassos locations.
To look even cooler in your posts, remember to spice up your Instagram or Facebook feed with one of these 106 Captions and Quotes about Thassos.