Get to know Marble Beach Thassos: everything you ever asked about the most unique beach of Thassos!
Here is everything you need to know about Marble Beach Thassos before visiting this unique attraction of Thassos island. Keep reading to discover the ins and outs of Marble or Saliara Beach Thassos and get ready to be amazed!
GET TO KNOW MARBLE BEACH THASSOS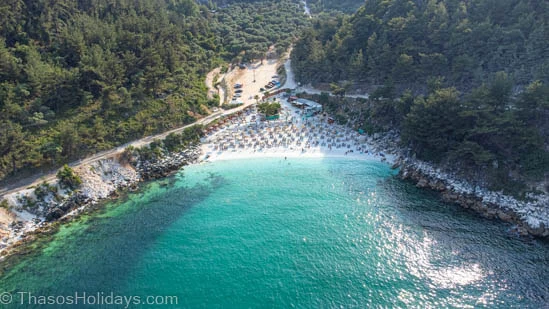 What is Marble Beach Thassos like?
Imagine a 70-meter-long pristine bay covered with tiny white pebbles intermingled with sand. But that's not ordinary sand; it has taken a white color from the nearby marble quarry. Then, place some pine trees on all sides leading to the majestic cliff above. Welcome to the unique Marble Beach on Thassos island.
MARBLE BEACH THASSOS VIDEO
How to get to Marble Beach?
Although three roads lead to Marble Beach, the best way to get there is through Limenas. Drive towards Makryammos and keep following the dirt road along the coastline until you reach Marble Beach on your left.
Note that, along the way, your car will collect so much white dust from the nearby marble quarries that it will turn white in no time. Yet, that is a small price to pay to get to Marble Beach.
Can any car go to Marble Beach?
Technically, yes. Yet, if you rent a vehicle, remember to ask the rental car company if they allow you to go to dirt roads. If that's a yes, the decision boils down to whether you want to let your car get dirty.
The part from Limenas through Makryammos is primarily flat, and any car can drive it. That is not the case with the steeper dirt roads from Golden Beach and Panagia.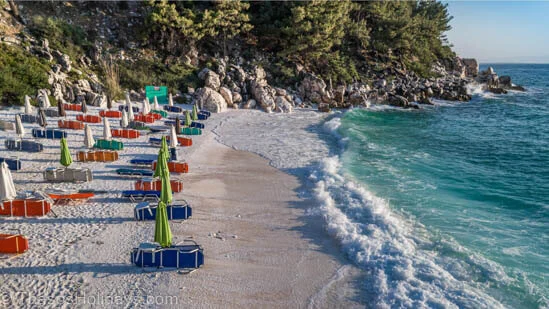 How long does it take to reach Marble Beach?
If you take the recommended route through Makryammos, you will drive about 7 kilometers from Limenas. That means you can be at Marble beach in less than fifteen minutes. Prepare to drive slow; pay attention to the oncoming cars and the traffic, and you will be fine.
Can I take a taxi boat to Marble beach?
Yes, you can take a taxi boat from Limenas port to Marble Beach. Although the schedule may vary throughout the season, expect at least one ride in each direction. The most popular route leaves Limenas at 10.30 am and returns at 6 pm. You can just turn up at the port since there is no need for advanced bookings.
You will arrive at the port near Porto Vary, less than 300 meters from Marble Beach. In other words, expect to walk for about 7 minutes to reach Marble Beach from the port. The one-way trip will set you off for about 10 euros, or half for kids below 10.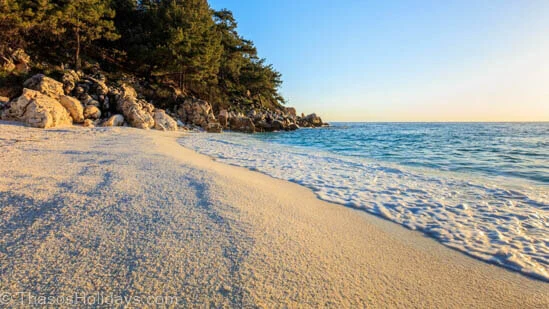 Can I walk to Marble Beach?
You certainly can. The only question is if you want. The shortest route from Limenas is about 8 kilometers. Yet, the distance is the least of your concern. Many cars may come by during this short hike and raise that annoying marble dust into your face.
Thankfully, everybody nowadays has a mask handy, so that would be one of the few times you may be grateful for the pandemic. In any case, if you decide to walk to Marble Beach, remember to wear your sneakers since hiking 16 kilometers under the Greek sun may not be the easiest feat of all.
What is the best time to visit Marble Beach?
If you want to experience the majesty of Marble beach at its best, make sure to visit it early in the morning, when the crowds have not yet formed. There is nothing like walking in this pristine location all by yourself! To increase your chances of enjoying Marble Beach without crowds, go there before July or after August.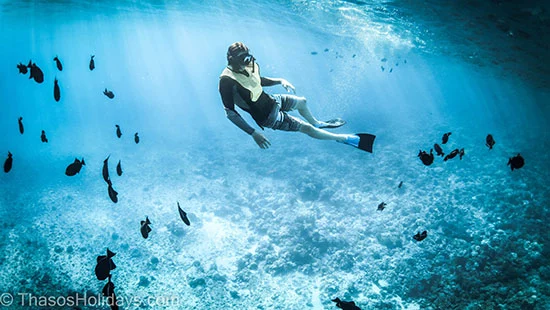 What to do in Marble Beach Thassos?
Although just 70 meters long, Marble Beach has all you would ever ask for from an exotic beach destination. Pick your sunbed and take in the vibes below your umbrella, enjoying your cocktail or snack from the beach bar. Or stay under the sun and get that tan you deserve.
Once you feel a bit hot, enter the water and prepare to be surprised by its emerald colors. That is an excellent opportunity to snorkel or swim around to appreciate the majestic surroundings.
Feel free to also check this ultimate list of 101 things to do in Thassos!
What is the water like in Marble Beach Thassos?
The white sand and the marble elements from the nearby quarry give the water in Marble Beach an emerald color that reminds you of the Tropics. And more often than not, the currents keep the water particularly clear. As a result, it is a great spot to go snorkeling and explore underwater marine life.
Is Marble Beach Thassos deep?
Marble Beach in Thassos has relatively shallow waters. Yet, at about 5 meters from the shore, the sea deepens abruptly. Don't worry, though, as you will always be able to see the bottom. That is also why Marble Beach is such a great snorkeling destination in Thassos!
Why does Marble Beach not have 5 stars in Google reviews?
Although preferences and opinions are subjective, the relatively high cost of drinks and renting an umbrella in Marble Beach may have played their role in the reviews. And because it is a small beach, it can quickly get crowded, which means some visitors could not find a spot and had to turn back.
Apart from the obvious, there is also a different factor that explains some negative reviews. During the last decade, Marble Beach has been the point of discussion for locals and tourists alike. The previous deluxe beach bar in the area helped Marble beach acquire its reputation. Yet, for some reason, it had to shut down.
During that time, more and more tourists wanted to visit the beach, which often had to host double or triple the amount of guests compared to its standard capacity. Just imagine hundreds of tourists flocking to this 70-meter-long beach. Any good experience can quickly turn around, especially if combined with the high expectations and the hype of such a unique beach.
As a result, Marble Beach shortly acquired a bad reputation that fortunately did not last long but left its mark on Google reviews. After a short period, a new beach bar opened in the area in the form of a cantina that offered organized sunbeds. Today, one thing is sure about Marble Beach: it is worth checking out because of its uniqueness.
How much to pay for a sunbed in Marble Beach?
Although the cost may vary from season to season, expect to pay around 10 to 15 euros for a sunbed with a plastic umbrella. That price usually includes a drink, either a coffee or a soft drink. However, that is just an indication of the cost, which may change from time to time.
Can you park in Marble Beach?
Yes, there is a spacious parking spot where you can leave your car while you are in Marble Beach. And the best part? It is entirely free!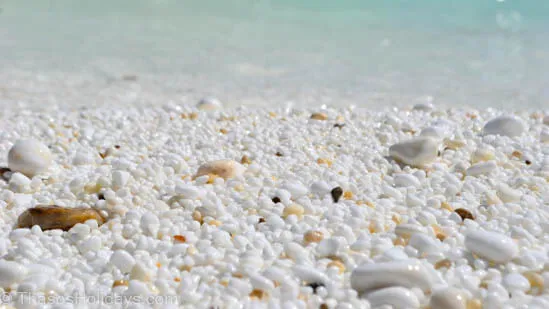 Can I lay my towel for free?
Technically, yes. Marble Beach is a public area, which means you have the right to visit it at no cost. Yet, because the beach bar rents some space to place its sunbeds and umbrellas on this small beach, you may not easily find a free spot. The solution? Visit early in the morning!
I hope this condensed guide about Marble Beach proves helpful.
In any case, I would like to hear your opinion about Saliara or Marble Beach.
Are you looking forward to swimming in its crystal-clear waters?
Maybe you have a question about it that is not answered here.
Or, if you have been to Marble Beach before, what are your thoughts about it?
Either way, leave a quick comment below now!
And if you like what you see, follow ThasosHolidays on Facebook or share this post!