Cycling in Thassos: The Ultimate MTB Thassos Guide with 10 Best MTB Routes and Local Tips!
Wondering where to go mountain biking in Thassos? Or looking for ideas for an excursion in nature? Either way, you'll love these insider tips and routes for Thassos mtb. Get ready to uncover the most authentic and unspoiled part of Thassos at the comfort of your Mtb e-bike!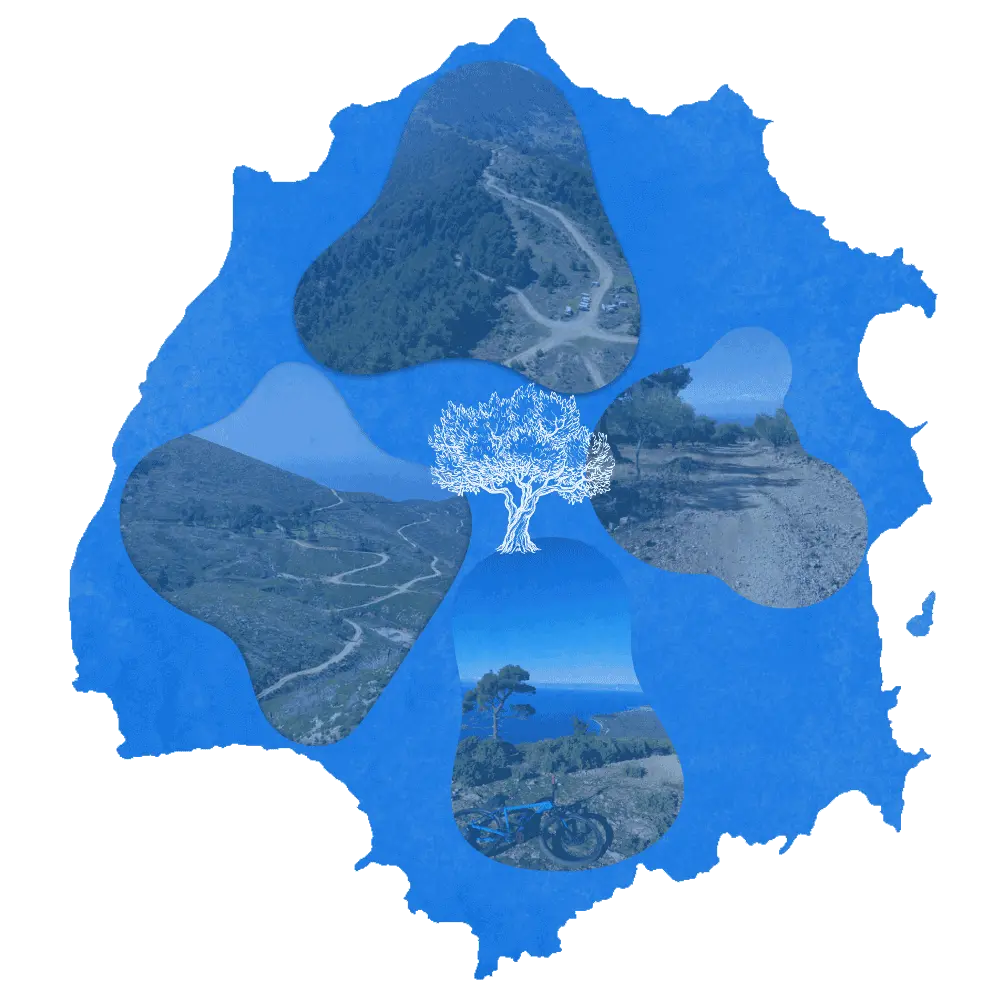 TOP 5 TIPS FOR MTB IN THASSOS
1. Avoid driving on the main roads.
Whenever I see a tourist bringing their mountain bike and cycling on the main roads, I wonder, "WHY???". That is so wrong. Not only do you not fully enjoy the beauty of Thassos nature, but you also risk an accident with an ongoing car! Some may argue main roads are flatter. Sure, but if you want a flat route, don't take a mountain bike. The word Mountain there is for a reason. Instead, take a race or tour bike.
2. Don't look at the time or pace
Mountain biking in Thassos is not about exercising. At the most, that's a welcoming byproduct. The highlight of Thassos mtb and the reason you go is no other than exploring its mountains. And exploration always goes hand in hand with observation, taking your time, and paying attention to the beauty all around. And believe me, there is much of it in the Thassos mountains.
3. Take it easy on the way down
Going down the mountain is one of the most thrilling and exciting parts of mountain biking. But, since you are in Thassos, why not appreciate and focus on the majestic surroundings instead? Grab those descending opportunities and go easy, with brakes full on. It won't only be safer, but you will also better enjoy the landscape.
4. Wear long sleeves
Riding a bike can get so exciting that you may forget to put on enough sunscreen. And then you run the risk of getting sunburnt. So, be wise and wear long sleeves. I've found dry-fit clothes work the best. Plus, you won't have to worry about getting scratches from any tree branches that may be on your way.
5. Rent an electric mountain bike in Thassos!
If there is one argument against mountain biking, that is it can be tiring, at least on the way up. However, don't let that discourage you. Act smart and rent an e-mountain bike instead! The extra push it gives you as you ascend cliffs and dirt roads will be so rewarding that you will never want to switch back to conventional bikes.
Now that you got the basics covered, here are ten of the most unique cycling routes in the mountains of Thassos! Ranking from the easiest to the most difficult, these ten mtb routes have something for everyone. Let's dive right in!
10 BEST MTB ROUTES IN THASSOS
Skala Kallirachi MTB Loop 11km
The most accessible mountain bike route in this list starts from Skala Kallirachi, only 2 kilometers from Plaka, where you can rent your own bike. You will first cycle through olive groves until you reach the mountain village of Kallirachi.
From Kallirachi, continue your way uphill through a cement road until you reach a sharp u-turn. Only a few hundred meters are left, and you are ready to go downhill through the other side of the cliff surrounding the two villages.
Paradise Beach MTB Route 10km
Another easy Thassos mtb route starts from Paradise Beach and continues south until the hill above Agios Ioannis Beach. The first path of the journey may be on the main road, but it will be almost as scenic as the mountain routes of Thassos. This southeast part of Thassos is the most unspoiled.
As you approach Agios Ioannis, you will notice a dirt road that leads to the edge of a small peninsula. Take that route and enjoy panoramic views over the Makryammos bay on the north and Alikes beach on the west. Because such a beautiful mtb route is best enjoyed when you visit twice, you will return at the starting point from the same path.
Golden Beach MTB Loop 12km
This 12-kilometer Thassos Mtb route starts on the northern side of Golden Beach, in the area also known as Skala Panagia. From here, you will follow a scenic dirt road that leads to the mountain village of Panagia.
From Panagia, you will follow the main road to Potamia, another picturesque village in the area. Along the way, you will enjoy the panoramic views over Golden Beach bay below you. Finally, you will descend to sea level through a local olive grove near Skala Panagia.
The 14-kilometer loop from Kallirachi is one of the most scenic Thassos mountain routes under 15 kilometers. The terrain is ever-changing, from dense pine forests and dry landscape to viewpoints that will leave you breathless.
A great stopover in this mtb route is no other than the chapel of Metamorfosi above Kallirachi. This historical chapel offers unparalleled views over the bay. Plus, it is the highest point in your trip, meaning it is almost all downhill left. Just be careful on the way down as a small part before the church of Anargyroi is a bit tricky.
Panteleimon MTB Loop 18km
A relatively flat mtb route in Thassos, Panteleimon loop starts and ends in the monastery of the same name. You can follow a cement road from Kazaviti to reach the starting point. After a small initial uphill section, it is a smooth downhill for more than half of the remainder.
Once you pass a local marble query, turn right and cycle on a scenic road above Maries. That would be the most challenging part of the route as the paths are uphill but not too steep. Thankfully, you will be enjoying spectacular views along the way.
Getting into more difficult cycles in Thassos, the 22-kilometer loop from Maries will leave you in awe with its attractions along the way. Not only will you come to see two different waterfalls along the way, but you will also visit the spectacular village of Kastro.
You will be cycling in the heart of the Thassos mountains, so take your time to enjoy the surroundings. You can even swim in the lake in Maries or bathe at the Apostolus waterfall, which is ideal for a picnic, away from crowds, satellite connection, and routine.
If you are near Pachis or La Skala beach, you cannot but notice how green this area of Thassos is. It is the place that has been the least affected by fires in the past century. As a result, it remains a natural wonder with a spectacular and lush landscape.
The first part of the route is quite uphill, so take it easy and walk with your bike to preserve energy if needed. And remember to turn your back around to check the scenic view over La Skala and soon over Limena. In the end, you will see the mountain's other side and cycle above Rachoni village.
Another beautiful yet challenging mtb Thassos route is the path that takes you from Limenas to Panagia through the hills surrounding Limenas. Although not easy, there is nothing like cycling while having the entire settlement of cosmopolitan Limenas on your feet.
Especially the section just before you reach Panagia will make you wonder why you have not been here before. And to top it all, you will even get a glimpse of Golden Beach! Finally, the descent back to Limenas will be through the main road and quite fast compared to how long it took you to get up here.
Maries to Ipsario MTB 15km one-way
If you feel like a challenge, consider cycling from Maries village to the peak of Thassos in Ipsario. It will be 15 kilometers of non-stop uphill. Hard, but much less so if you have an electric mountain bike.
The reward for your efforts will be a 180-degree view over Golden Beach bay. No words or pics can fully describe the feeling of awe once you stand on the peak overlooking east Aegean. And the good news continues! The way back will be relentless downhill fun!
Inner Circle of Thassos Mountain from Kallirachi 47km MTB
When most cyclists aim to complete the 100-kilometer Thassos tour along the main road, you can aim higher! Thassos mountains are a lot more beautiful and scenic. Plus, you don't have the risk of being involved in an accident with a reckless driver. Hence, it makes sense to do the inner circle of Thassos mountains instead.
The trip starts and ends in Kallirachi in the west part of the island. The 47 kilometers will take you on a journey through ever-changing terrain, breathtaking viewpoints, lakes, waterfalls, and lots more surprises. One of those will be your encounters with local wild goats, some of which may get curious about your whereabouts. In the end, those 47 kilometers will feel like a blessing second to none.
Maybe a detailed map of Thassos with all attractions will help you choose where to cycle first!
I hope you enjoyed this ultimate MTB Thassos guide.
In case you would like a customized itinerary or a guided cycling tour, feel free to message me or check my TripAdvisor listing.
In any case, I would love to see any review or comment from you below.
And if you like what you see, follow ThasosHolidays on Facebook or share this post!