Get to know Paradise Beach Thassos: everything you ever asked about the most scenic beach of Thassos!
Here is everything you need to know about Paradise Beach Thassos before visiting this scenic location. Keep reading to discover the ins and outs of Paradise Beach Thassos and get ready to get spoiled!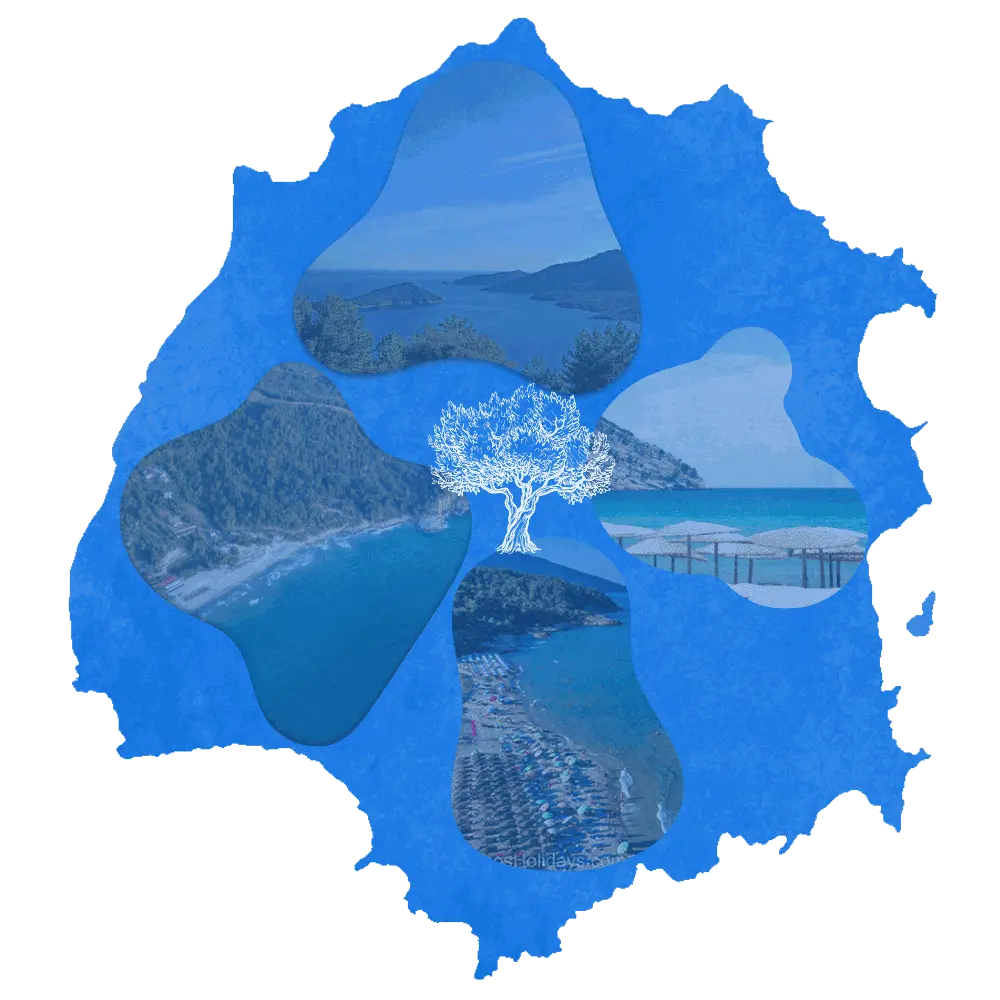 GET TO KNOW PARADISE BEACH THASSOS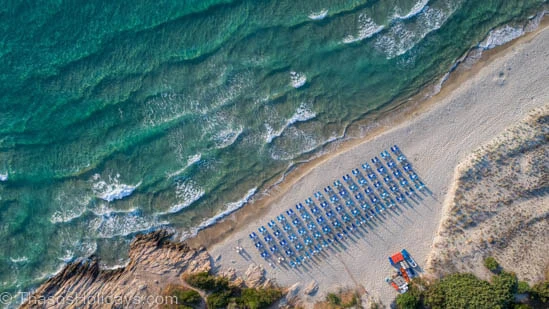 What is Paradise Beach like in Thassos?
Paradise Beach is a tropical-like sandy beach in Thassos, Greece. Known for its shallow waters, golden sand, and pine trees that reach the sea, this exotic beach deserves to be called Paradise. You only have to visit once to appreciate its sheer beauty.
What is the water like in Paradise Beach Thassos?
The shallow waters of Paradise Beach make it an ideal destination for families. And more often than not, the winds create steady waves, which your kids will love! Above all, the turquoise water is so clear that you cannot easily resist snorkeling.
Where is Paradise Beach Thassos?
You will find Paradise Beach on the eastern coast of Thassos, only 22 kilometers from the capital Limenas. The closest village is the tiny settlement of Kinira, 2 kilometers to the north in the same bay. If you move further north, you will come across Golden Beach and Skala Potamia.
PARADISE BEACH THASSOS VIDEO
PARADISE BEACH THASSOS NAME
How did Paradise Beach take its name?
Apart from its heavenly looks, there are two more scenarios of how Paradise Beach took its name. The exotic pine forest surrounding the bay or the main beach bar on the south may have given their names to Paradise Beach.
Is Paradise Beach different from Makryammos Kiniron?
No, both these names refer to the same beach. According to locals, the previous name of the area was Makryammos Kiniron, but that soon gradually and informally changed to Paradise Beach! The reason? The current beach bar opened in the area and created the first dirt road to Paradise Beach.
GETTING TO PARADISE BEACH THASSOS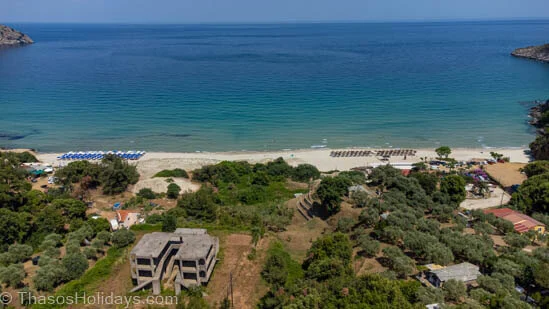 How to get to Paradise Beach Thassos?
If you are in Thassos Town, head toward Panagia in the east, and find Golden Beach. Then, follow the coastline south, and after around 12 kilometers, you will see Paradise Beach on your left. Note that accessing the beach requires some off-road driving or walking for up to 200 meters.
Is there parking in Paradise Beach Thassos?
Yes, Paradise Beach has three parking places and many more spots to safely park your car. Whether you want to drive all the way to the beach or you want to leave your vehicle by the main road, finding parking won't be an issue.
PARADISE BEACH FACILITIES
Is Paradise Beach organized?
Yes, more than half of the beach has sunbeds and umbrellas offered mainly by the central bar, which has the same name as the beach itself. Also known as Paradise Beach Club, this establishment offers everything from drinks and cocktails to snacks and full meals.
Is there a restaurant in Paradise Beach Thassos?
Yes, apart from Paradise Beach Club, there is one traditional tavern near the nudist area on the northern part of the beach. Here, you can find every typical Greek dish your heart may desire. So, if you wish to dine in Paradise Beach, that would be the place to go.
Feel free to also check this ultimate list of 101 things to do in Thassos!
FREQUENTLY ASKED QUESTIONS ABOUT PARADISE BEACH THASSOS
How big is Paradise Beach Thassos?
Paradise Beach is about 350 meters long and covered by silky smooth sand. Its width reaches up to 50 meters in parts, with plenty of space to play sports such as beach volleyball and find a secluded spot away from the crowds.
Is Paradise beach a nudist beach?
Yes, and no. Although Paradise used to be predominantly a nudist beach, it now welcomes everyone. Still, there is a designated space in its northern part where only nudists are allowed. But don't worry, that part of the beach is hidden behind a rock formation.
I hope this condensed guide about Paradise Beach Thassos proves helpful.
In any case, I would like to hear your opinion about Paradise Beach.
Are you looking forward to visiting this idyllic beach?
Maybe you have a question about it that is not answered here.
Or, if you have been to Paradise Beach before, what are your thoughts about it?
Either way, leave a quick comment below now!
And if you like what you see, follow ThasosHolidays on Facebook or share this post!