1. Spend Time in Potos Beach
Potos has several lovely beaches to choose from, including the main Potos Beach, which is sandy and well-organized with sunbeds and umbrellas.
It's one of the island's most beautiful and crowded beaches, with clear blue waters and clean sand. You'll especially love the various restaurants you can dine along the beachfront.
There are also quieter coves and beaches nearby, such as San Antonio Beach and Rosogremos Beach, which are great for those seeking a more tranquil atmosphere. Spend your days swimming, sunbathing, and enjoying the crystal-clear waters.
2. Fill your adrenaline with Water Sports
If you're into water sports, you can try jet skiing, paddle boarding, and snorkeling. Local water sports centers offer equipment rentals and guided tours.
If you haven't tried windsurfing yet, Potos is the place to learn and practice this thrilling sport. You'll love every second of it.
3. Explore the Village
Take a leisurely stroll through the village of Potos. You'll find narrow streets with charming shops, cafes, and tavernas. An important highlight of the area is no other than its impressive church, dedicated to Mother Mary. You can join a service every Sunday from 8.30am.
In the center of the village, you'll find narrow, cobbled streets with minimal traffic. Every day, the location is filled with tourists enjoying their walks and shopping for local traditional products.
In the evening, young people from all over the island gather to enjoy their drink at the seaside clubs since night entertainment in Potos is the rule and not the exception, as it happens in other parts of the island.
Finally, don't forget to sample some traditional Greek dishes and enjoy the lively atmosphere. Walking around Potos is part of the top 21 Reasons to visit Thassos.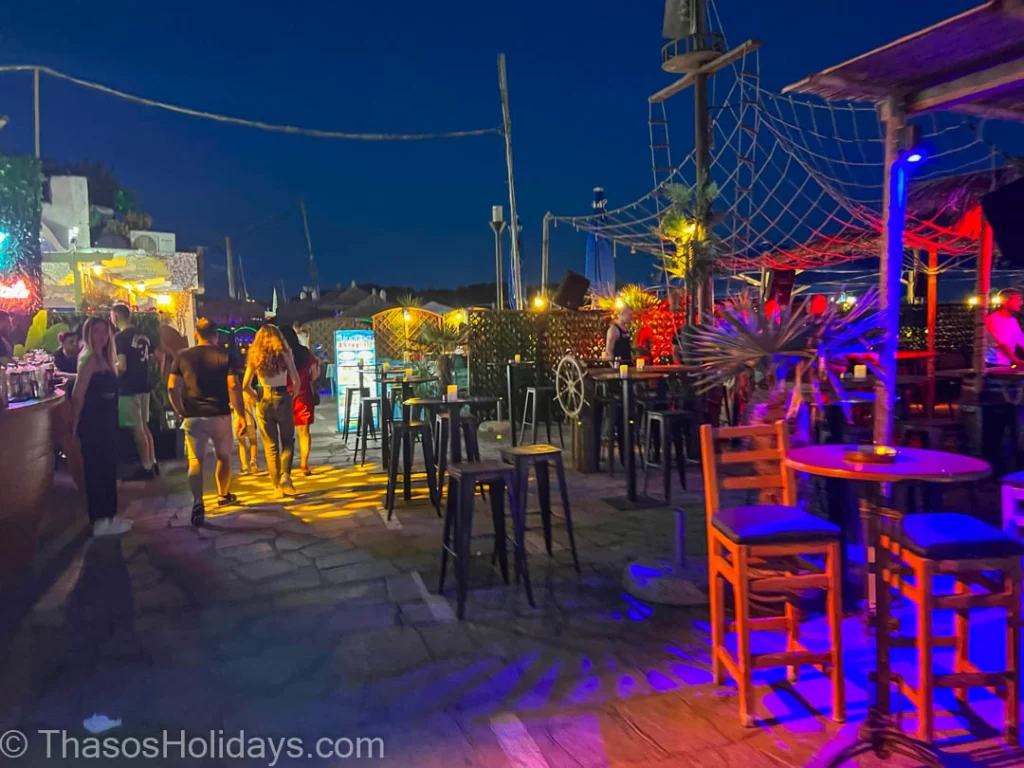 4. Experience Potos nightlife
Potos is famous for its nightlife, with numerous bars, tavernas, and clubs lining the main street. You can enjoy live music, Greek dancing, and a lively evening atmosphere.
As the sun sets, the village comes alive with bars playing music as late as 2 in the morning. Popular nightlife spots in Potos include Captain Hook and Tropical Bar.
You'll love the adrenaline-filled magical parties the local bars and clubs organize daily. The loud music, the drink, and the beautiful beach are the basic ingredients for the ultimate fun spot on the island of Thassos.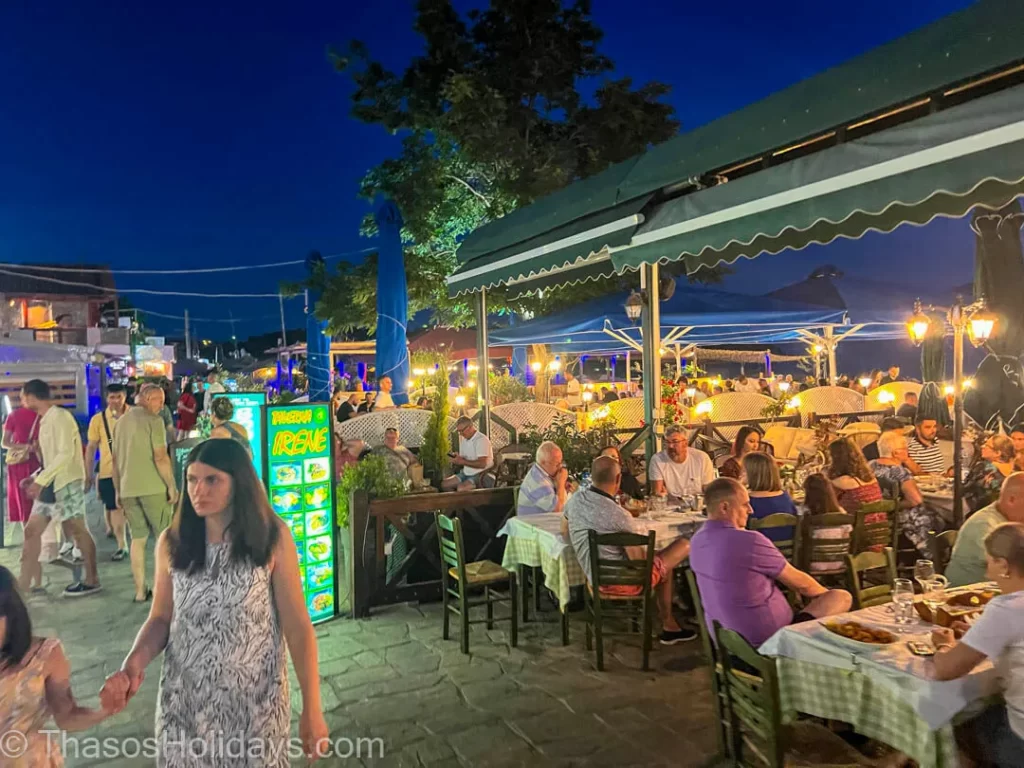 5. Enjoy a Greek meal downtown
Potos has many restaurants serving traditional Greek and international dishes. You don't want to miss the chance to try fresh seafood and Greek specialties like moussaka and souvlaki.
Be sure to pair your meal with some Greek wine or ouzo. Klimataria Tavern and Grill Georgios Restaurant are well-regarded options.
6. Go shopping in Potos local market
Explore the local shops for souvenirs, clothing, jewelry, and local products like honey and olive oil. Potos has a lively market where you can find various goods.
Think of any store, from florists, local bakeries, clothing boutiques, art stores, car rentals, and tour operators to grocery stores of every kind. And if you ever feel short of cash, you won't be from a nearby ATM, although all Greek stores are obliged to accept card payments.
7. Take a Day Trip
Among the top 101 things to do in Thassos, taking a road trip is a must. Luckily, Potos is well-connected to other parts of Thassos, making it an excellent base for expeditions. Consider visiting the remote sandy beach of Salonikios, the archaeological site of Aliki, the unbelievable natural lagoon of Giola, or the picturesque mountain village of Theologos.
If you want more inspiration, check out these Top 17 Day Trips in Thassos!
8. Try scuba diving and explore the rich underwater world
Potos is home to four diving schools that offer customized and organized diving trips. If you love snorkeling, scuba diving is the logical next step, and Potos is the perfect place to try!
The experienced diving instructors will arrange everything and help you create lasting memories of your Thassos holidays.
9. Embrace the Unique Sunset
Potos offers stunning sunsets over the Aegean Sea. Find a cozy spot along the coast or at a beachside restaurant to enjoy the magical sunset views.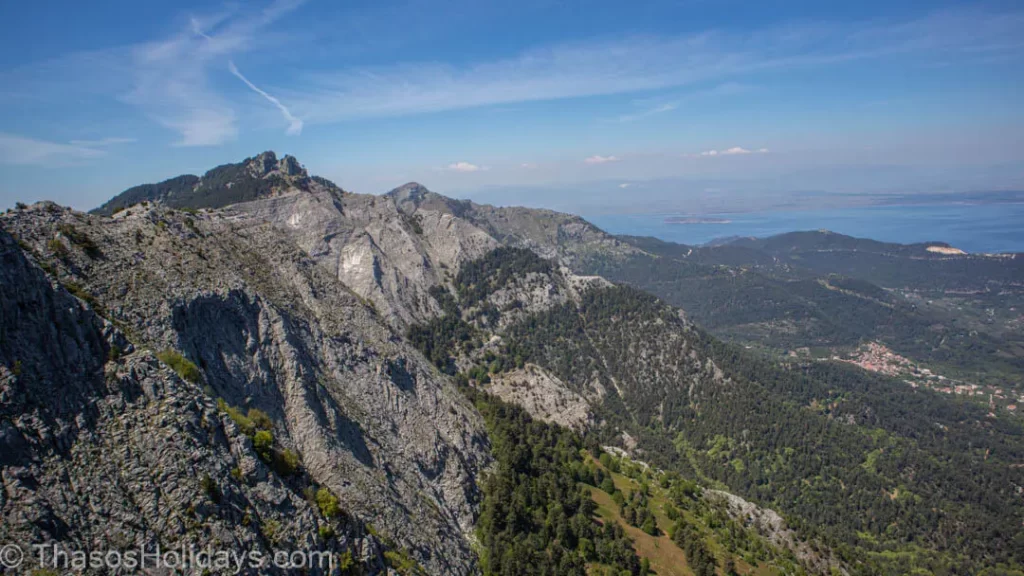 10. Hike and explore Thassos on a deeper level
Thassos is known for its natural beauty, and you can explore some of the island's hiking trails and lush landscapes. Feel free to ask me about guided hikes or nature excursions.
11. Notice the prehistoric elements of Potos
Since you're in Greece, it might not surprise that Potos has been inhabited since prehistoric times. A few kilometers outside the village, and on top of a hill, you'll find an area of great archaeological interest named ​​Agios Antonios.
You can spot prehistoric buildings and tombs dating back to the Bronze Age or earlier. In the same area, you'll notice the ruins of an old Byzantine church.
Later, Potos became an area of rest and sleep for monks from the peninsula of Agio Oros. Before it reached its current condition, it operated as a harbor for the mountain settlement of Theologos.
12. Relax and Unwind
Above all, Potos is ideal for relaxing and unwinding. Take in the serene atmosphere, read a book by the sea, or enjoy the slower pace of life.
If you feel like meeting the locals, you'll notice how friendly they are. Ask them about life on the island, especially outside the tourist season. Potos in winter is quiet and home to under 1000 inhabitants, yet fishing is at its peak. After all, winter catches are always grander and with more variety.
13. Take in the views of Mount Athos on clear days
In the afternoon hours, when the weather permits, you can see as far as Mount Athos emerging from the sea horizon. Many locals have described the Mount Athos views as occult and otherworldly, perhaps even divine. Keep those thoughts in mind when you take in the scenery.
14. Visit the unique local art scene and Kappa Art Gallery
If you like art or you're a fan of creativity, make no mistake and visit Kappa Art Gallery. Its founder and artist has blessed Potos with his tremendous work.
You'll find handmade paintings, each with a story, beautiful sculptures, ceramics, jewelry, and lots of positive energy. It's a colorful oasis, a place to fall in love with art and love once again.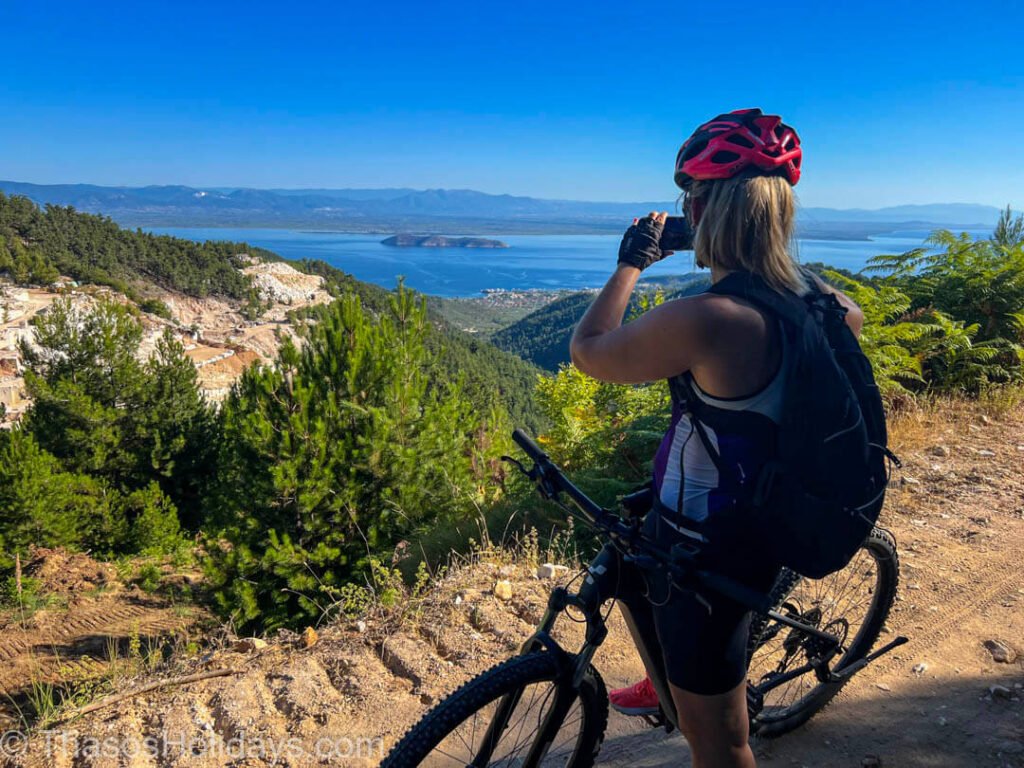 15. Rent an eBike and discover Potos and its beautiful surroundings
There is no better way to experience a place than on top of an e-bike. It's easy, fun, and slow enough to appreciate the beauty.
Visit Pefkari Beach and Limenaria through the bike lane separate from the main road, ride to the remote Salonikios beach, or climb to the waterfall of Kefalogourna. The options for an e-bike are endless.
If interested, you can even have your e-bike delivered to your accommodation. Just text me on WhatsApp here, and we can arrange everything. Feel free to see the brand-new Cube eBikes available here. Or check here for ebike tours in Potos and Thassos!
In short, exploring parts of Thassos on an e-bike should be part of your Thassos plans. By the way, if you haven't decided on your Thassos itinerary yet, check one of my suggested itineraries for your Thassos holidays: a 7-day itinerary, a 5-day itinerary, or a shorter 4-day itinerary.
Conclusion
As you can see, there are tens of things to do in Potos, and the list is growing.
If you want to view more activities to do in Potos and Thassos, check out this complete list of 101 Things to Do on the Island or read my Comprehensive Guide on all Thassos Villages.
Whichever season and time you arrive on the island, make sure to follow these 24 Thassos Travel Tips and avoid the following 20 common Thassos Travel mistakes.
And when you want to read something fun about the island during your holidays, here are 35 fun facts about Thassos.
If you want to show off your Thassos holidays on Instagram, visit the 20 most Instagrammable places in Thassos or these 22 off-the-beaten-path Thassos locations.
To look even cooler in your posts, remember to spice up your Instagram or Facebook feed with one of these 106 Captions and Quotes about Thassos.
Potos Video: cycling in the village – get a glimpse of Potos on an eBike GoPro
Tip: Where to stay in Potos Thassos?
Potos offers a range of accommodation options, from hotels and resorts to apartments and villas. You can choose based on your budget and preferences. Some popular places to stay include Alexandra Beach Spa Resort and Kamari Beach Hotel.