Are you considering a trip to Greece and looking for reasons to visit Thassos? This gem of an island may be small, but it packs a punch with its marvelous beaches, mountains, unique traditions, delicious food, and rich history. Below are 21 reasons why Thassos should be on your radar.
1. Giola: View a world-renowned lagoon
Giola Lagoon, also known as Aphrodite's Tear, is a natural swimming pool carved into the rocks of Thassos and one of the top reasons to visit Thassos. The lagoon's crystal-clear water is a sight to behold and makes for gorgeous Instagram photos. While it can be a bit of a trek to reach Giola, the reward is well worth the effort. So don't forget to pack your swimsuit and take a dip in this paradise.
2. Fabulous Beaches: Beach hop like there's no tomorrow
Thassos is home to some of the most spectacular beaches in Greece. From the famous Golden Beach and Paradise Beach to the lesser-known Salonikios Beach, there are plenty of options for soaking up the sun and enjoying the turquoise waters. But don't limit yourself to just one beach – there are plenty to explore! Beach hopping is a favorite activity on the island and will leave you feeling renewed and rejuvenated.
If you're curious to know more, here is a complete list of 56 Beaches in Thassos, with unique air footage for every single beach.
3. Stunning Mountains: You'll fall in love with the breathtaking landscape
Thassos is not just about the beaches but also boasts breathtaking mountains and natural wonders. In my opinion, exploring the island's mountains is one of the top reasons to visit Thassos. The Apostolus waterfall, Ipsario Thassos peak, Lake Maries near the scenic village of Maries, and Kefalogourna in Theologos are just a few places to immerse yourself in nature's beauty. Whether you're an avid hiker or just looking for a scenic drive, Thassos has it all.
4. Affordability: Your wallet can afford more in Thassos than in other Greek islands
Compared to other famous Greek islands, Thassos is still relatively affordable. Not only is it easy to get to via ferry, but once you're there, you'll find that food, accommodations, and activities are all reasonably priced. So don't let budget concerns hold you back – Thassos is a destination that can fit everyone's wallet.
5. Dramatic Views: Hike in Thassos for unforgettable scenery – one of the Top reasons to visit Thassos
Thassos is an ideal destination for hiking enthusiasts. With a unique and diverse landscape, there are plenty of hiking paths to explore. From the rugged coastline to the lush forests, the island offers unforgettable views that will take your breath away. So grab your hiking boots, pack a picnic lunch, and hit the trails for a day of adventure.
6. Unique Traditions: Experience Thassos traditions in the mountain villages
Thassians are proud to hold a rich cultural heritage, which makes it one of the important reasons to visit Thassos. The traditional mountain villages of Panagia, Theologos, Kastro, Kazaviti, Kallirachi, and Sotiras offer a glimpse into the island's unique traditions. From traditional architecture to local crafts, these villages are a must-visit for anyone looking to experience the authentic side of Thassos.
One of the most traditional activities in Thassos is fishing. Islanders from the mountains would commute to the coastline to their boats so they could fish.
Later, settlements started to form at the coastline, and hence, you now see villages named Skala before them (Skala means Stairs in Greek).
Before the development of tourism, the main source of income for Thassians was fishing. To get a glimpse of how life was during that era, join the fishing boat trip with Maria Maria.
In short, joining a fishing boat trip should be part of your Thassos plans. By the way, if you haven't decided on your Thassos itinerary yet, check one of my suggested itineraries for your Thassos holidays: a 7-day itinerary, a 5-day itinerary, or a shorter 4-day itinerary.
7. Delicious Food: Try mesmerizing local dishes in Thassos
Thassos is a food lover's paradise. From fresh seafood to local goat meat, the island's cuisine will tantalize your taste buds. Thassians use the island's virgin olive oil to cook everything, and every meal includes fresh tomatoes and other ingredients. To experience that, try out local tavernas such as Klisma or Theologos for the ultimate Greek dining experience.
8. Local Delicacies: Get back home with delicious Thassos specialties
Don't forget to bring home some of Thassos' local delicacies! Thassian Throuba Olives, Thassian honey, and local spoon sweets are just a few of the treats you can find on the island. These make for perfect souvenirs or gifts for loved ones back home.
9. Rich History: Unravel the turmoil and entertaining history of Thassos
Thassos has a rich and entertaining history that is waiting to be explored. From the Ancient Agora to the Ancient Theater and Acropolis, there are plenty of historical sites to visit. The island's many marble quarries also testify to its past wealth and power. For a unique experience, visit the Prehistoric Tzines Cave, which offers a glimpse into the island's distant past.
10. Relaxation: You'll have all the amenities you need to relax in Thassos
If you're looking for a place to unwind, Thassos is an ideal destination. With its unspoiled beaches and laid-back atmosphere, you'll have all the necessary amenities to relax and recharge. Whether you're looking for a quiet spot to read a book or a lively beach bar, Thassos has it all.
11. Safety: You'll feel safe in Thassos
Thassos is an incredibly safe destination, making it ideal for families. With many child-friendly beaches and activities, parents can rest easy knowing their kids are in good hands. Whether traveling alone or with family, Thassos is a destination where you can let your guard down and enjoy the island's natural beauty.
One of the top family-friendly activities in Thassos is spending a day at the Aqua Park in Skala Maries.
12. Easy Access: You can get to Thassos easily
Getting to Thassos is easy, thanks to frequent ferry boat sailings from the mainland. Once you arrive, you'll find that getting around the island is also a breeze. With a car or bike rental, you can explore every corner of Thassos at your own pace.
Although the island has no airport, it's only a 10-minute drive and a 30-minute ferry away from the international airport of Kavala! Easy accessibility is one of the top reasons to visit Thassos.
13. Calming Environment: Enjoy peace and quiet in Thassos, away from tourist hubs
Thassos is still off the beaten path and has few to no crowds, making it a perfect destination for those looking to escape the tourist hubs. Enjoy the serenity of the island's unspoiled beaches and natural wonders without the hustle and bustle of other popular destinations.
14. Friendly Locals: Interact with welcoming Thassians and connect
The people of Thassos are known for their warm hospitality and welcoming nature. Thassians value service and connection above all else, and you're sure to feel at home on the island. Don't be afraid to start a chat with locals – you may just make some lifelong friends.
15. Fascinating Museums: Visit several award-dominated museums in Thassos
Thassos is home to several interesting museums that are worth a visit. The Archeological Museum of Thassos, the Museum of Vagis, Theologos Folklore Museum, Sotirelis Olive Oil Museum, and Koutlis Honey are just a few of the places where you can learn more about the island's history, culture, and traditions.
16. Cool Monasteries: See the interior of impressive monasteries in Thassos
Thassos is home to several beautiful monasteries that are worth a visit for their unique architecture and religious significance. The Monastery of Archangel and the Monastery of Panteleimon in Kazaviti are just two of the monasteries that offer a glimpse into the spiritual side of Thassos.
17. Amazing Art: Explore Thassos fantastic art culture and creators
Thassos is also home to a vibrant art scene, with many talented artists and craftsmen showcasing their work throughout the island. Visit art stores such as ARGILOS Handmade Ceramics in Panagia, Moly's Art in Limenaria, Kappa Art Gallery in Potos, or Kalogeriko in Limenas to see some of the island's finest creations.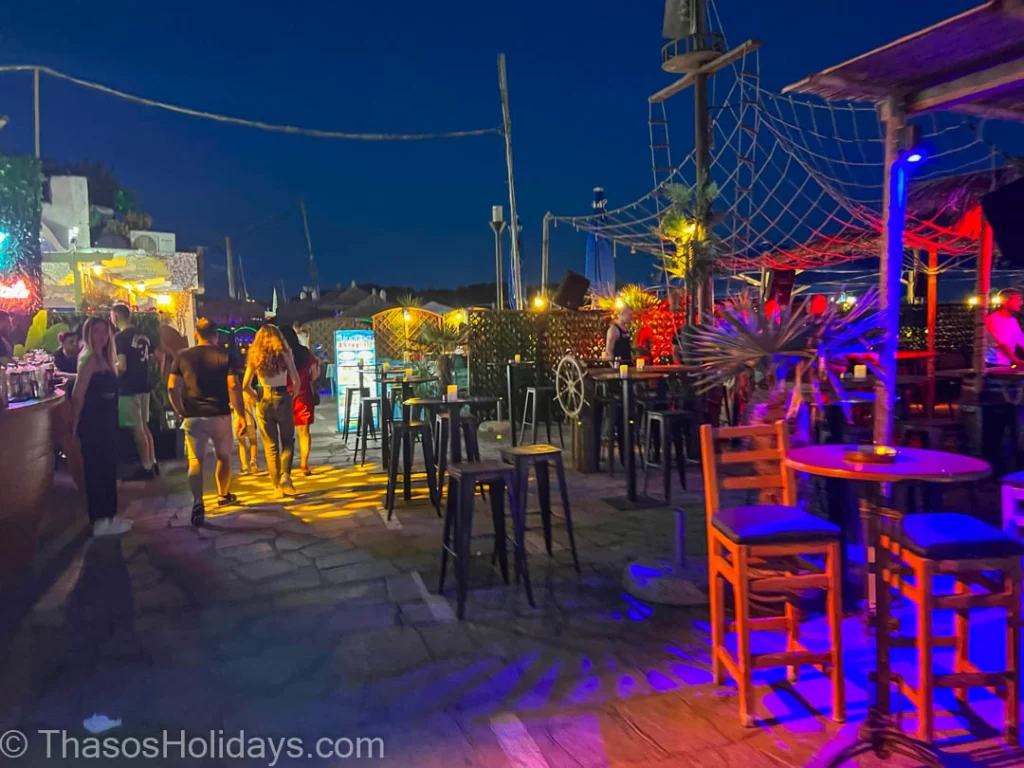 18. Upbeat Nightlife: Plan a memorable night out in Thassos
While Thassos may be known for its laid-back atmosphere, it also has a vibrant nightlife scene. Potos, Limenaria, and Limenas are just some of the villages where you can have a memorable night out. And if you're looking for something a bit wilder, don't miss out on the island's notorious club named Bolero.
19. Unforgettable Sunsets: Enjoy unparalleled sunsets in western Thassos
Thassos is home to some of the most captivating sunsets in Greece. Head to the port villages and settlements of Skala Kallirachi, Plaka, and Skala Maries to enjoy unparalleled views of the sun sinking into the horizon. This is the perfect way to end a day of exploring the island's natural wonders.
I promise you, the sunsets you'll see on the island will be one of the main reasons to visit Thassos again!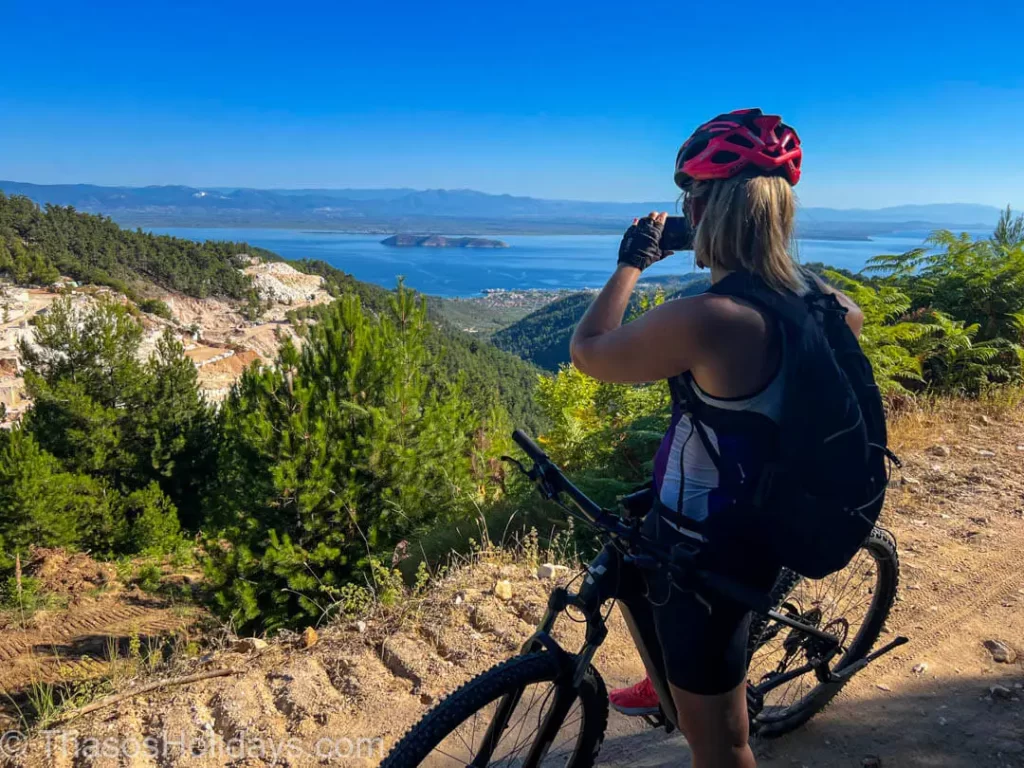 20. eBike Adventures: eBike in the mountains of Thassos like a pro
For a unique way to explore Thassos, consider renting an eBike. With the island's hilly terrain, an e-bike allows you to cover more ground and experience the majestic beauty of Thassos like a pro. E-bike rentals and e-bike tours are available throughout the island and are a fun and eco-friendly way to explore.
To get a taste of cycling in the mountains of Thassos, check out this comprehensive MTB guide with available routes and tips.
Now, you can even have your eBike delivered to your hotel or anywhere in Thassos! Just text me, and I can arrange everything for you.
21. Hundreds of Accommodation options: find all types of stays in Thassos

One of the ultimate Thassos travel tips is finding the right accommodation. To help you with choosing, here are some stays I recommend on the island:
Apartments and Studios
Renting an apartment or studio is a great option for those who prefer a more independent stay. These are available in various sizes and locations around the island. Among all the options, I'd highly recommend Studios Plaka.
Hotels
Thassos has numerous hotels, ranging from budget-friendly options to luxury resorts. Some of the most popular areas for hotels are Limenas (Thassos Town), Limenaria, and Golden Beach. My favorite one-of-a-kind hotel experience is A For Art Design Hotel. You need to book in advance because their rooms sell out so fast!
Traditional Guesthouses
You can experience Greek hospitality and immerse yourself in the local culture by staying in a traditional guesthouse. These are often found in picturesque villages like Theologos. My favorite pick is Elaion Terra Boutique.
Camping
Thassos is also a popular destination for camping enthusiasts. Several campsites on the island allow you to enjoy nature and the great outdoors.
Agrotourism and Eco-friendly Accommodation
Thassos is known for its lush landscape, and you can find eco-friendly and agrotourism accommodation options that connect you with nature and the island's sustainable practices. Check out Villas Thassos, where the owner plans to offer such services.
Boutique Hotels
If you're looking for a more unique and personalized experience, Thassos has boutique hotels that offer a more intimate atmosphere. My favorite high-end option is the Alexandra Golden Boutique Hotel in Skala Potamia.
All-Inclusive Resorts
For a hassle-free vacation, there are all-inclusive resorts on Thassos that offer meals, drinks, and various activities as part of the package. I'd recommend Blue Dream Palace for such holiday types.
Beachfront Accommodation
Thassos has many options for beachfront stays, so you can wake up to the sound of the waves and have the beach at your doorstep. I would recommend Navis Luxury with eyes closed.
Budget Accommodation
If you're traveling on a tighter budget, you can find budget-friendly hostels and guesthouses in various parts of the island. Goutadika in Limenas is one such option.
Villas and Vacation Homes
Thassos offers many beautiful villas and vacation homes for those seeking a comfortable private retreat. These are ideal for families or larger groups. My favorite pick is Pine Beach House, right on the beachfront.
Frequently asked questions about Thassos and reasons to visit Thassos
Is Thassos Worth Visiting?
Absolutely! Thassos has something for everyone, whether you're a beach lover, a mountain enthusiast, a culture buff, or a foodie. With its affordability, safety, and easy access, Thassos is the perfect destination for a Greek island getaway. So pack your bags, book your accommodations, and get ready to experience the paradise found.
You also want to be smart about the timing of your holidays, so check the Thassos weather patterns and the best time to visit the island.
My favorite times are late spring and early autumn, but you may also want to visit Thassos in winter.
How to Get to Thassos
Thassos is easily accessible by ferry boat from the mainland town of Kavala. The ferry ride takes approximately 90 minutes and runs several times a day. Once you arrive on the island, you can rent a car or motorbike to explore at your own pace.
For more info, read this detailed guide on how to get to Thassos via air and ferry routes.
When you arrive on the island, make sure to follow these 24 Thassos Travel Tips and avoid the following 20 common Thassos Travel mistakes.
And when you want to read something fun about the island during your holidays, here are 35 fun facts about Thassos.
If you want to show off your Thassos holidays on Instagram, visit the 20 most Instagrammable places in Thassos or these 22 off-the-beaten-path Thassos locations.
To look even cooler in your posts, remember to spice up your Instagram or Facebook feed with one of these 106 Captions and Quotes about Thassos.
Is Thassos Expensive?
Compared to other popular Greek islands, Thassos is still relatively affordable. Food, accommodations, and activities are all reasonably priced, making it an ideal destination for those on a budget.
Which are the Thassos Best Beaches?
Thassos is home to some of the best beaches in Greece, including Golden Beach, Marble Beach, and Aliki Beach. These beaches offer crystal-clear waters and one-of-a-kind scenery, perfect for swimming, sunbathing, and beach hopping.
Which are the best Thasos Restaurants
Thassos is a food lover's paradise, with plenty of local restaurants and tavernas. Klisma and Theologos are home to some of the best restaurants on the island, offering delicious local cuisine and warm hospitality.
How does Thasos Island look?
Thassos, also known as Thasos, is a small Greek island located in the northern Aegean Sea. With its stunning beaches, mountains, and rich cultural heritage, it is a must-visit destination for anyone traveling to Greece.
Which are the best Thasos Hotels?
Thassos has a variety of hotels and accommodations to choose from, ranging from budget-friendly options to luxury resorts. Some of the best hotels on the island include Alexandra Golden Boutique Hotel, Makryammos Bungalows, and Aethria Hotel.
What is Thasos Potos like?
Potos is a village located on the southern coast of Thassos and is known for its lively nightlife scene. It is the perfect destination for those looking to let loose and enjoy the island's party atmosphere.
Should I spend my Holidays in Thasos?
Thassos is the perfect destination for a relaxing holiday in Greece. With its unspoiled beaches, gorgeous mountains, and warm hospitality, it is the ideal place to unwind and recharge.
Which Thasos Holiday Rentals to choose?
Thassos has a variety of holiday rentals to choose from, ranging from apartments to villas. Whether traveling solo or with a group, there is a holiday rental for everyone on the island. Among all, I'd recommend Studios Plaka and Pine Beach House.
Conclusion
Thassos is a destination that truly has it all – marvelous beaches, majestic mountains, delicious food, rich culture, and warm hospitality. Whether you're looking for a relaxing getaway or an adventure-filled vacation, Thassos is the perfect destination for you. So what are you waiting for? Book your trip to paradise today!
If you want more reasons to visit Thassos, check out this complete list of 101 Things to Do on the Island, read my Comprehensive Guide on all Thassos Villages, or get inspiration from these 21 ideas for Day Trips in Thassos!