Get to know Salonikios Beach Thassos: everything you ever asked about the hidden gem of Thassos!
Want to discover everything you need to know about Salonikios Beach in Thassos? Look no further than right here! Before beginning your day trip, please take a few notes from our guide written by your very own Thassos local, and prepare for the best trip of your life!
GET TO KNOW SALONIKIOS BEACH THASSOS
What is Salonikios Beach Thassos like?
Salonikios Beach is a sandy, remote beach in Thassos, Greece. Known for its scenic beauty and surrounded by a cove of rock formations and tall green pine trees, you will feel like you've been transported to paradise
How did Salonikios Beach take its name?
Salonikios Beach took its name from the so-called cape of the region. If you snorkel around, you will be able to explore the nearby caves yourself!
What is the water like at Salonikios Beach in Thassos?
Like all Thassos water, it is refreshing, clear, and blue. Expect little to no sea urchins, and bring snorkeling gear, as the ocean wildlife will surely catch your eye while swimming
How big is Salonikios Beach Thassos?
Salonikios Beach in Thassos is big enough for a pretty large crowd, however because of how remote it is, you won't ever find yourself crowded with others
SALONIKIOS BEACH THASSOS VIDEO
GETTING TO SALONIKIOS BEACH THASSOS
Where is Salonikios Beach in Thassos?
Situated on the Southernmost tip of Thassos. Lucky you, it usually doesn't catch the eye or attention of significant tourism crowds, so if you decide to make the trek there, you will be in for a treat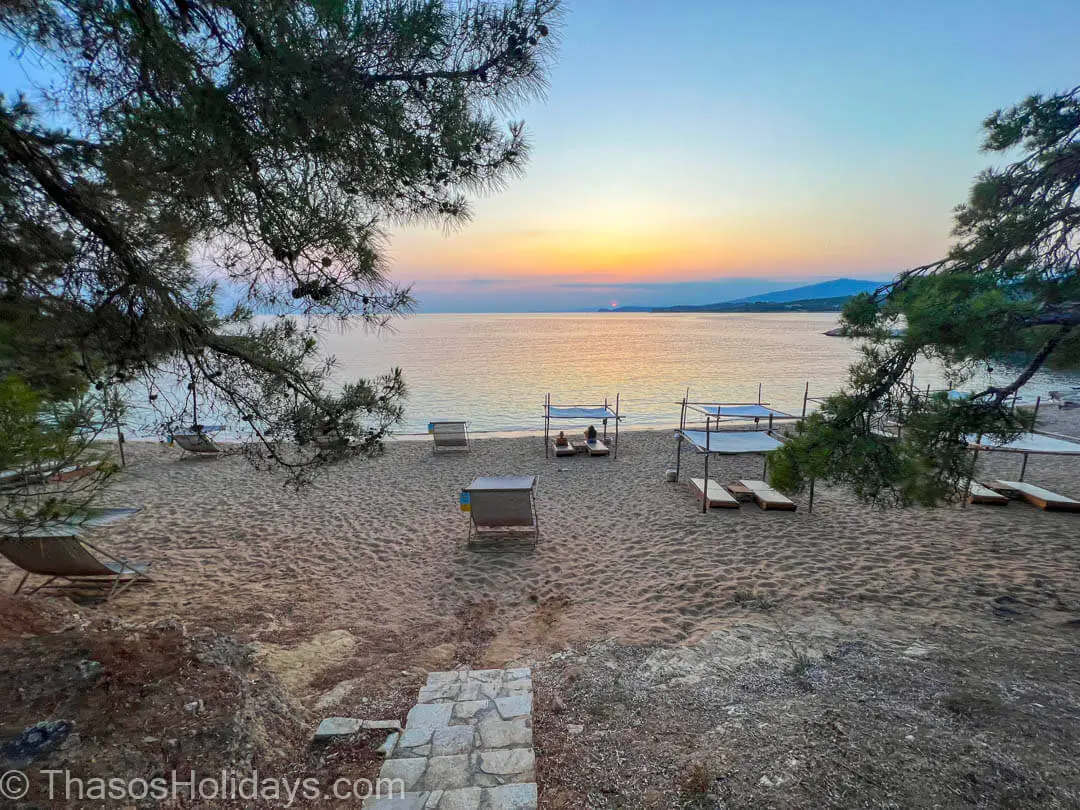 How to get to Salonikios Beach Thassos?
Salonikios Beach offers a bit of an adventure in getting there on the southernmost tip of Thassos. You can find it through google maps, and is 7km away from Potos and 48km far from Limenas
Is there parking in Salonikios Beach Thassos?
For parking at Salonikios Beach, don't expect anything formal. You'll find a large area of dirt every 20 meters as you drive in. For a hike on your way to the beach, you can park at the very top, otherwise you can park right next to the beach
SALONIKIOS BEACH THASSOS ACTIVITIES
Camping at Salonikios Beach Thassos
Salonikios Beach is not an official site for camping, but over the years, tourists have camped around the beach in an elevated space. You cannot camp on the beach because of the beach bar that operates between June and September.
Is there a restaurant in Salonikios Beach Thassos?
As for the food choices at Salonikios Beach – don't expect your traditional Greek feast. The options are light, ranging from salads and sandwiches to various drink options, so this may be an excellent time to bring out that old picnic basket you've been waiting to use
Is Salonikios Beach organized?
Salonikios Beach has various seating options- from loveseat hammocks to sun-bathing beds paired in twos, all equipped with quality side tables for your beachside snack! You may also see tents set up in the far left corners of the beach. However, if you come before June or after September, the beach is empty, and that's the best time to visit Salonikios Beach if you ask me.
I hope this condensed guide about Salonikios Beach Thassos proves helpful.
In any case, I would like to hear your opinion about Salonikios Beach.
Are you looking forward to exploring this remote beach?
Maybe you have a question about it that is not answered here.
Or, if you have been to Salonikios Beach before, what are your thoughts about it?
Either way, leave a quick comment below now!
And if you like what you see, follow ThasosHolidays on Facebook or share this post!