Thassos holidays 2022: The Complete Thassos Guide by a local
Are you planning your next Thassos holidays 2022?
Or is it your first time on the island and want to know where to stay in Thassos?
Either way, this complete guide is just for you.
In a rush? Want to download this complete guide as a PDF so you can easily refer to it later? Click here to download this Thassos guide as a PDF.
Keep reading to discover the ins and out of this often-overlooked green island in northern Aegean.
And get all the information you need to decide where to stay in Thassos.
Curious? Let's dive right in.
Feel free to share on social ; )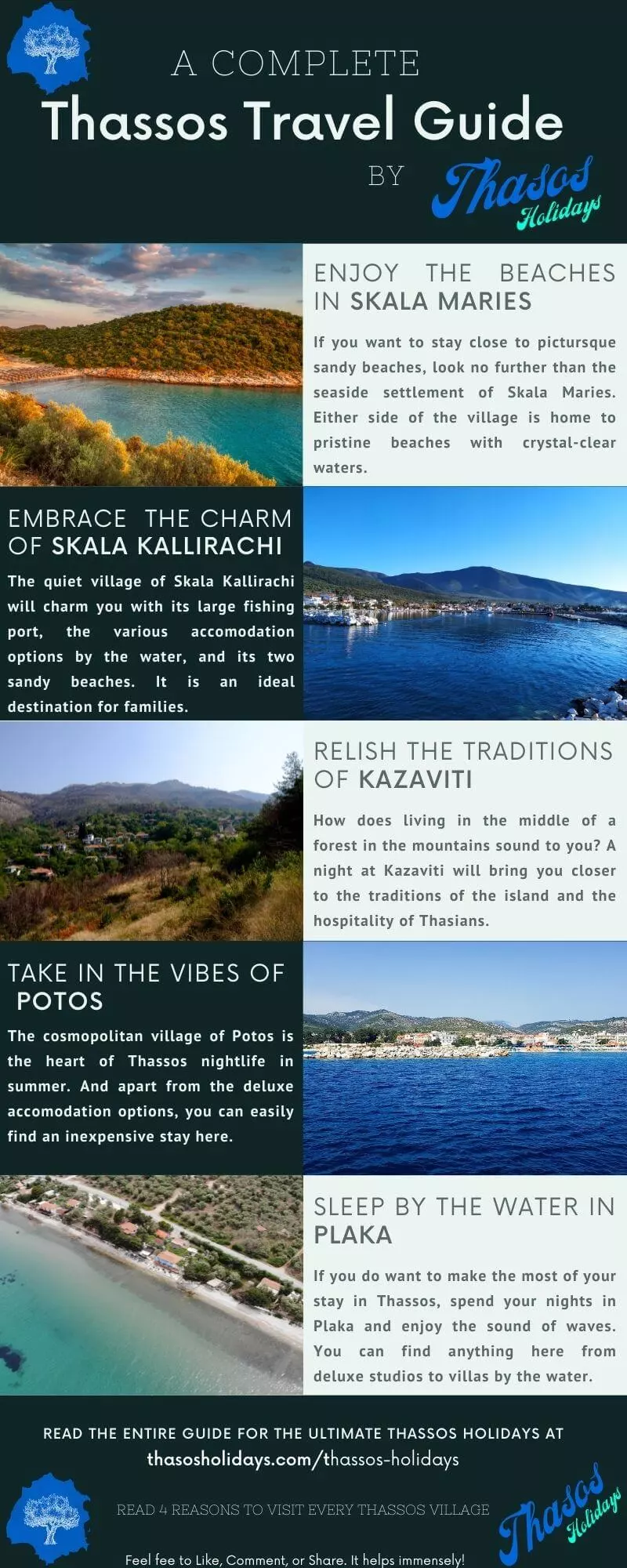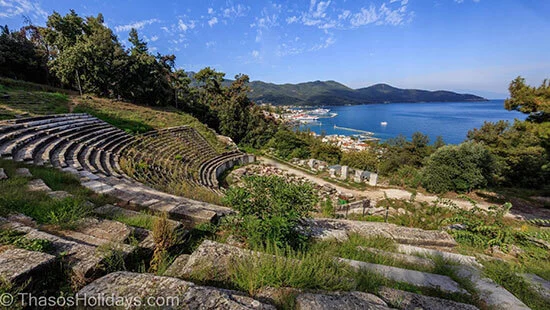 What is Thassos like?
Thassos is a relatively small and quiet island in the North Aegean Sea, Greece. Visitors and locals love it for its serene combination of crystal-clear waters, lush landscape, and breathtaking mountains. All packed in 380 squared kilometers!
Where is Thassos near?
Thassos is opposite the seaside town of Kavala, in northern Greece. The nearest island to Thassos is Samothraki, about 50 miles east. The closest port is Keramoti, where most ferries reach Thassos from the mainland.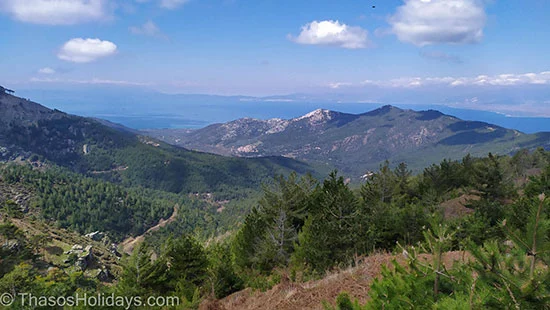 How big is Thassos Greece?
Thassos is 380 square kilometers and features a unique circular shape. The main road follows the island's coastline for a total of 100 kilometers. In other words, you can drive around the entire island with your own car in a matter of hours. That is an excellent way to meet Thassos.
Nature Enthusiasts will fall in life with Thassos natural beauty
Thassos is a green island that hides unbelievable natural beauty wherever you go. Where you are after exploring its coastline and underwater life or want to view waterfalls and walk through olive groves in the mountains, Thassos will never cease to surprise you.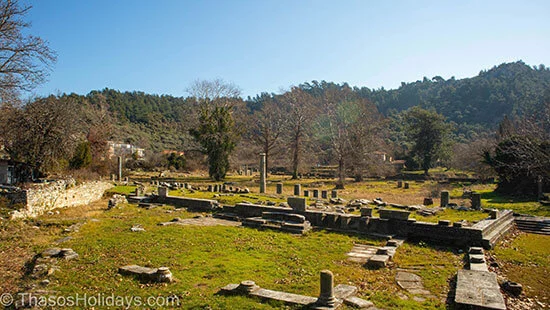 History buffs will always find something new to explore
Thassos has a history that dates more than twenty thousand years. Whether you are interested in classical Greece, Roman times, or more modern history, there is always something new to discover and learn in Thassos. It is no coincidence its archaeological museum is one of the most modern and known in Greece.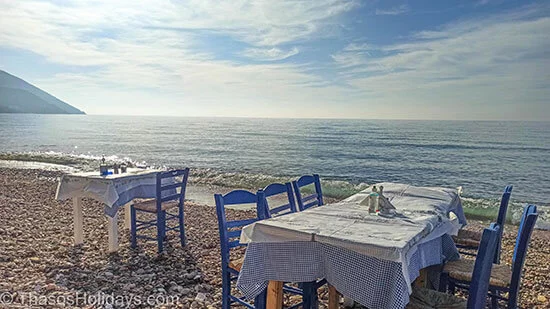 Foodies will love the local cuisine
If you're a fan of Greek food, wait until you visit Thassos and taste its delicious cuisine. You will notice that the taste here is even more profound, partly thanks to using the virgin olive oil abundant in the island. Apart from traditional Greek dishes, you will also have the chance to try local specialties such as Piperolahana and Kakavia.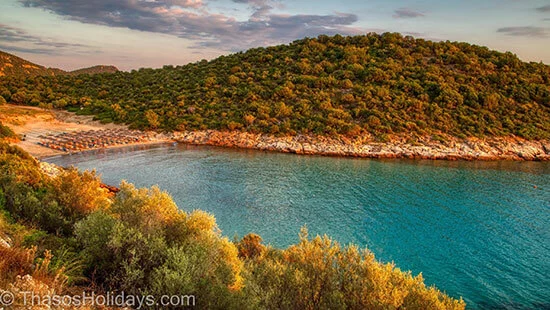 Beach lovers will get the tan they deserve
Once you visit some of the beaches in Thassos, you will realize how blessed this island is. Next to its natural beauty and spectacular landscape, you cannot but notice the majesty and variety of its beaches. Whether you are after long sandy beaches with golden sands, isolated enclaves full of pebbles, or even beaches from marble, you have come to the right place.
What to see in Thassos, Greece?
Thassos is known for its natural beauty and lush landscape. One thing you will love to see is its natural lagoon, Giola. It is the island's landmark, also known as the tear of Aphrodite due to its unique shape. And yet, this is only the tip of the iceberg.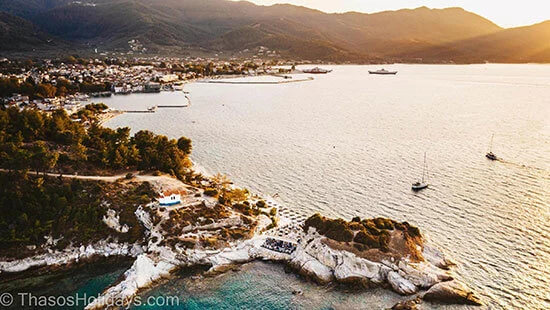 What to visit in Thassos?
Once in Thassos, make sure to go beach hopping. There is no way you won't fall in love with the island after visiting its beaches. It is no coincidence Thassos beaches are the number 1 priority for all package holidays. Three popular beaches are the 2-kilometer-long Golden Beach, the exotic Paradise beach, and the unique Marble beach.
What to do in Thassos?
There are hundreds of things you can do in Thassos. Some of the most popular activities are fishing trips, trying out the local cuisine, and visiting archaeological venues. And for the nature enthusiasts, you will love hiking and mountain biking in the exotic mountains of Thassos.
Want to learn more? Check out this super list of 101 things to do in Thassos. Written by a local.
How do you get to Thassos?
You can get to Thassos only by ferry. There are two ports with daily connections to the island. One is the city of Kavala, from where the voyage takes around 1.5 hours. The other is Keramoti, which has more ferries since it only takes half an hour for the ferry crossing.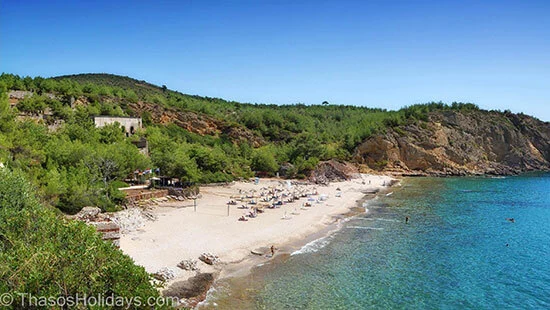 Can you fly direct to Thassos?
Thassos does not yet have its own airport. The nearest international airport is Kavala, only 10 kilometers away from Thassos coastline. In other words, once you land at Kavala airport, it can take less than an hour to reach Thassos through the port of Keramoti. The ferry crossing takes half an hour.
How to get to Thassos from Thessaloniki?
To get to Thassos from Thessaloniki, you need to first reach either the port of Kavala or Keramoti. You can do so using a private taxi, a rental car, or a public bus. The trip from Thessaloniki to Kavala takes around 2.5 hours and then 1.5 hours for the ferry to Thassos.
Thassos Holidays Travel Tips
What is Skala in Thassos
Once you start exploring Thassos, you will notice that almost half of the village names have the word Skala. That's no coincidence. Skala in Greek means Stairs. In the past, locals live in the mountains to protect against pirates. Once piracy receded, they started to form new settlements, which they named after their original villages adding Skala to the front.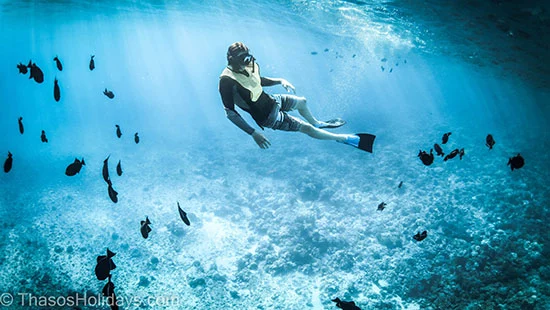 What is the best time to visit Thassos
Thasos is popular with tourists from June to September. Like in most Greek islands, July and August are the busiest months, especially the first half of August. If you want to avoid the crowds, the best time to visit Thassos is September, when the weather is still predictable and the water temperature at its best.
How many days in Thassos?
Although you can go around the island in just one day, you won't give it justice if you spend only a couple of days in Thassos. To discover the hidden beauty lying in its coastline and mountains, you would need at least 5 days, and you could still have a schedule packed with activities and things to see.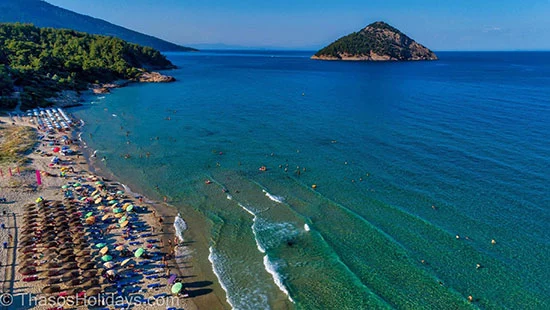 Which beaches to visit in Thassos?
Although you will have more than enough options, some beaches in Thassos stand out more than others. Marble beach is known for its white marbles mixed with white sand; Paradise beach looks like it came out of the tropics, while Golden and Pachis beaches are famous for their length and clear waters.
How to get to Marble Beach Thassos?
To get to the famous Marble Beach, also known as Saliara, you need to drive through a dirt road from the capital Limenas. Head north following the signs towards the Makryammos resort and keep moving until you see Marble beach on the left. The only downside of this trip is that your car may turn white from the marble dust.
Which remote beaches to visit in Thassos?
If you ever dreamed of being alone on a spectacular beach in Greece, you have come to the right place. Thassos is packed with hidden and quiet beaches all its coastline. While some are accessible only by sea, other beaches like Agia Anna can easily be reached by car. And if you prefer pebbles, make sure to head to Plaka Beach.
What to buy in Thassos?
Thassos is home to various artists and craftsmen who build their own products and designs. And you can find them in multiple locations. Think of pottery stores, art collections, bazaars, and local stores. And if you add all the local food products, such as the Throuba olives, the list becomes endless.
Where to buy souvenirs in Thassos?
The biggest marketplace in Thassos is in the capital, Limenas. There is an extended market of stalls and souvenir shops between and around various bars and fast food stores. You can also find a rich collection of souvenirs in the seaside settlement of Potos, which attracts thousands of tourists every year.
What is the bazaar in Prinos?
One of the most known marketplaces in Thassos is no other than the Monday bazaar in Prinos. On the first day of every week throughout the year, producers from around the island and northern Greece meet in Prinos. Here, you can find anything from souvenirs and gift ideas to food and utensils.
What are Thassos food specialties?
As an island that depended on fishing for a long time before tourism, Thassos is proud to have a rich collection of fish food, such as Kolios Gourna. What is more, vegetable-based dishes have always been a priority for locals, with peppered cabbage and stuffed zucchini flowers being two of the most popular.
Where to eat in Thassos?
In Thasos, you can find restaurants literally right by the water. For example, take the two fish taverns in Klisma, where you can sit at a table only centimeters away from where the waves crush the coastline. Apart from such traditional taverns, you can also visit high-end restaurants or smaller establishments in the mountains.
Where to buy groceries in Thassos?
There are grocery and convenience stores in every village around the island. If you want to go to a bigger store, you can always visit Lidl in Limenas, Masoutis in Potos, or Latsouris in Skala Rachoni. These are all big supermarkets where you can find anything you desire.
What is the nightlife like in Thassos?
Although Thassos is a relatively quiet, family-friendly destination, you will have many options for evening entertainment. There are hundreds of bars that operate around the island and go as late as two o'clock in the morning. You will find most of them in Potos and Limenas, with Karnagio bar being one of the most famous.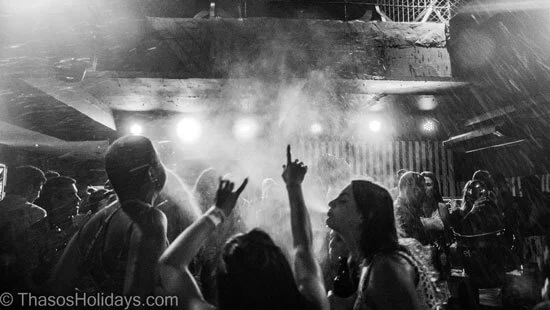 Are there clubs in Thassos?
Yes, you can find clubs in the capital Limenas and Potos. Although the one in Limenas is indoors, Bolero Dancing Club near Potos is a famous open-air club that operates every Friday and Saturday in the summer months. It only gets busy after 2 am in the morning and runs until the first drops of sunlight and beyond.
Are there live shows in Thassos?
Yes, taverns and restaurants regularly organize Greek nights and live shows around the island. For Rembetika music, make sure to visit the mountain village of Theologos. Apart from such independent festivities, you may also come across several community festivals, such as the annual Sardine Festival in Skala Kallirachi at the end of July.
What is the best way to get around Thassos?
If you want to discover the island's beauty, make sure to rent a car or drive your own one. Since Thassos attractions are spread all around the island, it makes sense to have your own means of transport. You will love the freedom you will have, especially when you stop in random viewpoints.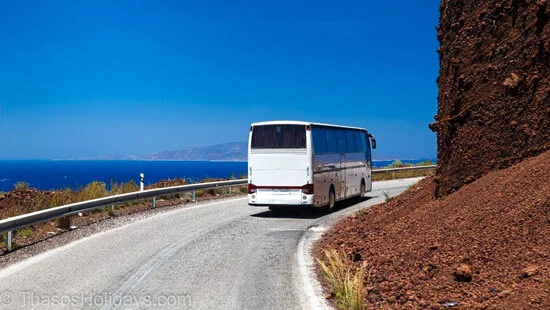 How is the public transport in Thassos?
There are regular bus connections between the various villages around the island. These public buses usually operate until late afternoon and make an inexpensive way to get around Thassos. You will find the schedule for every village in the central station near the square.
Can I take a taxi boat in Thassos?
Yes, you can. There are taxi boats that can get you to the most isolated beaches in Thassos and let you discover an often-overlooked side of Thassos. You can also hop on various boat trips, which make an excellent budget-friendly alternative.
Where to stay in Thassos Greece
Best cosmopolitan centers to stay in Thassos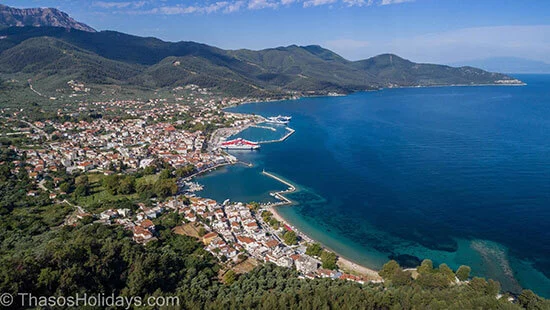 Limenas, also known as Thassos town
Stay in the most vibrant place in Thassos
In one way or another, your time in Thassos will pass by Limenas, the island's capital. It is the largest and most popular settlement in Thassos, with 3000 residents and hundreds of accommodation options. Let alone its elegant restaurants and vibrant bars.
Embrace the local history
Above all, you will remember Limenas for its history, dating as far back as the 6th century BC, when Greeks from Paros first colonized the island. And you can still see remnants of its glory spread throughout the city, with its ancient theatre and Acropolis being some of them.
Walk between ancient monuments
Whether it is the ancient agora, the archaeological museum, the old port, or the Roman theater, Limenas always have something to leave you in awe of its past. And this is just the tip of the iceberg.
Head to spectacular beaches nearby
If you stay in Limenas, you are close to some of the most popular beaches on the island. To name a few, Saliara and La Skala are less than a few kilometers away. You could even walk there if you want.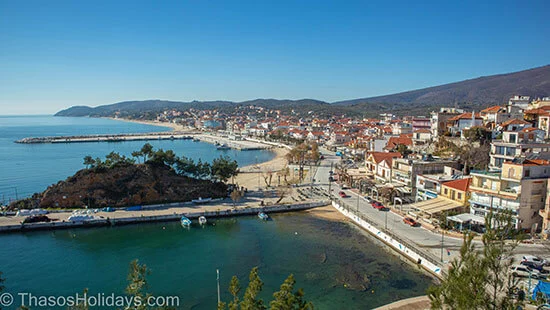 Limenaria: the oldest village on the island
Embrace the charming atmosphere
Limenaria is the old capital and second-largest settlement of Thassos. One thing you will love is no other than its vibe. Built in a privileged location on the island, it has a charm like no other village. At the same time, it offers views as far as Mount Athos in Chalkidiki.
Have a romantic dinner
The moment you step foot here, you understand why it has become one of the most popular seaside resorts in Thassos. There are tons of options to dine out, enjoy your drink, or shop in the local stores.
Enjoy the views of the old palace
You will love walking along the shore and overlooking Palataki. This 19th-century building stands imposing on top of a cliff above the port.
Take a cruise
Limenaria is also the starting point for many sea cruises you can take around the island. The most popular route will take you to the famous natural lagoon of Giola and the Archangel Monastery built on the side of a cliff above sea level.
Wanna learn more about Limenaria? Read this post about Limenaria!
Potos: the most cosmopolitan village in summer
Stay in a modern seaside village
If you are after a vibrant and lively place to stay, you can never go wrong with Potos. This small village transforms from a sleeping settlement in winter to a fully-fledged beach resort in summer.
Choose among several options for entertainment
You can find anything in summer here. Large grocery stores, cafe bars that are open until early morning, taverns by the sea, and souvenir shops of any kind create a cosmopolitan setting, unlike anything on the island.
Dance until early morning
And the best part is that Potos, with its many bars, is one of the main places to go out in Thasos, after the capital Limenas. Potos is also home to the island's only outdoor club, which operates every Friday and Saturday in summer.
Sleep in inexpensive rooms
If you plan to save on your accommodation budget, Potos should be the best option. Hotels, studios, and apartments are more than the number of residences in the village. As a result, it won't be long until you find inexpensive accommodation.
Wanna learn more about Limenas? Read this complete Limenas Guide!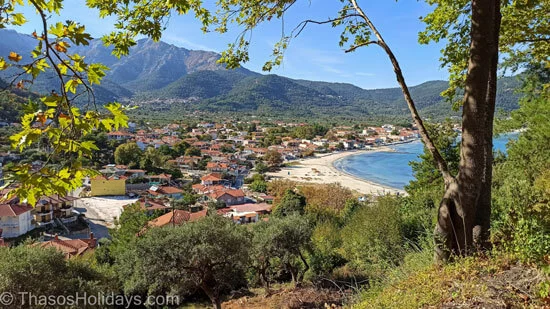 Skala Potamias: home to the longest sandy beach
Sleep in a breathtaking bay
One of the most popular places to stay in Thassos, Skala Potamia, is a seaside settlement surrounding the two-kilometer-long Golden beach. There is nothing like waking up and swimming in the middle of a majestic bay with a spectacular setting.
Walk the 2-kilometer-long beach
If you wake up early, you can have the entire two kilometers of sandy beach for yourself. That is an ideal opportunity for a quick walk or run on the shore of Golden beach.
Choose between several accommodation options
Every year, the village gets grander, with more hotels and resorts popping up by the sea. It is no wonder thousands of tourists prefer it for their Thassos holidays.
Dine right by the sea.
You do not even need to walk far to reach some of the most popular taverns on the island. Everything is in your footsteps and right next to the waves.
Panagia: the busy mountain village
Stay in a picturesque village
On the east side of the island, Panagia is one of the most popular places to stay in Thassos. Upon arrival, you will notice the never-ending streams of water that pass through and around the houses.
Enjoy unparalleled views over Skala Panagia
What you will love the most about Panagia is no other than its views. The panoramic scenery of the Golden beach and the entire bay below will leave you in awe. And if you are an early bird, you must not miss the sunrise from this part of the island.
Taste delicious meat dishes
Panagia is also famous for its traditional taverns and delicious meals. It is one of the places of Thasos where tradition has prevailed in the cuisine, using fresh meat and local ingredients.
Discover the creeks of Panagia
Once you leave the restaurants, you can walk and explore the network of creeks running from the mountain through the village down to sea level. There is no better way to digest the food and take in the vibes of Panagia.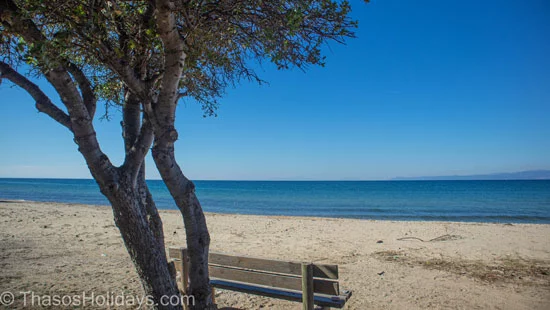 Skala Prinos: the second port of the island
Stay close to a modern port
Although it has less than 300 permanent residents, Skala Prinos transforms into one of the busiest ports of Thassos during summer. After all, here, you will find daily connections to the city of Kavala, the region's administrative capital.
View the traditional boatyard
As you walk out of the port toward the beach, you will notice the traditional boatyard. Fishermen from all over the island bring their wooden boats here for yearly maintenance.
Sleep in luxury resorts
Right next to the port, you will find a series of top-end hotels and guest houses ready to meet your every need. And right in front of them lies a vast sandy beach, a perfect spot for sunbathing or a quick dive.
Walk in the pine forest
If you continue your way to the end of the beach, you will see the start of the lust pine forest of Skala Prinos. Here you will have the chance to walk through nature and enjoy a peaceful afternoon in the woods.
Best seaside villages to stay in Thassos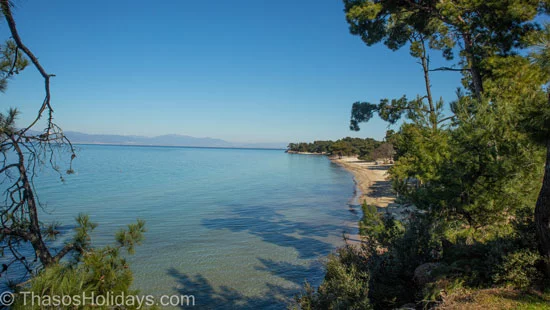 Pachis: home to a famous sandy beach
Stay in modern resorts
Pachis is home to new and modern resorts that will leave you breathless for their luxury and proximity to nature. In short, you will love staying in such an environment, between mountains and sea.
Swim in the Pachis beach
The highlight of Pachis is no other than its beach. Its shallow and turquoise waters make it ideal for kids, while parents can sunbathe for hours in the sand. And when you feel like an active break, watersports are just around the corner.
Enjoy a refreshing drink on the beach
As you relax on a sunbed, you can enjoy refreshing drinks or snacks from the nearby facilities. The place is full of modern beach bars that cater to your every need.
Have a delicious meal by the water
After swimming on the beach, you can head to a tavern or restaurant in the area and enjoy one of the most delicious meals you can have in Thassos.
Skala Sotiros: peace and quiet on a charming beach
Stay in a quiet village
Skala Sotiros is one of the smallest and most quiet villages you can find in Thassos. Yet, the place is home to several hotels and accommodation options near the beach.
Embrace the local history
Skala Sotiros is one of the oldest settlements in Thassos, together with Limenaria and Limenas. Its history date as far back as 3000 BC. The old village lies buried below the new one.
Visit the significant Profiti Ilias church
The most important building in Skala Sotiros is its church, where below it you can witness remnants of the prehistoric stone wall. The church, and the village, celebrate every 6th of August – so if you're here during that time, you need to visit Skala Sotiros
Swim on a lovely beach
Skala Sotiros has a small yet charming beach in the center of the village, right next to the port. You will also find an organized beach bar here if you would like a refreshment while sunbathing.
Skala Kallirachi: an unparalleled sunset setting
Choose between several accommodation options
Skala Kallirachi is a picturesque, low-key village with many studios, a few hotels, and tens of apartments to rent. No matter your taste, you will find the ideal accommodation for you here in no time.
Walk in the magnificent port
The landmark of Skala Kallirachi is no other than its spectacular fishing port. It is the biggest you can find on the island, with beautiful palm trees and several sitting areas from where you can enjoy the fish boats coming and going. You can even join a fishing trip from here if you wish.
Swim on two little beaches
On either side of the protected port, you will find two sandy beaches where locals and tourists mingle to enjoy the cooling Aegean waters. In one of them, you may also find a beach volleyball field which the locals built for everyone.
Enjoy the sunset over a cup of coffee
Skala Kallirachi offers some of the most breathtaking sunset views on the island. And there is no better way to take it in all with a coffee. Or, if you are hungry, you can taste some of the delicious pancakes they make here.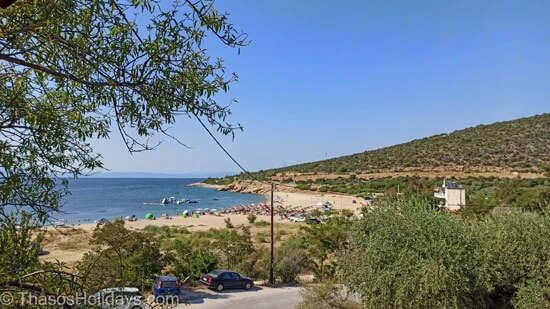 Skala Marion: the foodies paradise
Embrace the local architecture
A picturesque village in the middle of a bay, Skala Marion will captivate you with its architecture and vibes. All houses stand close to each other on a curving cliff leading to the port from three sides.
Walk the picturesque port
Skala Marion port is the center of life in the village. Apart from being the primary source of income for many locals, it has a unique vibe that calls for your attention. You will feel like walking around the small port in no time.
Taste delicious fish dishes
In the Maries port, you will find some of the best fish taverns on the island. They provide the perfect setting for a romantic dining experience like no other.
Swim in calm waters
If you feel like swimming, either side of the bay is home to sandy beaches reachable on foot within minutes. One of them has a kids' playground in the water, known as the only on-water Aqua Park in Thassos. If you ask me, it is an ideal place to check out if you have children.
Kinira: a picturesque village by the sea
Stay in a serene environment
Located on the less populated eastern side of the island, Kinira is an excellent destination for anyone looking for peace and quiet in a serene environment. You will be between forests, mountains, and the sea – the perfect combination.
Enjoy unparalleled views over Kiniriotiko
Right in front of Kinira, you will see the tiny islet of Kiniriotiko, which makes an excellent background for your next Instagram post. And if you wake up for the sunrise, you will see the sun emerging from the top of the islet, like a crown.
Swim in crystal clear waters
Although the main beach in the village has pebbles, there is a small sandy part on its northern side. Yet, the pebble beach makes a great spot to lie down and watch the clear sky or the nightly stars. All without messing with sand.
Learn the local history
According to myth, Kinira has been a colony of Phoenicians who came on the island for its mines. Although there are no active mines in the area, you can see remnants of old medieval churches from when the island was a target for pirates.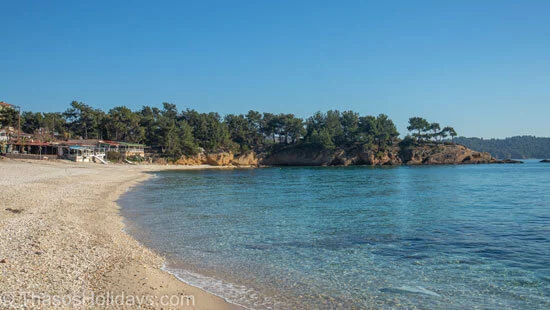 Pefkari: an ideal spot to camp
Live between pine trees
Pefkari takes its name from Pefko, which translates to Pine Tree in Greek. All houses and resorts reside between tall pine trees that almost touch the sea. It is a unique setting like no other on the island.
Camp in the nature right next to the beach
If you want to spend a few nights camping in Thassos, look no further than Pefkari. Here, you will find organized camping, where you can rent or bring your own equipment if you wish.
Sunbathe in the Pefkari beach
Apart from its pine trees, Pefkari is also known for its fantastic beach, which attracts thousands of tourists every summer. The beach is full of taverns and bars of any type.
Build memories with watersports
Pefkari is one of the most popular destinations for watersports in Thassos. Locals and tourists gather here to take part in water activities and have fun – all while making memories that will last a lifetime.
Best mountain villages to stay in Thassos
Theologos: the lively mountain village
Embrace the unique architecture
Theologos is a mountainous village, home to Thassos' most spectacular Macedonia-style houses. One thing you will motive right away is its sheer size. After all, it is the largest settlement on the island's mountains.
Stay in a lively village
You can sleep in mansions, hotels, or rental apartments in the heart of the village. Once there, several top restaurants await you for a dining experience you will long remember.
Take amazing photos in the Gourni Waterfalls
Theologos is also home to one of the most unique sites on the island, the Gourni Waterfalls. Coming directly from the source, a stream of water pours down into two separate pools of cold fresh water. Take your camera and prepare for some of the most amazing shots you will take on the island
Hike to the top of the island
If you want to hike Thassos mountains, Theologos is the starting point to one of the most scenic routes to Ipsario, the island's top. You will walk upon a ridge with a breathtaking 360-degree view of the island – a scenery you will long remember.
Maries: the center of the island
Stay close to nature
Maries is the village with the most central location on the island. Despite its proximity to other settlements, getting here can take more time than you may plan. After all, the island's interior is a dense collection of cliffs, forests, and mountains.
Visit the old chapels of the area
As you walk around the village, you will encounter two important Christian chapels. The one in the center of the settlement dates as far back as 1800, while the other is home to a priceless painting of the Virgin Mary.
Follow a scenic route through Maries reek
One of the highlights of Maries is no other than its artificial lake and waterfall. The latter may be more scenic than the former, but none is as memorable as a walk along the stream that passes near Maries.
Prepare to discover the island with a mountain bike
Thanks to its central location, Maries is the best place to be if you plan to discover the island with a mountain bike. Here, you will find the main crosspoint of the dirt roads that lead to all the island's peaks.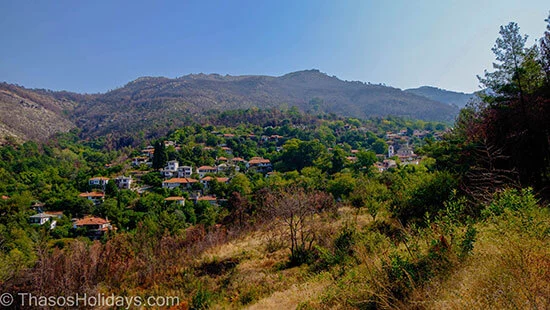 Kazaviti: the settlement inside a forest
Choose between two separate settlements
The region of Kazaviti is home to two distinct villages that each bear the same name. For convenience, locals name them after their size: The Small Kazaviti and the Big Kazaviti.
Connect with nature
Although Big Kazaviti is larger, both are famous for their stone mansions, neoclassical buildings, and surrounding vegetation. Although they both faced a massive fire a few years ago, they are still as beautiful as they have always been.
You will love the microclimate
If you desire to stay here, you will feel the difference in temperature from day one. While the rest of Thassos may suffer from unprecedented heat, you may need a blanket in Kazaviti to sleep warm at night. The microclimate here is beyond belief.
Taste delicious local wine
As you walk around Kazavitis, you will notice the many vineyards all around. That is no coincidence. The very name Kazavitis means the House of Wine in Latin.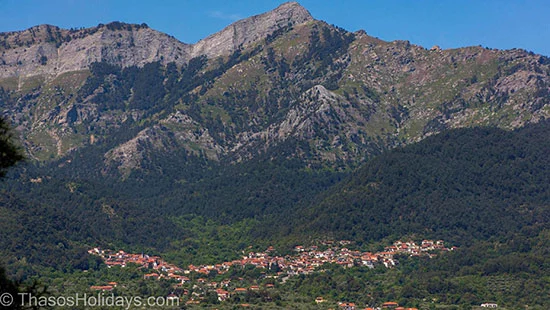 Potamia: the village of the small rivers
Enjoy the lush landscape
On the slope of Mount Ipsario, Potamia is one of the greenest villages in Thassos. There are so many trees around that you will feel the fresh oxygen the moment you step out of your car.
Walk around small rivers
The highlight of Potamia is no other than its small rivers, which come from freshwater sources in the mountains. That is also from where the name of the village comes. The very word Potamia means Rivers in Greek.
Visit the local sculpture museum
Panagia is also home to a unique sculpture museum run by a local. Visiting it is one of the best ways to discover the ancient art of sculpturing, which was the primary source of income for Thasians in the past centuries.
Follow the path to Ipsario
Any hiker or adventurer who visits the island has to get to Potamia in one way or another. Here, you will find a challenging yet rewarding hiking path leading to the island's top. The views you will see along the way will stay in memory for a long time.
Rachoni: the traditional village
Stay in the middle of a large olive grove
Rachoni stands on the northwest side of Thassos mountains and is in the middle of an old olive grove. Apart from the precious olive trees, you will also find various fruit and plane trees.
Celebrate in the local church on the 15th of August
If you plan to be in Thassos during August, you should not miss a visit to the local church in Rachoni. On the name day of Maria, there is a big celebration in the village, with a giveaway of traditional meat dish.
Drink a coffee in the picturesque square
In the tallest part of the village, you will find the picturesque village square. It is the perfect spot to relax, drink coffee, or try the famous spoon sweets of Rachoni.
Follow a scenic route to Kazaviti
If you head southeast of Rachoni, you will have the opportunity to enjoy one of the most breathtaking hiking routes in Thassos.
Kallirachi: the scenic village
Enjoy unparalleled views of the Aegean
Standing on a steep mountain slope, Kallirachi is the only mountain village with a 180-degree view of the sunset. No matter where you are in the settlement, you only have to turn your face westwards to admire the beauty of the Aegean bay.
Visit the local folklore museum
In the northernmost part of the village, you will find a well-preserved mansion that dates back to 1880. Here, you can witness various exhibits ranging from traditional tools and woven to old pictures and paintings. There is no better way to discover the history, culture, and life of locals.
Experience traditional life
Kallirachi is one of the few Thassos villages that have remained relatively untouched by tourism. You can feel this from how locals talk to you, as they are eager to help and befriend you.
Hike to the mountain of Kakirachi
Kallirachi stands for Good Cliff in Greek, but if you move further up, you will find Kakirachi, translated as Bad Cliff, an excellent place to hike. That was the position locals protected themselves from pirates who gave the bitter name out of frustration for its difficult access.
Best remote locations to stay in Thassos
Plaka: a hidden paradise in Thassos
Stay on the crossroad of the sea, forest, and mountain
If you are looking for a romantic place to relax and create memories that will last a lifetime, look no further than the settlement of Plaka, near Skala Kallirachi. Here, you will be right next to the water, at the edge of an olive grove from one side and the end of a hill from the other side.
Swim in crystal-clear water
Apart from the premium location, you will also fall in love with the crystal-clear waters in the area. Hands down, it is one of the best places on Thassos for snorkeling. You can even grab a kayak and explore the beautiful coastline in the south.
Taste fresh fish centimeters away from the waves
Plaka is neighboring two of the most popular fishing restaurants in Thassos: the Klisma taverns. Although you can enjoy fresh fish, you will love the place the most for its location. Imagine sitting on top of a pebble beach, with the waves almost touching the feet of your dining table.
Take a hike to the olive grove
Thanks to its premium location, Plaka is the perfect starting point for a hike you will remember. You can climb to the top of the hill and enjoy a panoramic view of the Aegean Sea as far beyond as mainland Greece. Alternatively, you can take an easier route through the spectacular olive grove in the area.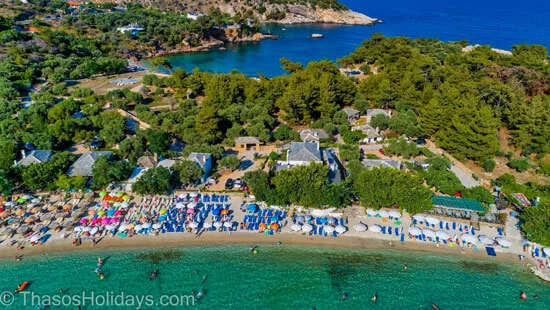 Aliki: the venue of old Thassians
Stay in a unique environment
Imagine a small beach packed with bars and restaurants surrounded by lush vegetation and archaeological sights. That is Aliki, a small settlement in the southern part of Thassos.
Drink and eat by the water
Aliki is home to several modern bars and traditional taverns to accommodate your every need. Although they are open only during summer, the atmosphere they create is unique.
Enjoy a cosmopolitan setting during the day
Early mornings and evenings are quiet, but the day usually goes by with a crowd on the beach. Apart from visitors coming with their vehicles, many tourists arrive here by boat, adding to the number of tourists on the beach.
Explore the archaeological site of Alikes
Next to the beach, there is a small peninsula home to one of the most important archaeological sites on the island: the ancient quarry of Alikes. From here, the whole known world of antiquity came to know the beauty of Thassian marbles.
Psili Ammos: a supreme beach destination
Swim in turquoise waters
Although in a remote location on the island, Psili Ammos is a popular beach destination in Thassos. And that is partly thanks to the amazing turquoise waters in the area.
Stay in high-end accommodation
If you want to live on a lively beach, right next to the waves, Psili Ammos may be your best bet. You only have to walk a few meters to reach the beach bar and have the entire beach on your feet.
Spend time in a luxury beach bar
Although Psili Ammos is home to a few beach bars, one stands out for its central location, luxury, and upbeat music. The bar also organizes huge beach parties on select Sundays during the summer.
Dine near the beach
There is genuinely no reason to leave Psili Ammos. Not only do you have the beach and bar on your feet, but a high-end restaurant awaits to satisfy your appetite anytime during the day.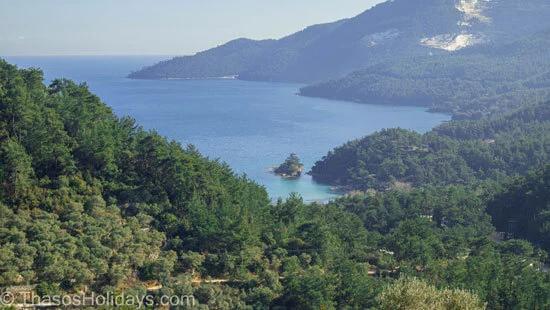 Makriamos: a high-end resort in nature
Stay in a luxury resort
If you are after high-end accommodation, but you still want to experience the natural beauty of Thassos, look no further than Makriamos.
Enjoy the beautiful surroundings
Apart from the various facilities and services you can find on the premises, you will love Makryammos for its rare natural beauty. You will be standing on the side of a smooth hill covered with pine trees that almost touch the water.
Swim in tranquil waters
Makriamos is home to one of the few Blue Flag beaches in Thassos. The waters are shallow and calm, making the beach ideal for families. And if that is not enough, you can have a massage right on the sunbed while you overlook your kids playing in the sand.
Enjoy the sports facilities
No matter your preference in sports, you will always find something to do in Makryammos. Whether tennis, basketball, or beach volley, Makryammos has your match. Let alone the many water sports activities you can join.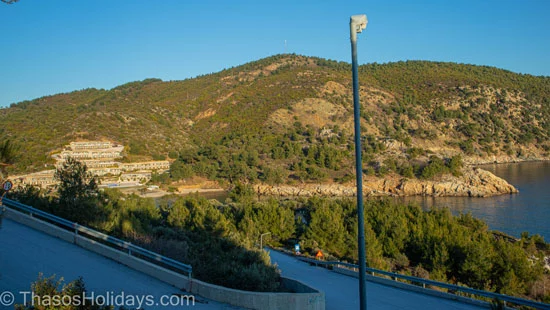 Agios Ioannis: a beach resort with spectacular beach
Stay in a luxury resort
Agios Ioannis is a magnificent beach that gives way to a small pristine bay. Recently, the area has been home to a new high-end resort that will leave you breathless. You will love the facilities and the surrounding the moment you step foot on the resort.
Swim in calm and clean waters
Thanks to its remote location, Agios Ioannis features waters as clear as crystal. And there is an organized beach bar that can cater to your every need.
Enjoy various quality services
The resort has the means to satisfy your every need. Anything from wellness and spa to children's activities and water sports. No matter your request, you only have to ask, and the personnel will take care of it.
Dine in high-end restaurants
As a newly built resort, the premises include more than one option for dining. Whether you are after a modern gourmet meal or a traditional Greek dinner, you will remember your visit here for a long time.
Tripiti: a 3-kilometer sandy beach
Choose between several accommodation options
Tripiti is a sparsely-populated settlement near the village of Limenaria. On its 3-kilometer-long beach, you can find any type of accommodation you would ever need. Anything from luxury hotels to inexpensive guest houses.
Enjoy a fresh meal by the water
Tripiti is home to several taverns that are right next to the water. There, you can enjoy some of the most fully-fledged traditional Greek dining experiences you can have on the island.
Discover the beauty of marine life
Although several parts of the beach are rocky and contain more pebbles than sand, the water inside is always clear, ideal for snorkeling and discovering the beauty of underwater life.
Explore the Tripiti cave
The highlight of Tripiti is the small cave on the northern side of the beach. It is about a hole on a rock that joins the sea, creating a small passage. In short, there is nothing like swimming from the main beach to the Tripiti cave through that passage. And if you like exploring caves, head to the prehistoric Tzines cave nearby.
Our pick of the top 5 places to stay in Thassos
Do you feel like having too many options? Sure, as you have seen, there are many worthy places to stay in Thassos. To make it easier for you, here are the top picks from Thasos Holidays.
Where to stay in Thassos for First-Timers
Skala Marion is an ideal place to stay in Thassos for first-timers. You will love Skala Marion for its unique vibe, architecture, lively port, and nearby beaches.
Where to stay in Thassos for beach lovers
Skala Sotiros is an excellent place to stay in Thassos for beach lovers. You will love the charming beach of the village for its crystal-clear waters and organized facilities.
Where to stay in Thassos for families
Skala Kallirachi is a fabulous place to stay in Thassos for families. Its picturesque port, quiet setting, charming beaches, modern bars, and comfortable accommodation options are all you would ever ask for as a family.
Where to stay in Thassos to experience traditional life
Kallirachi is an ideal place to stay in Thassos to experience traditional life in its purest form. It has kept its culture intact while the houses keep their original structure, making Kallirachi the place for all culture enthusiasts.
Where to stay in Thassos for romance and relaxation
Plaka is a fantastic place to stay in Thassos for romance and relaxation. Its supreme location between sea, mountain, and forest makes it ideal for all romantics out there.
Wanna save the article while you are on the road in Thassos to have this guide at hand?
Or maybe you want everything pinned together on a map.
I hope you enjoyed this ultimate Thassos guide.
Now, I'd like to hear from you: which is your favorite place to stay in Thassos?
Do you prefer the peace and tranquility you can find in the mountains?
Or maybe you prefer to stay right by the sea and enjoy swimming in turquoise waters.
Either way, let me know by leaving a quick comment below.
And if you like what you see, follow ThasosHolidays on Facebook or share this post!