Are you thinking of visiting Thassos in winter? Maybe a weekend getaway or a Christmas holiday in Thassos sounds fun. Either way, here is what Thassos looks like in winter, written by a local.
In short, the Greek island of Thassos is not just a summer paradise but also a hidden gem in the winter months. While Thassos may not be the first destination that comes to mind when planning a winter getaway, it offers a unique vacation experience worth exploring.
In this article, I will delve into what Thassos has to offer during the winter season and give you plenty of reasons to consider visiting this beautiful island. So, pack your bags, put on your winter coat, and let's discover the wonders of Thassos in winter!
What is Winter in Thassos Really Like?
When most people think of Thassos, they envision sandy beaches, crystal-clear waters, and basking under the glorious sun. But what about winter? Well, Thassos transforms into a different world during the colder months.
The island takes on a serene and peaceful atmosphere, perfect for those seeking a break from the hustle and bustle of everyday life. The crowds disperse, leaving you with tranquility and the opportunity to deeply connect with the island's natural beauty.
The Weather and Climate of Thassos in Winter
Now, let's talk about the weather and climate of Thassos in winter. Although it may not be as warm as the summer months, Thassos still enjoys relatively mild temperatures. The average winter temperature ranges from 8 to 15 degrees Celsius, making it a pleasant destination for outdoor activities.
While rain showers are more frequent during this time, they add a touch of freshness to the island's landscapes, creating a picturesque setting that is perfect for exploring.
Reasons to Visit Thassos in Winter
To Experience a Different Landscape on the Beach
One of the top reasons to visit Thassos in winter is to witness the transformation of its beaches. Imagine having the entire stretch of coastline to yourself, with only the sound of gentle waves crashing against the shore.
Visiting the otherwise busy shores such as Marble Beach, Paradise Beach, Salonikios, or Golden Beach will prove a blust!
After all, winter is the perfect time to take long walks along the beach, collect seashells, and enjoy the solitude that comes with it. You'll have the opportunity to see tens of Thassos beaches in a whole new light, appreciating their raw and untouched beauty.
You may not be able to enter the water since it will be quite cold, but you can still sunbathe on sunny days.
And the sunny days in winter are more than you may think when you hear of winter. Just find a spot with little to no wind, lay your towel, and let the Greek sun do its magic.
Because in Thassos, Prices Go Down in Winter
Another great reason to visit Thassos in winter is the affordability factor. With fewer tourists around, prices for accommodation, dining, and activities drop significantly. This means you can enjoy all the island has to offer without breaking the bank.
Take advantage of the winter discounts and indulge in a luxurious stay at a fraction of the cost. Plus, you'll have the added benefit of receiving personalized service from the locals, who have more time to cater to your needs.
To Do Winter Activities in Thassos
Thassos in winter is a playground for adventure enthusiasts. Whether you enjoy hiking, mountain biking, or simply exploring nature, this island has it all. Strap on your hiking boots and embark on a journey to discover the hidden gems of Thassos.
Make your way to Giola, a natural swimming pool carved into the rocks, and take a refreshing dip in its crystal-clear waters.
Alternatively, challenge yourself with a hike in the mountains of Thassos, where you'll be rewarded with breathtaking views and a sense of accomplishment.
After all, the best way to experience the natural beauty of Thassos is to head inland and hike through its mountains, especially if you go waterfall hunting.
Whether you want to climb Mount Ipsarion or prefer a more comfortable route through a line forest or olive grove, hiking in winter will reward you with unprecedented images and memories.
A one-of-a-time experience you can do in Thassos during winter is trekking to the 3000-year-old Tzines cave!
Another must-do thing in Thassos in winter is to rent an e-bike and explore the Thassos mountains and landscape with more comfort. You can have the bike delivered to your accommodation or even join an ebike tour. The e-bike services may temporarily open in the winter, depending on availability.
On the other hand, fishing boat trips are open throughout the year, so feel free to reach out and discover how locals fish!
As you can see, there are hundreds of things to do in Thassos in winter! If you want more inspiration, check out this detailed list of 101 Things to do on the island.
By the way, if you haven't decided on your Thassos itinerary yet, check one of my suggested itineraries for your Thassos holidays: a 7-day itinerary, a 5-day itinerary, or a shorter 4-day itinerary.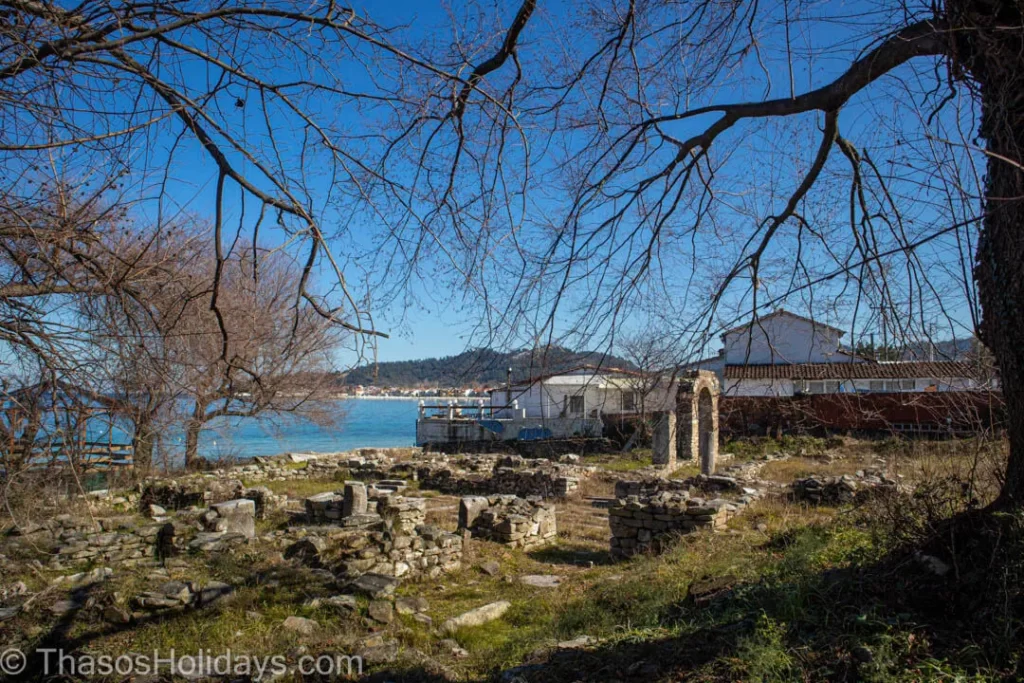 Because You Don't Have to Cope with the Scorching Hot Weather of the Summer
One of the biggest advantages of visiting Thassos in winter is escaping the scorching hot weather of the summer. While the summer months can be sweltering, winter offers a more comfortable climate for exploring the island.
You can enjoy outdoor activities without worrying about heat exhaustion or sunburn. So, leave your sunscreen at home and embrace the mild winter breezes as you immerse yourself in all Thassos has to offer in winter.
To Visit the Cultural and Historical Attractions in Thassos During the Winter
Thassos is not just about its natural beauty; it is also steeped in culture and history. Winter provides the perfect opportunity to delve into the island's rich heritage without the crowds.
Take a tour of Limenas, the capital of Thassos, and discover its ancient ruins, including the Agora, an ancient marketplace, and the Ancient Theatre. In Limenaria, another charming town with tens of things to do, you can explore the ruins of an old marble quarry and soak in the island's fascinating history.
Or explore more traditional villages such as Kallirachi, Kazaviti, or Theologos.
And the best thing is that there is no more dizzying heat to annoy you. You can stroll around during daylight and don't mind the sun. That would be unthinkable during summer.
To Participate in Winter Events and Festivals in Thassos
Thassos knows how to celebrate even in the winter months. Christmas Day on the island is a magical experience. You can play with snow, build snowmen, and enjoy the festive atmosphere.
Additionally, Thassos hosts a carnival that brings the streets to life with colorful costumes, music, and dancing. Join the locals in celebrating this tradition and experience the joy and excitement of the carnival mood.
Greek Easter is also a great time to visit. The island of Thassos attracts many Greeks and a few Bulgarians who stay in their summer houses and bring back some of the aliveness of summer.
Everyone gathers in the nearest church the night before Easter, and the celebration starts when the clock hits midnight. Fireworks, explosions, and the traditional egg fight create an atmosphere second to none.
To Stroll at the Monday Bazaars in Prinos in Winter
If you're in Thassos on a Monday, don't miss the opportunity to visit the Monday Bazaars in Prinos. These bustling markets offer various goods, including fresh produce, handmade crafts, and local delicacies.
Take a leisurely stroll through the bazaars, mingle with the locals, and immerse yourself in the vibrant atmosphere. It's the perfect way to taste the island's culture and support the local economy.
Every Monday, all year round, Prinos hosts the biggest bazaar and open marketplace on the island. Producers and traders from northern Greece come to Thassos and sell their goods.
Since pricing is better than that in grocery stores, it is no wonder locals gather here from many nearby villages. You can find anything from fruits, vegetables, fish, meat, and nuts to clothes and utensils.
Although the winter version of the marketplace is less fabulous than the summer, it still attracts many locals.
To Taste the Local Cuisine and Gastronomy in Winter
No visit to Thassos is complete without indulging in its delicious cuisine. Winter is the perfect time to sample the island's traditional dishes, as many restaurants offer seasonal menus featuring hearty and comforting meals.
Warm up with a bowl of delicious Greek soup, savor the flavors of slow-cooked stews, and don't forget to try the local olive oil, known for its exceptional quality. Thassos will surely satisfy your culinary cravings.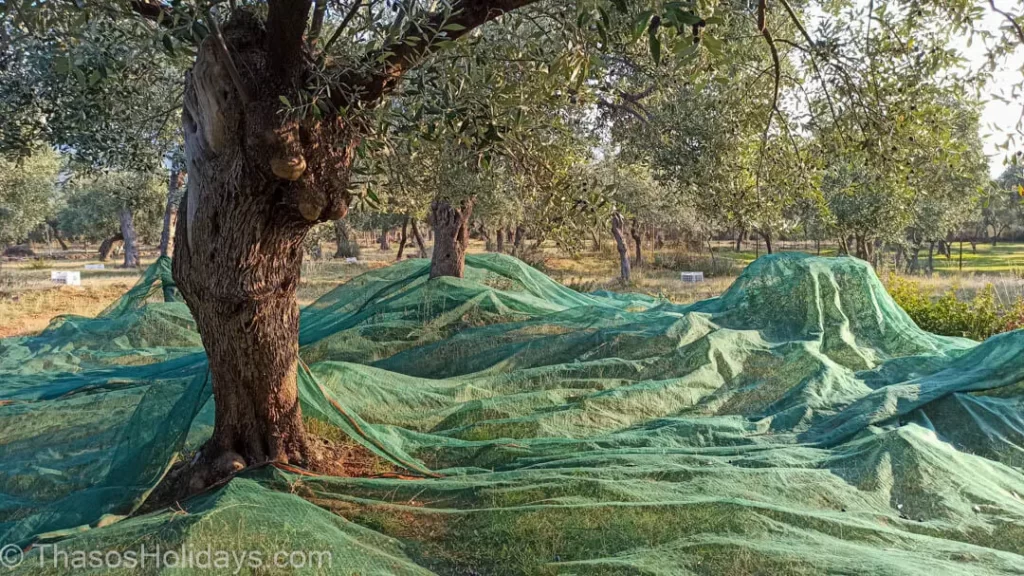 To Witness and Participate in the Olive Harvesting Period
Winter is the season of olive harvesting in Thassos. This is the perfect time to visit if you want to learn about the island's most important agricultural activity.
You can witness the locals gather olives from the trees, participate in harvesting, and even take home some freshly pressed olive oil as a souvenir. It's a unique opportunity to connect with the island's agricultural roots and gain a deeper understanding of its traditions.
Almost every local owns a few plots of land with olive trees and visits them during November and December to collect the grapes.
If you walk through an olive grove during this period, you will see more people than you will meet in the streets or the village square. That is a fact!
And if you are wondering how the whole olive oil process takes place, don't hesitate to ask a local, and they will invite you over.
To Visit the Archaeological Museum of Thassos in Winter
For history buffs, visiting the Archaeological Museum of Thassos is a must. Located in Limenas, this museum houses a fascinating collection of artifacts dating back to ancient times.
From intricate sculptures to ancient pottery, you'll glimpse the island's rich past. Winter is the perfect time to explore the museum at your own pace, without the crowds, and genuinely appreciate the historical significance of Thassos.
You can have the whole place for yourself and explore the artifacts at your own pace. Compare that with the usual congestion during summer, and you understand this is your chance to dive deeper into history.
And if you are willing to read, Thasos will surprise you with its rich history and mythology.
How to Get to Thassos in Winter
Getting to Thassos in winter is relatively easy, although there are some changes compared to the summer season. The island is accessible by ferry from the mainland ports of Kavala and Keramoti.
While the ferry schedules may be less frequent during the winter months, regular crossings are still available. It's advisable to check the ferry timetables in advance and plan your journey accordingly.
Once you arrive in Thassos, you can rent a car to explore the island at your own pace or rely on the local bus network to get around.
I'd recommend looking at all the available day trips on the island; many of them are self-made and possible throughout the year.
What to Pack for Thassos in Winter
When packing for Thassos in winter, it's essential to come prepared for the mild temperatures and occasional rain showers. Here's a list of essentials to include in your suitcase:
Warm clothing, including sweaters, jackets, and waterproof outerwear
Comfortable shoes for walking and hiking
Umbrella or raincoat for those unexpected showers
Swimwear, in case you want to take a dip in the natural pools
Camera or smartphone to capture breathtaking landscapes
A good book or a favorite Thassos travel guide to keep you entertained during your downtime
When you arrive on the island, make sure to follow these 24 Thassos Travel Tips and avoid the following 20 common Thassos Travel mistakes.
And when you want to read something fun about the island during your holidays, here are 35 fun facts about Thassos.
If you want to show off your Thassos holidays on Instagram, visit the 20 most Instagrammable places in Thassos or these 22 off-the-beaten-path Thassos locations.
To look even cooler in your posts, remember to spice up your Instagram or Facebook feed with one of these 106 Captions and Quotes about Thassos.
Accommodation Options in Thassos During Winter
Thassos offers a range of accommodation options during the winter months, catering to different budgets and preferences. You'll find something that suits your needs, from cozy guesthouses to luxurious hotels.
Many establishments offer special winter rates and packages, making it even more enticing to plan your winter getaway. It's advisable to book in advance to secure the best deals and ensure a comfortable stay on the island.
Among all the options, I'd highly recommend Studios Plaka, a beach resort that operates some studios and apartments during winter.
If you want to stay in Limenas, my favorite one-of-a-kind hotel experience is A For Art Design Hotel. You need to book in advance because their rooms sell out so fast!
If you're traveling on a tighter budget, you can find budget-friendly hostels and guesthouses in various parts of the island. Goutadika in Limenas is one such option.
Conclusion: Thassos in Winter – A Hidden Gem for a Unique Vacation Experience
In conclusion, Thassos in winter is a hidden gem waiting to be discovered. From the peaceful beaches to the breathtaking landscapes, this Greek island offers a unique vacation experience that will leave a lasting impression.
Whether you're seeking outdoor adventures, cultural exploration, or simply a relaxing getaway, Thassos has it all. So, why not abandon traditional winter destinations and embark on a journey to Thassos? You'll be delighted!