Are you visiting the island, and you're up for some Thassos travel tips? These insider tips will elevate your experience and make your trip even more memorable. From transportation and accommodation to local cuisine and hidden gems, we've got you covered with 24 secret Thassos travel tips that many others won't share!
Tip #1: Get to Thassos from Keramoti rather than Kavala
When reaching Thassos, savvy travelers opt for the route via Keramoti instead of Kavala. Why, you ask? Well, Keramoti boasts more regular ferry connections to the island and offers a shorter transit time, allowing you to start your Thassos escapade sooner. The ferry ride from Keramoti is 35 minutes rather than 90 from Kavala. So, by choosing Keramoti as your gateway, you'll streamline your journey and maximize your time on this enchanting Greek isle.
Tip #2: Rent a car in Thassos
If there is one Thassos travel tip you have to remember from this list, it would be no other than renting a car. Thassos is an island full of natural wonders and spectacular sites worth visiting.
So, if you want to explore as many places as possible, renting a vehicle is your best chance.
After all, while Thassos is relatively compact, having your own wheels will grant you the freedom to explore its hidden treasures at your own pace. Whether you're keen on visiting the picturesque village of Limenaria or embarking on a mountain biking adventure in the rugged terrain, renting a car is the key to unlocking the island's wonders. With various transportation options available, securing a rental car will undoubtedly elevate your Thassos experience.
Which car rental service is the best to choose?
If you want to rent a car for your trip and look for the best service, I am here to help you! Consider choosing Discover Cars, an international car rental booking service present worldwide. This way, you will find the best car for your trip wherever you are!
It is time for that road trip you had in mind; there is no better way to discover Thassos.
Tip #3: Book accommodation online
Gone are the days of scrambling for last-minute accommodations upon arrival. Although finding accommodation at the last moment is still possible, it will probably not be the most valuable for your money.
The best places to stay usually sell out way before you get to the island. Almost every hotel or studio has its own website or works with booking platforms like hotels.com, booking.com, Airbnb, and even Agoda.
If you ask me, Booking dot com is my favorite, especially since I belong to the Genius program and get further discounts with every property I book.
As a result, the competition is more intense online than it could ever be on the streets. It is no wonder there are better offers online. Just make sure you do your research before you choose where to stay.
In short, booking your lodging online in advance allows you to access all the options. From charming boutique hotels to cozy guesthouses, Thassos offers various accommodations to suit every preference and budget.
Tip #4: Whenever possible, prefer a house over a hotel
For a truly immersive experience, consider opting for a house rental instead of a traditional hotel stay. Thankfully, with the rise of house rentals, finding accommodation online has never been easier. At the same time, your options have increased.
As good as some hotels can be, there are many reasons to book a house instead of a hotel room or even a Villa. First, by choosing a house, you'll have the opportunity to live like a local and immerse yourself in the island's authentic lifestyle.
Then, you've also got lower prices, faster access to main hubs, more kitchen amenities, and even more. But most importantly, you want to stay in a house for its atmosphere. You will look closer at how the locals live, exchange a few words with the neighbors every morning, and be part of the community.
Not to mention the more space and privacy you can have in a house, remember that you can also book homes, studios, villas, and apartments on Booking dot com, not just hotels. And this accommodation search engine is equally convenient.
Whether it's a quaint cottage with panoramic sea views or a villa nestled amidst olive groves, a house rental promises a unique and intimate Thassos getaway.
Tip #5: Visit in October
Timing is everything when visiting Thassos, and October emerges as the ideal month to experience the island's allure. The perfect month used to be September, but now the weather in October is equally pleasant, if not better. That's one of the best-kept Thassos travel tips.
It's the time of the year when the hot summer temperatures give way to the first signs of autumn. As a result, it is now way more pleasant to hike the mountains or walk around the villages at noon; this would be unthinkable during July or August.
At the same time, the sea is at its best: calm, warm, and less crowded. Although there are still tourists around, it is nothing compared to the crowds of August.
In short, with fewer crowds and pleasant weather, October offers a tranquil setting for exploration and relaxation. Whether strolling along Thassos idyllic beaches or savoring the local cuisine, visiting Thassos in October ensures a delightful and laid-back escapade.
If you need more convincing, here are the best times to visit Thassos.
And if you haven't decided on your Thasos itinerary yet, check one of my suggested itineraries for your Thasos holidays: a 7-day itinerary, a 5-day itinerary, or a shorter 4-day itinerary.
Once you have this figured out, all you need to know is how to get to Thassos Island. Then, you're successfully set to create unforgettable memories!
Tip #6: Make sure you Walk And Hike
Although renting a car is one of the best ways to discover Crete, do not forget this is just a means to an end. The goal is to enjoy the island and meet its wonders. So, if you plan to see the beauty of Thassos, make sure you wear those sneakers of yours and set off for a walk.
I promise you. One of the best ways to truly appreciate Thassos's natural beauty is by embarking on walking and hiking adventures. From verdant forests to rugged cliffs and spectacular waterfalls, the island is a haven for outdoor enthusiasts. Lace up your hiking boots and discover the stunning landscapes and hidden trails that await around every corner.
If you love exploring, consider visiting the 3000-year-old prehistoric cave of Tzines.
Tip #7: Bring a Good Pair of (Hiking) Shoes
Another reason to plan a few walks in Thassos is no other than its spectacular hikes and mountain terrain. And to enjoy that type of walk, make sure you bring with you a light pair of hiking shoes with good traction. Or even a sturdy pair of sneakers.
Whether you're traversing the island's rugged terrain or exploring its ancient pathways, reliable footwear is essential for comfort and safety. With abundant trails and natural wonders to explore, investing in good hiking shoes will ensure you can fully immerse yourself in the island's outdoor splendor.
Tip #8: Leave the Laptop at Home
In today's digital age, staying connected is tempting, even while on vacation. However, consider leaving your laptop at home and embracing a digital detox when it comes to Thassos. Unless you are a digital nomad, your laptop will only be an unwanted distraction from the beauty of Thassos.
There is no reason to play games or check your social media while in Thassos. You have your smartphone for it. And even then, try to use more of your camera than any other app on your phone. There are countless locations worth a picture in Thassos.
Allow yourself to fully unwind and savor the island's tranquility without the distractions of work or technology. By immersing yourself in the island's natural beauty and local culture, you'll create lasting memories that transcend the digital realm.
Tip #9: Be Patient with the Local Timing
As you acclimate to the relaxed pace of island life, embracing the local timing and adopting a patient mindset is essential. Know that 5 minutes in Thassos are not exactly 300 seconds, like in other parts of the world. We locals like to have our own time-keeping system. For example, when my mother says we'll do something in 15 minutes, I plan more like 40. With my dad, it's even wilder, but I love that!
So, whether you're waiting for a delicious meal at a charming taverna or savoring the unhurried rhythm of daily life, practicing patience will enrich your Thassos experience. When they tell you they will be back in 10 minutes, prepare to wait about half an hour. This is normal. Remember, life rhythms are slow in Thassos, especially in remote mountain villages. So prepare to wait; it is all part of the appeal.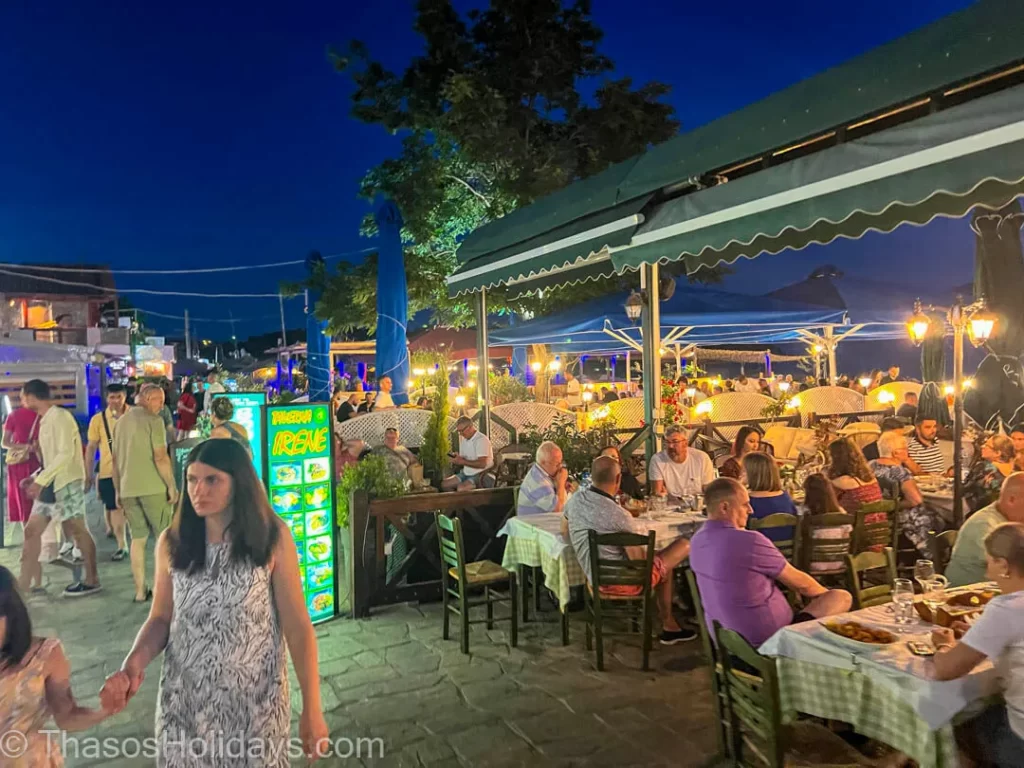 Tip #10: Eat Where the Locals Eat
The heart of any travel experience lies in savoring the local cuisine, and Thassos is no exception. Although it may seem challenging to pick one at first when there are so many, there is a quick way around it. One that does not need any research online or moving from store to store to compare prices and menus. And that's one of the best Thassos travel tips out there!
All you have to do is check that the guests in the store mostly speak Greek. You then visit the one tavern or restaurant where you see more locals. And for an extra tip, we Greeks are usually a bit louder than our European counterparts. So follow the noise, and your appetite shall be satisfied.
From traditional Greek dishes bursting with flavor to freshly caught seafood and delectable mezedes, dining where the locals eat promises an authentic and savory journey for your taste buds.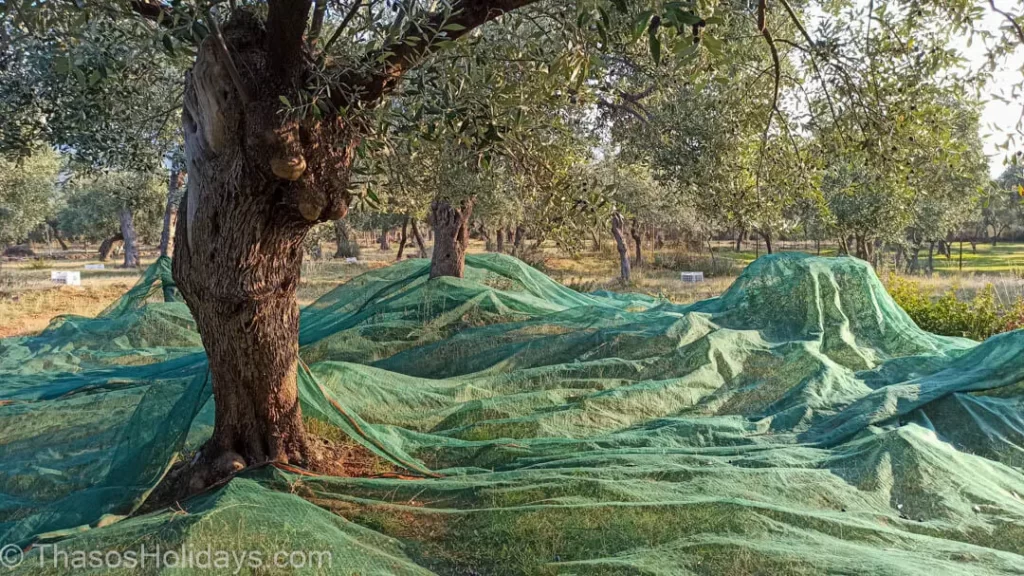 Tip #11: Get local honey and virgin olive oil for your way back home.
No Thassos holiday is complete without bringing home a taste of the island's culinary treasures. Before bidding farewell to this enchanting destination, stock up on local honey and virgin olive oil. With their rich flavors and artisanal quality, these authentic products serve delicious reminders of your time in Thassos and make perfect souvenirs that will delight your senses long after your return home.
Tip #12: Prefer local dishes: Greek salad, steamed mussels, fresh grilled octopus
While exploring Thassos's culinary scene, be sure to order local dishes that capture the essence of Greek island cuisine. Indulge in a refreshing Greek salad adorned with the island's freshest produce, savor the delicate flavors of steamed mussels, and delight in the succulent taste of fresh grilled octopus.
By embracing the island's culinary heritage, you'll embark on a gastronomic journey that celebrates the rich flavors of Thassos. It's no wonder the local cuisine is one of the top reasons to visit Thassos.
Tip #13: Discover the Small Mountain Villages
If you want to experience the local lifestyle, plan a visit to any small mountain village you can. They're all a treasure to explore, especially thanks to the stunning natural landscapes surrounding them. I tell; that's one my favorite Thassos travel tips ever!
So, venture off the beaten path to discover the charm and authenticity of villages such as Kazaviti, Kallirachi, Maries, and Theologos. Immerse yourself in the timeless allure of these hidden gems, where traditional architecture, warm hospitality, and captivating vistas converge to offer a glimpse into the island's rich cultural tapestry.
Tip #14: Plan for safety: get insurance before you visit
Before embarking on your Thassos adventure, it's crucial to prioritize safety and peace of mind. Get comprehensive travel insurance to safeguard yourself against unforeseen circumstances and ensure you can fully relish your island getaway without worry. From medical coverage to trip protection, investing in travel insurance offers a safety net that allows you to explore Thassos with confidence and tranquillity.
For example, you would have much more peace of mind if your children had insurance while playing in the water or at Thassos Aqua Park.
Tip #15: Visit the Archaeological Museum of Thassos to glimpse the island's rich history
To delve into Thassos's captivating history and heritage, visiting the Archaeological Museum of Thassos is a must. Immerse yourself through time as you explore the museum's exhibits, which showcase the island's ancient past, including artifacts, sculptures, and archaeological findings. By delving into Thassos's rich history, you'll better appreciate the island's cultural legacy and the stories etched within its ancient walls.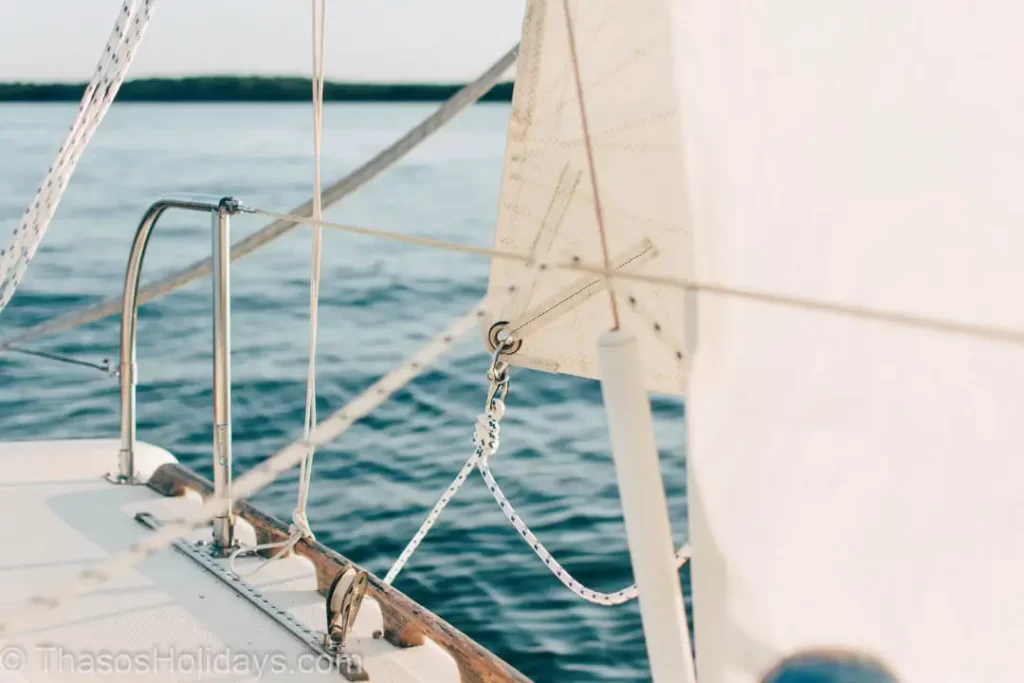 Tip #16: Try your Sailing Skills on the North Coast of Thassos
For a unique and exhilarating experience, consider testing your sailing skills along the pristine waters of Thassos's north coast. Whether you're an experienced sailor or a novice seeking adventure, the island's azure waters offer the perfect setting for a day of nautical exploration. Embark on a sailing excursion to discover secluded coves, hidden beaches, and breathtaking coastal vistas that will leave you with unforgettable memories of Thassos.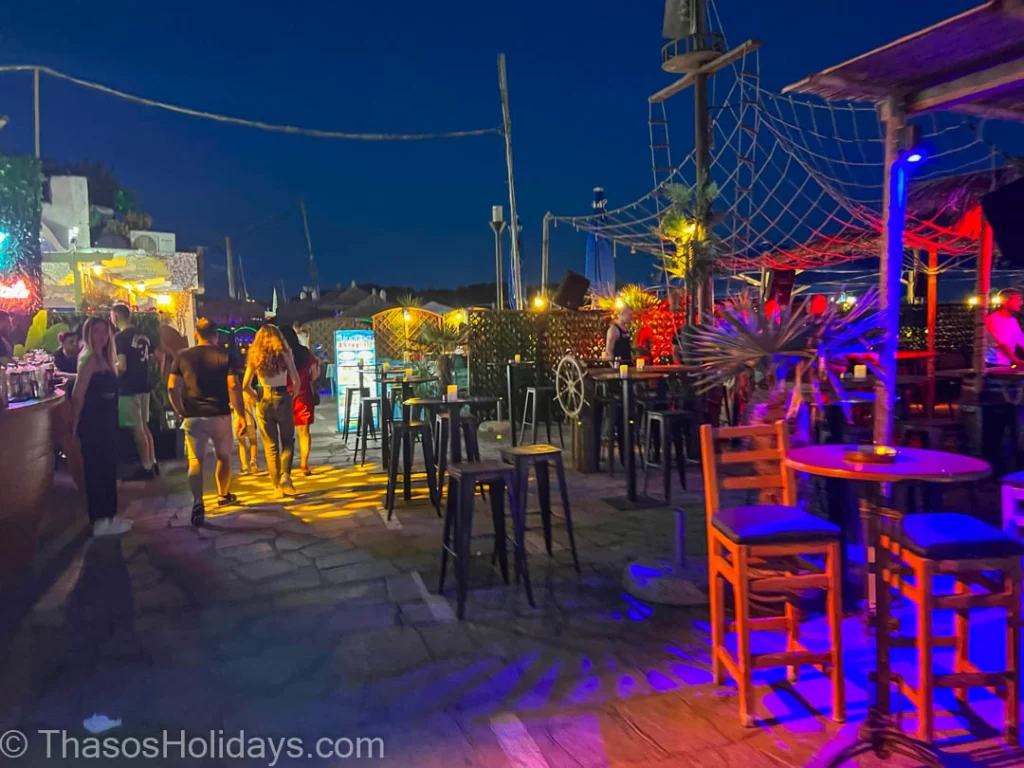 Tip #17: Go out in Potos: the best village for nightlife
When the sun sets on Thassos, the vibrant village of Potos comes alive with a lively nightlife scene that beckons to be experienced. Whether you're in the mood for dancing, live music, or simply sipping cocktails by the sea, Potos offers various entertainment options to suit every taste. Embrace the island's festive spirit and turn your night at Potos into an unforgettable evening under the starry Thassos sky.
Tip #18: Watch the sunset from Klisma, Skala Maries, and Kazaviti
As the day draws to a close, embark on a quest to witness Thassos's mesmerizing sunsets from vantage points such as Klisma, Skala Maries, and Kazaviti. These scenic locations offer panoramic views of the island's coastline, where the golden hues of the setting sun cast a spellbinding glow over the tranquil waters.
Watching the sunset from these idyllic spots promises a serene and enchanting experience that will etch into your Thassos memories. Once you experience it, I'm sure Tip #18 will be one of the best Thassos travel tips for you!
Tip #19: Visit Secluded and Remote Beaches
Escape the bustling crowds and seek out the secluded and remote beaches that grace Thassos's coastline. From the pristine shores of Salonikios Beach, where seclusion and romance intertwine, to the hidden bay by the left of Paradise Beach, where clothing-optional sunbathing is embraced, Thassos offers an array of secluded beach havens for tranquil relaxation and intimate moments amid nature's splendor. Another must-visit is Limenaria Hidden cove, just outside of Limenaria.
You can even visit famous beaches such as Marble Beach or Golden Beach and make them feel remote. The trick is to go right after sunrise or just before sunset. The same applies when getting to the popular lagoon of Giola.
Tip #20: Get an e-sim through Airalo for extra data
To stay connected and ensure seamless communication during your Thassos sojourn, consider acquiring an eSIM through Airalo for additional data. With an eSIM, you can easily access reliable data coverage, stay connected with loved ones, and easily navigate the island.
By securing an eSIM through Airalo, you'll have the convenience of extra data at your fingertips, allowing you to capture every memorable moment and share your Thassos adventures effortlessly. Using Airalo in Thassos and in Greece is one of the best-kept secrets and one of my favorite Thassos travel tips.
Tip #21: Rent an e-bike to explore and have fun at the same time
Rent an ebike and explore the beauty of Thassos like a pro. Revel in the scenic beauty as you effortlessly glide through charming villages and lush olive groves along the azure coastline. Renting an e-bike adds a fun twist to your adventure, allowing you to cover more ground easily.
Whether you're a seasoned cyclist or a leisure seeker, exploring Thassos on an ebike offers a perfect blend of exploration and joy. Now, you can have your e-bike delivered anywhere in Thassos so you can make the most of your adventure!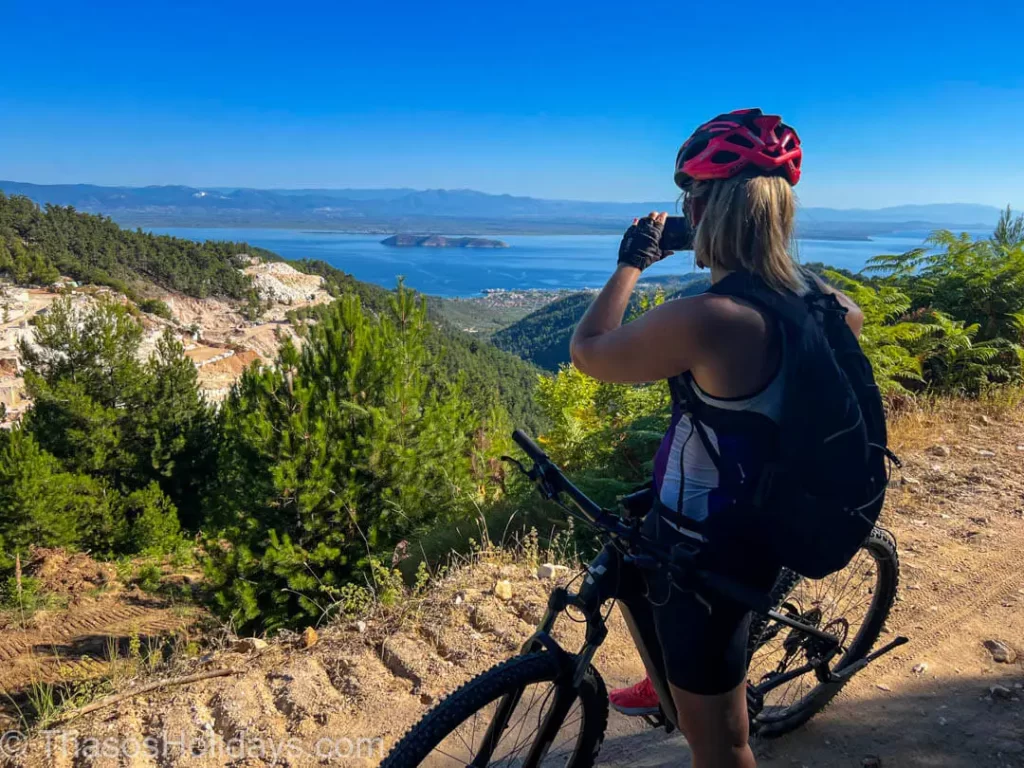 Tip #22: Join an e-bike tour through Thassos mountains
To experience the heart of Thassos with a local's guidance, join an e-bike tour amidst its majestic mountains. Feel the thrill of effortlessly conquering challenging terrains as you wind through pine-scented trails and quaint mountain villages.
Thassos e-bike tours promise a refreshing adventure and a sensory delight as you absorb the sights, sounds, and scents of Thassos' rugged mountain landscapes. In short, you'll love uncovering the hidden treasures of this Greek paradise on an unforgettable e-bike expedition.
Tip #23: Join a fishing boat tour in Thassos
Embark on a thrilling adventure with a fishing boat tour in enchanting Thassos! Feel the gentle sway of the boat as you set sail across the crystal-clear Aegean Sea. Join skilled local fishermen who will share their secrets as you cast your line into the azure depths.
The stunning backdrop of Thassos' lush greenery and charming villages enhances the experience. Breathe in the fresh sea breeze and savor the anticipation of a possible big catch.
Whether you're a novice or a seasoned angler, the joy of fishing amidst Thassos' beauty is an unforgettable journey.
Tip #24: where to stay in Thassos
One of the ultimate Thassos travel tips is finding the right accommodation. To help you with choosing, here are some stays I recommend on the island:

One of the ultimate Thassos travel tips is finding the right accommodation. To help you with choosing, here are some stays I recommend on the island:
Apartments and Studios
Renting an apartment or studio is a great option for those who prefer a more independent stay. These are available in various sizes and locations around the island. Among all the options, I'd highly recommend Studios Plaka.
Hotels
Thassos has numerous hotels, ranging from budget-friendly options to luxury resorts. Some of the most popular areas for hotels are Limenas (Thassos Town), Limenaria, and Golden Beach. My favorite one-of-a-kind hotel experience is A For Art Design Hotel. You need to book in advance because their rooms sell out so fast!
Traditional Guesthouses
You can experience Greek hospitality and immerse yourself in the local culture by staying in a traditional guesthouse. These are often found in picturesque villages like Theologos. My favorite pick is Elaion Terra Boutique.
Camping
Thassos is also a popular destination for camping enthusiasts. Several campsites on the island allow you to enjoy nature and the great outdoors.
Agrotourism and Eco-friendly Accommodation
Thassos is known for its lush landscape, and you can find eco-friendly and agrotourism accommodation options that connect you with nature and the island's sustainable practices. Check out Villas Thassos, where the owner plans to offer such services.
Boutique Hotels
If you're looking for a more unique and personalized experience, Thassos has boutique hotels that offer a more intimate atmosphere. My favorite high-end option is the Alexandra Golden Boutique Hotel in Skala Potamia.
All-Inclusive Resorts
For a hassle-free vacation, there are all-inclusive resorts on Thassos that offer meals, drinks, and various activities as part of the package. I'd recommend Blue Dream Palace for such holiday types.
Beachfront Accommodation
Thassos has many options for beachfront stays, so you can wake up to the sound of the waves and have the beach at your doorstep. I would recommend Navis Luxury with eyes closed.
Budget Accommodation
If you're traveling on a tighter budget, you can find budget-friendly hostels and guesthouses in various parts of the island. Goutadika in Limenas is one such option.
Villas and Vacation Homes
Thassos offers many beautiful villas and vacation homes for those seeking a comfortable private retreat. These are ideal for families or larger groups. My favorite pick is Pine Beach House, right on the beachfront.
If you aren't sure when to book your holidays, here are the best times to visit Thassos.
And if you haven't decided on your Thasos itinerary yet, check one of my suggested itineraries for your Thasos holidays: a 7-day itinerary, a 5-day itinerary, or a shorter 4-day itinerary.
Then, the only thing you left for the ultimate holidays is to know how to get to Thassos!
Conclusion on Thassos Travel Tips
As you prepare to embark on your Thassos journey, armed with these 24 secret Thassos travel tips, you're poised to unlock the island's hidden gems and create enduring memories. From navigating transportation and accommodations to savoring local cuisine, embracing outdoor adventures, and discovering the island's cultural heritage, Thassos promises an unforgettable experience that transcends the ordinary.
So, pack your bags, set your sights on the Emerald Island, and prepare to embark on a journey that will captivate your heart and soul. Thassos awaits, ready to unveil its secrets and enchant you with its timeless allure. Bon voyage!
Apart from following all these Thassos travel tips, make sure also to avoid these common 20 Thassos Travel mistakes. And when you want to read something fun, here are 35 fun facts about Thassos.
If you want to show off your Thassos holidays on Instagram, visit the 20 most Instagrammable places in Thassos or these 22 off-the-beaten-path Thassos locations.
To look even cooler in your posts, remember to spice up your Instagram or Facebook feed with one of these 106 Captions and Quotes about Thassos.
For even more insider info, check out this complete list of 101 Things to Do on the Island, read my Comprehensive Guide on all Thassos Villages, or get inspiration from these 21 ideas for Day Trips in Thassos!