Thassos Waterfalls: A day of waterfall hunting in Thassos
Who said Thassos is only about beaches and mountains? The island will also surprise you with the number of waterfalls and creeks. So, if you are excited about a day of waterfall hunting in Thasos, get inspired by this itinerary! Ready to discover six Thassos waterfalls? Let's roll.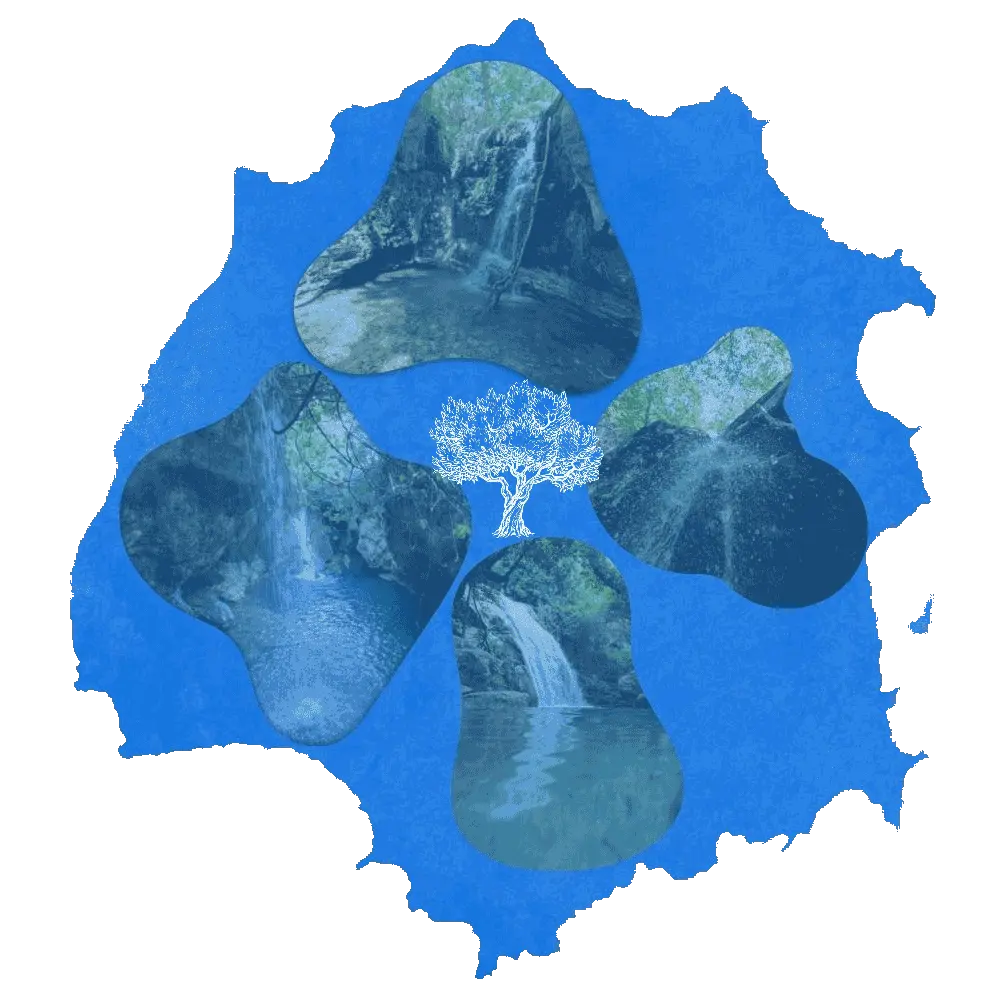 How to visit the Thassos waterfalls
Depending on which waterfall you want to visit, you may need a vehicle or not. First, if you are willing to hike for a few hours, you only need a comfortable pair of hiking shoes.
However, if you want to see all the Thasos waterfalls in a day, you would be better off using some medium to get around the island's mountains and hills. That way, you can also cover more ground than you would on foot.
Three options stand out. A 4×4 jeep or an ATV will guarantee the most comfort and require the least effort from you. The only caveat is that they are a bit noisy, which means less room to fully enjoy the majesty of Thassos nature as you drive around.
Hence, if you value the journey more than the destination, which is a sensible thing to do in such activities, you may want to avoid petrol-based vehicles. Let alone the extra cost of gas you have to cover.
So, what's the other alternative? If you are up for a workout or feeling comfortable cycling, a mountain bike may be the best option. Of course, that can be a lot more tiring yet equally rewarding.
I know what you are thinking. Is there anything between these two options? Yes, there is. The answer comes by the name electric mountain bike! No noise, minimal effort, and lots of fun, especially downhill!
And that's how this day trip of waterfall hunting in Thassos started: with a mountain e-bike from Studios Plaka all the way to Maries, Theologos, and Kastro in that order. In short, the level of comfort that an e-bike offers is unparalleled. If you put it in the fastest mode, you will hardly need to pedal!
Actually, all you need to do is put the bike on the lowest gear while having the e-bike speed level at 4 (TURBO) or 3 (EMTB). That way, you will have so little pressure on your legs that it will feel like you are going on a smooth downhill road! Yep, it feels and is that easy!
Getting to Theologos Waterfall Gourna
Although Gourna is the furthest waterfall away from Studios Plaka, I decided to visit it first to avoid the crowds that form later in the day. After all, Gourna Waterfall has skyrocketed in popularity since 2018 and can get pretty busy after 11am.
It took me only two hours to get from Studios Plaka to Theologos, through the village and lake of Maries. And the ebike speed level was always on level 2 out of 4: on TOUR mode. So the whole trip could be even faster if you had it in EMTB or TURBO mode.
It took 50% of the ebike battery to reach Theologos from Studios Plaka. And that gave me that extra peace of mind I needed for my return trip. After all, I had reached the furthest point from Studios Plaka, which was almost all uphill.
You could save more battery and time if you get to Theologos through the main street. However, it is nothing as scenic as the mountain routes, and you have a mountain bike, so it makes sense to follow that path instead.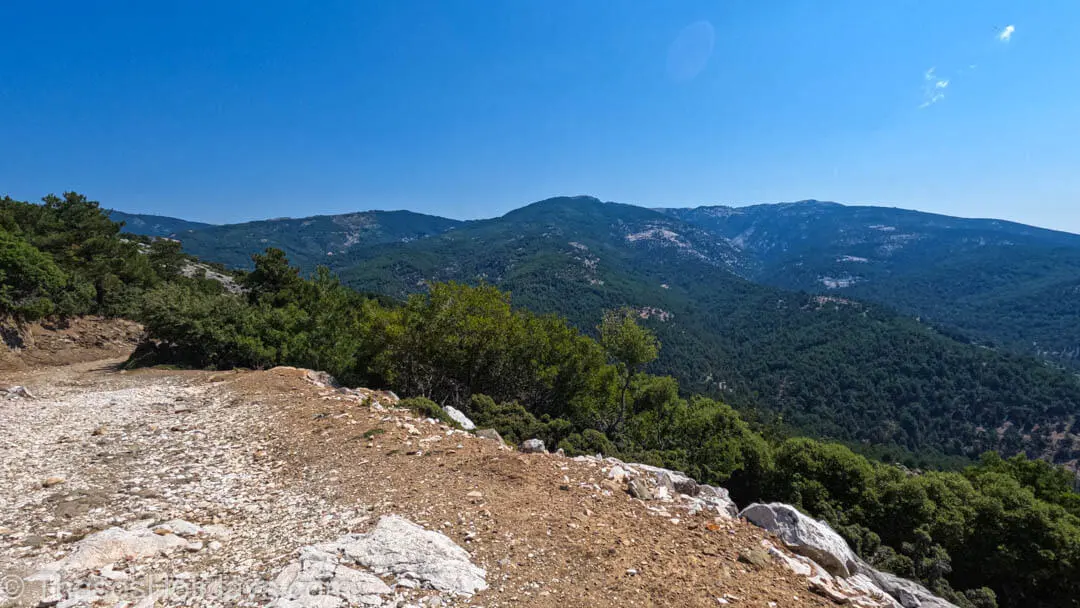 I first followed the main road until Skala Maries. At that point, I turned into the mountains and reached Maries village in 50 minutes. 10 minutes after, I was at lake Maries, where I stopped for a few seconds to embrace the sunrise above the lake.
However, I knew I would pass again by the lake on the way back, so I rushed back to the ebike to get to Gournas waterfall early enough to find it empty. And I was pretty successful at that!
I reached Gourna waterfall by 8am, and it was completely empty! And before that, I even enjoyed a long downhill after passing by the crossroad above the lake of Maries.
Getting to Gourna waterfall from Theologos is straightforward and takes only 5 minutes. As you drive the one-way road through Theologos, a few meters after you pass the Iatrou tavern, you will see a sign talking of the story of Gourna. This is your cue to turn right and reach the waterfall in less than 5 minutes.
Theologos Kefalogourna Waterfall
Kefalogourna or Gourna is probably the most famous waterfall in Thassos, thanks to its relatively easy access. It comes to life thanks to the Saint Basiliki springs that create two separate freezing cold pools where you can swim! Well, not freezing, but 10 degrees temperature is quite a lot.
You can think of Gourna as an attraction with two sections. The above section is the most scenic, with deep waters and two separate waterfalls. Then, there is the second section below it with one tall waterfall.
About three to four decades ago, the whole area was a place for the locals to throw garbage away from their village. At the time, there was no rubbish collection service, so the locals had to find a way to deal with their trash. Hence, they used the strong currents of Gourna.
To keep the children away from this place, they created stories about an evil spirit, Stoixina, haunting the waterfalls. You can think of it as a Boogeyman but in an ethereal form. Of course, that was more than enough reason for the children to stay away.
The name Kefalogourna means natural cavity ("Gourna") in stone or rock with a formation that resembles a head ("Kefalo"). The site only recently appeared as a must-visit destination in Theologos.
When you come here, you must be extra careful with the terrain. It can get pretty slippery near the bodies of water, so be conscious of that. Try to get to the above section first and then see if you feel comfortable walking down to the second section, which has more tricky access.
In either case, you can quickly enter the water. Use the path around the rock in the above section, and walk below the taller waterfall into the water. It will feel like you are swimming right into freezing waters, but you will get used to it quickly. If you get thirsty, you can even drink the water while swimming. It is that clean!
Whether you are up for swimming or not, make sure to spend some time in the waterfalls and take in the serenity and grandeur of the place. It is worth every second you are here.
Once you move away from the waterfalls and the shade of the plane trees surrounding them, you can immediately feel the temperature change. Somewhere there, you will see an old watermill that is worth taking a pic.
Getting to Apostolus waterfall
After Kefalogourna, the itinerary included Apostolus Waterfall near Kastro village. So, I left Gourna by 8.30 am, and it was still empty! Although I thought of having breakfast in Theologos, I finally decided the Kastro waterfall would be a better and more remote location to enjoy a snack.
You have two main options to get from Theologos to Kastro if you want to follow the mountain paths. One is through the same way I came, passes again by the crossroad above lake Maries, and reaches Kastro in about 1 hour or so by ebike.
Since I have done this route many times, I thought of trying the more direct mountain route from Theologos to Kastro. However, this path also proved to be immensely steep. That was a big mistake in my itinerary. So avoid that and follow the seemingly long road through the crossroad.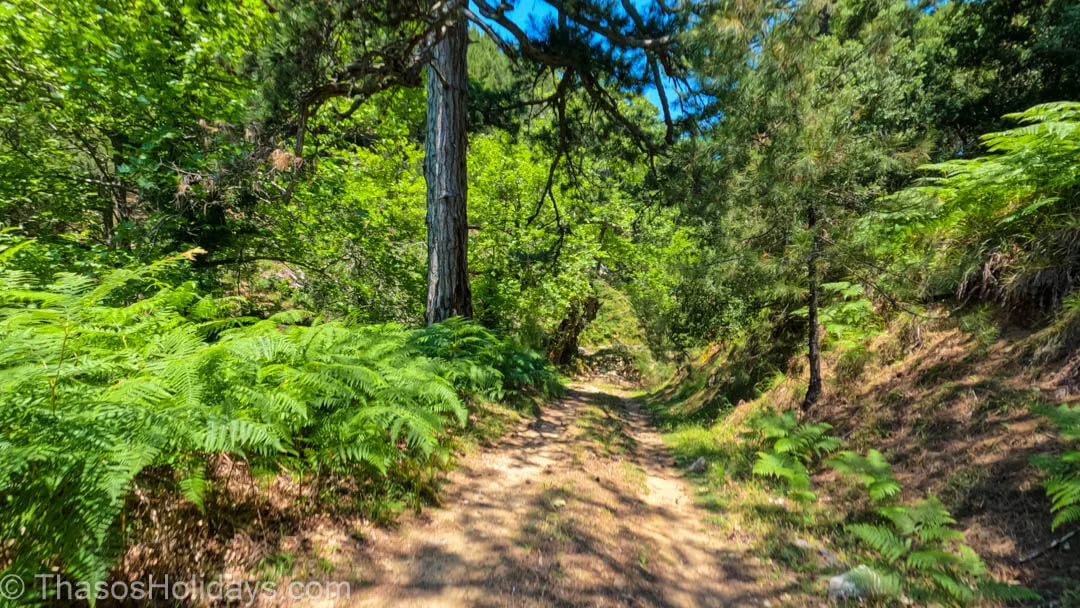 Once you reach Kastro, you only have to go downhill on the dirt road that starts near the two village taverns and heads east. Alternatively, if you are at the crossroad and don't mind visiting Kastro, there is a shorter downhill road that leads to the Apostolus waterfall.
Both ways are scenic and worth covering. And the good news is that whichever route you choose, it is all downhill until the waterfall. Once you reach the bottom of the hill and before the road starts to go uphill, turn east through a path leading to Apostolus.
Apostolus is the most isolated yet scenic waterfall in Thassos. Because it is somewhat challenging to get here, it is almost always empty. Only a few hikers may come by from the village of Kastro, about 3 kilometers away.
Depending on the period you visit, and whether it has recently rained, there may be lots of water or almost none. Spring and autumn are the best times to visit, although the waterfall runs throughout the season.
Compared to Kefalogourna, the Apostolus waterfall is not deep enough for swimming. Still, you can definitely enter the water and stand below the running water. It is not as cold as Gourna, or that's how it feels if you visit it after Theologos.
What makes Apostolus spectacular is the location and the landscape. Having no satellite reception and surrounded by oak, pine, plane, and fir trees, you will feel one with nature from the first moment.
Apart from all the scenery, there is a magnificent hollow tree where you can enter and stand in the middle of it. That's a perfect spot for someone to take your photo, as the gap in the tree will outstandingly frame the picture!
I stayed here for a good one and a half hours. I actually planned to also work a bit on my tablet. However, the environment was too out-of-this-world for me to waste even a second looking at screens.
In short, stay here as long as you can. Take a dip or two in the water, and let the majesty of the place overwhelm you.
Getting to Maries waterfalls
After Apostolus, you will cycle about 20 minutes uphill until the crossroad above lake Maries. Once you reach that point, it is all downhill for the rest of the day until sea level.
But before you get there, you will find Maries lake on your left. It is about an artificial lake with relatively easy access through the village Maries. This is your final stop in the mountains of Thasos for the day.
However, prepare to visit more than one waterfall here. The place is so spectacular that even an hour may feel too little to explore it all. You can leave your ebike on the dirt road above or bring it down closer to the lake.
The lake Maries may be artificial, but the waterfalls here and the surroundings look so natural and spectacular that the place is worth every bit of your attention. And if you are wondering, you can find four different waterfalls around Maries lake!
The tallest and loudest waterfall resides west of the lake. To access it, follow the dirt walking path opposite the local honey store. Once you reach lake level, keep walking until the end, and at the right, you will see a way down to the waterfall.
Ensure you wear appropriate footwear since the 2-minute descent may be tricky. You can hear the waterfall as you approach it. Finally, for the best view, go around the stream on the other side of the pool.
To visit the remaining three waterfalls, which are smaller but more scenic, you need to get back to the main dirt road. The goal is to go to the other side of the lake, through the store that sells honey. You will see a wide dirt road that leads there.
Once on the east side of the lake, prepare for some off-track walking via wooded slopes and across small streams. There will be a seemingly dry section at first, but don't let that put you off, and keep heading east.
The first waterfall will be the easiest of the three to access. The water forms a pool which you can enter and cool down from the heat. There are even fish in the water if you pay attention.
To reach the final two waterfalls, you need to do some climbing. Follow the red signs marked on rocks, which will lead you straight to the next waterfalls. They may look alike, but they are all beautiful, so it is worth visiting them. Plus, the whole journey from the lake is less than 15 minutes.
However, you can go even further if you want or explore in more detail the landscape. In any case, I recommend you visit early morning or late afternoon when the sun is at its lowest.
After the Maries waterfalls, it was already four in the afternoon, so it was time to get back home through the same morning route. This time, however, it was all downhill, and I used the last bit of the ebike battery in the flat part between Skala Maries and Studios Plaka.
Surprisingly, my legs did not feel tired at all. I was more affected by the sun than the effort I put into cycling. In short, that was my first long ride with electric mtb, so I was pleasantly surprised! These machines require so little effort that they make the trip tons more enjoyable.
Wanna see all waterfalls on a map?
I have put everything together on a Google Map, including steps and directions! 
I hope you enjoyed this day trip idea of waterfall hunting in Thassos.
In case you would like a customized itinerary or a guided cycling tour, feel free to message me or check my TripAdvisor listing.
In any case, I would love to see any review or comment from you below.
And if you like what you see, follow ThasosHolidays on Facebook or share this post!