Are you on the lookout for things to do in Theologos Thassos? Or you're looking for ways to make your Thassos holidays special? Either way, you're in the right spot. Keep reading to discover activities and get tips for visiting Theologos Thassos.
1. Take a stroll around the village
Nestled in the mountains of Thassos, Greece, Theologos is a picturesque village filled with rich history, natural wonders, and breathtaking scenery. As you can imagine, there's no better way to experience such a natural beauty than stepping into it at your own pace!
As you enter Theologos village, you will feel like you're back in time. This charming village is known for its traditional stone houses, narrow cobblestone streets, and friendly locals. Take a stroll through cobblestone alleys and soak in the authentic Greek atmosphere.
Finally, remember that exploring Theologos village is part of the top 21 Reasons to visit Thassos.
2. Explore the rich history of Theologos
One of the highlights of visiting Theologos is the opportunity to delve into its rich history. Theologos has several historic ruins, including medieval-like houses, cute chappels, and its picturesque main church.
Explore these sites and imagine how life was a hundred years ago when Theologos was the capital of Thassos. Remember to bring your camera, as the shots over cobblestone alleys and around traditional houses are breathtaking.
If you want to learn more, check out this comprehensive guide on Thassos history!
3. Walk to Theologos waterfall Gourna: a natural wonder
One of the must-visit spots is the Theologos Waterfall. Located just a short walk from the village, this natural wonder is a sight to behold. The cascading water, surrounded by lush greenery, creates a tranquil and peaceful atmosphere.
The waterfall itself is a true marvel of nature, with its majestic height and powerful flow. Take a moment to simply sit and enjoy this hidden gem's serenity.
If you're feeling adventurous, take a refreshing dip in the crystal-clear pool at the waterfall's base and let all your worries wash away.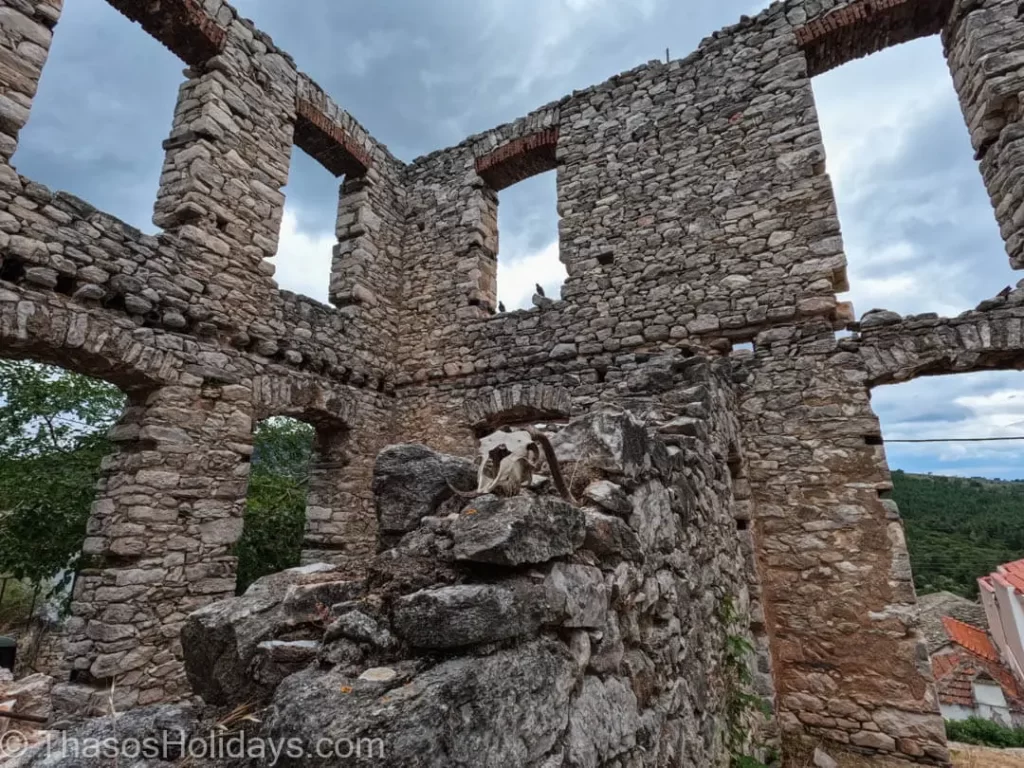 4. Discover the beauty of Thassos marble
Thassos is famous for its unique marble, and Theologos is an ideal place to witness its beauty. Witness the marble quarries in the island's interior and learn about the history of marble production in Thassos.
Marvel at the intricate craftsmanship of the local artisans who transform this natural resource into stunning works of art. Don't forget to bring home a small piece of Thassos marble as a memento of your visit.
5. Hike in Theologos
Put on your hiking boots and explore the stunning natural landscapes surrounding Theologos. The village is surrounded by lush forests, towering mountains, and scenic trails waiting for you to discover.
Lace-up your boots, pack a picnic, and embark on an adventure through the breathtaking wilderness of Thassos. Remember to pack your camera, as the views from the top are stunning.
From all the available hikes near Theologos, I'd recommend attempting to reach Ipsario, the island's Peak. If 2 hours of uphill sounds too much, you can hike until you view Golden Beach. You'll love every second of the experience.
6. Relax at a cafe in Theologos.
Take a break from your adventures and unwind at one of the charming cafes in Theologos. Sit back, sip a cup of aromatic Greek coffee, and watch the world go by.
Theologos is the perfect place to embrace the slow-paced lifestyle of the Greek islands. Embrace the unique atmosphere, enjoy the warm hospitality, and prepare for your next Thassos adventure.
I love the Old Museum Cafe because of its friendly staff and beautiful vibes. It will feel as if you're in a local's garden! And if you feel like a snack, order a fresh pie with vanilla ice cream on the side. And don't worry about calories. The Greek sun will take them away.
7. Visit the Folklore Museum of Theologos
Step into the past and learn about the traditions and customs of the people of Theologos at the folklore museum. This small yet captivating museum showcases a collection of artifacts, traditional costumes, and ancient tools.
Take a guided tour and let the knowledgeable staff transport you back in time. It's a fascinating journey through the rich cultural heritage of Theologos.
8. Dine in Theologos: top restaurants to try the delicious local goat meat
After a day of exploring, satisfy your taste buds with a delicious meal at one of the top restaurants in Theologos. The village is renowned for its mouthwatering local goat meat dishes.
Indulge in a traditional Greek feast and savor the flavors of the Mediterranean. From slow-cooked stews to grilled delicacies, the restaurants in Theologos will leave you craving more.
I'd recommend Iatrou Tavern for the best goat meat. You'll find it in the center of the village, only minutes from the entrance to Gourna waterfall. Augustus Tavern is another slightly more touristic restaurant in the area.
9. Attend a fake Greek wedding in Theologos
Experience the joy and celebration of a Greek wedding without actually getting married! Theologos offers a unique experience where visitors can attend a fake Greek wedding. Dance to traditional Greek music, indulge in delicious food and immerse yourself in the festive atmosphere. It's an unforgettable experience that will leave you with memories to cherish.
10. Discover the stunning beaches near Theologos
Thassos is famous for its pristine beaches, and although Theologos is a mountain village, it's too close to the seafront. Just a short drive away, you'll find yourself surrounded by turquoise waters and golden sands.
Whether you prefer a secluded cove or a lively beach bar, there'll be a beach for every taste. Spend your days basking in the sun at Rosogremos Beach, swimming in the crystal-clear waters of Tripiti Beach, or enjoying the laid-back beach lifestyle of Salonikios.
If you want more inspiration, check out these Top 17 Day Trips in Thassos!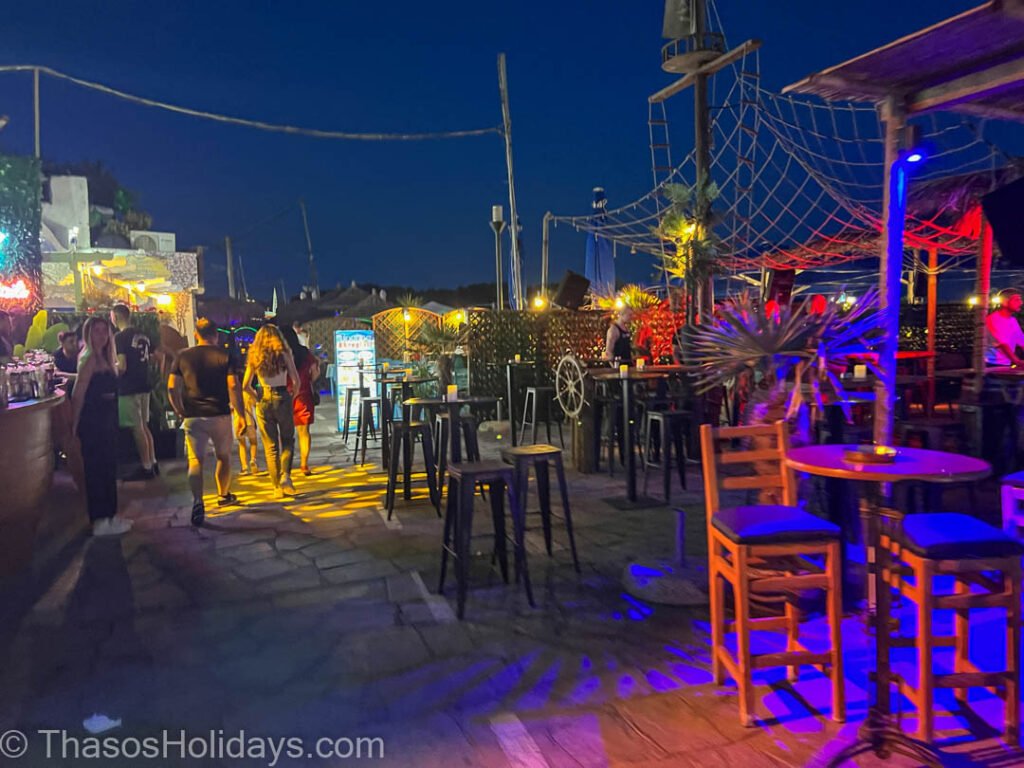 11. Go out in Potos
For those seeking a vibrant nightlife scene, visiting Potos is a must. Located just a short drive from Theologos, Potos is known for its lively bars and clubs.
Dance the night away, sip on glamorous cocktails, and make memories that will last a lifetime. Whether you prefer a quiet evening or a wild night out, Potos has something to offer everyone.
12. Shop for unique souvenirs in Theologos
No trip is complete without bringing back a piece of the destination with you. Theologos is home to several boutique shops and local artisans selling unique souvenirs.
From handmade jewelry to traditional ceramics, you'll find the perfect souvenir to remind you of your time in Theologos. Support the local economy and take home a piece of Greek craftsmanship.
13. Ebike to Apostolus waterfall and Kastro
Rent an ebike and embark on an adventure to the Apostolus waterfall and Kastro. These hidden gems are tucked away in the scenic countryside of Thassos and are fun and easy to reach on two wheels.
Feel the wind in your hair as you ride along the winding roads, taking in the breathtaking views along the way. The Apostolus waterfall and Kastro are truly magical places that will leave you in awe.
You can have the electric mountain bikes delivered to your accommodation, so all you have to do is cycle! You can also join a Theologos eBike tour if you wish!
In short, exploring parts of Thassos on an e-bike should be part of your Thassos plans. By the way, if you haven't decided on your Thassos itinerary yet, check one of my suggested itineraries for your Thassos holidays: a 7-day itinerary, a 5-day itinerary, or a shorter 4-day itinerary.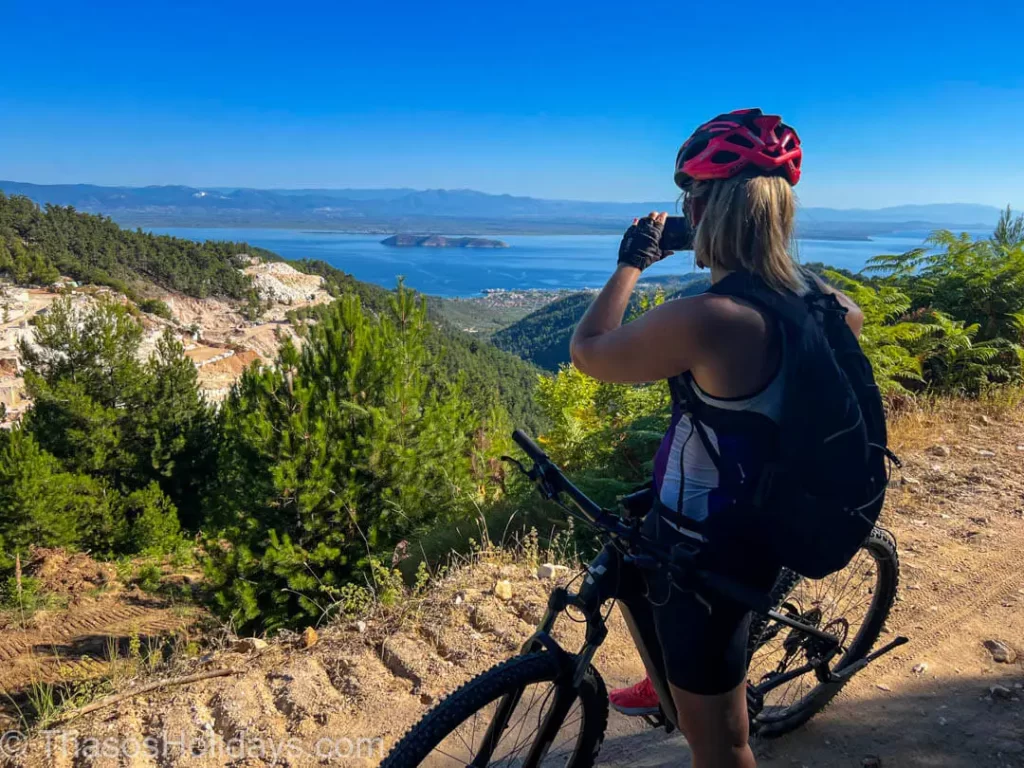 Conclusion: The Ultimate Guide to Theologos Thassos Adventures
From ancient ruins to stunning sceneries, Theologos Thassos offers many adventures for every traveler. Explore the rich history, indulge in delicious cuisine, and immerse yourself in the natural beauty of this hidden gem. Above all, rent an ebike and discover Theologos like a pro.
So pack your bags, grab your camera, and get ready for an unforgettable adventure in Theologos Thassos!
If you want to view more activities to do in Thassos, check out this complete list of 101 Things to Do on the Island or read my Comprehensive Guide on all Thassos Villages.
When you arrive on the island, make sure to follow these 24 Thassos Travel Tips and avoid the following 20 common Thassos Travel mistakes.
And when you want to read something fun about the island during your holidays, here are 35 fun facts about Thassos.
If you want to show off your Thassos holidays on Instagram, visit the 20 most Instagrammable places in Thassos or these 22 off-the-beaten-path Thassos locations.
To look even cooler in your posts, remember to spice up your Instagram or Facebook feed with one of these 106 Captions and Quotes about Thassos.
Tip: Where to stay in Theologos Thassos
If you're planning your Thasos holidays and looking for accommodation in Theologos, I'd recommend staying at Harmony Deluxe Villas. You'll love how cool this picturesque stone house is. For a more basic stay, rent George House and feel like a local!