Kallirachi Guide: 10 unmissable things to do in Kallirachi, Thassos
If you are staying or visiting Kallirachi in Thassos, you may wonder about activities in Kallirachi.
Although it is a small village, there are several things you can do and see in and around Kallirachi.
Here are some suggestions
Take a leisurely stroll through the narrow streets of Kallirachi and admire the traditional Greek architecture. Discover charming houses, colorful flowers, and local shops.
As you can already see in my comprehensive Thassos guide, Kallirachi is one of the most scenic and quiet villages in the island.
2. Visit the Chappel of Panagia
This beautiful chappel is the jewel of Kallirachi. Step inside to admire the ornate interior and learn about the religious traditions of the area. And remember to appreciate the sheer beauty of the green surroundings.
Although a mountain village, Kallirachi is located near some stunning beaches. Head to Skala Kallirachis Beach or Klisma Beach to enjoy the crystal-clear waters and soak up the sun. You'll love those beaches for their peaceful and relaxed atmosphere.
4. Go Hiking in Kallirachi
The surrounding countryside of Kallirachi is perfect for hiking enthusiasts. Lace up your hiking boots and explore the scenic trails that lead you through olive groves, pine forests, and picturesque landscapes.
Mount Ipsarion, the highest peak on Thassos, is also accessible from Kallirachi for more challenging hikes. You can view all suggested hiking routes in Kallirachi and Thassos in this complete hiking guide I wrote about the island.
5. Visit the Traditional Chapel of Kakirachi
Take a short drive from Kallirachi to explore the charming chapel of Kakirachi in the area of Metamorphosis. If you're wondering whether it's a misspelling, it ain't. Kaki means Bad, while Kali means Good. And Rachi means Hill. 
Pirates during the Byzantine and Ottoman occupations would attack the village, and the locals would move to the hill above the houses to defend against the invaders. Because the ground was so steep in the area, the pirates always failed to capture the hill and often faced losses. As a result, they named the location Kakirachi.
Later, the locals would move lower and rename their village from Bad to Good Hill, or Kallirachi in Greek. Today, Kakirachi is about 15 minutes drive or one hour walk through a dirt road. Once you reach the bottom of the hill, prepare for a steep ascent through several steps.
I guarantee that you'll love the view from the top. You'll be watching all over Skala Kallirachi, Klisma, Plaka, and Skala Sotiros, while you'll have the modern village of Kallirachi right below you!
Tour the Folklore Museum of Kallirachi
Housed in a traditional mansion from 1880, the Folklore Museum of Kallirachi will surprise you with authentic paintings, original furniture, and beautiful textiles. And if that's not enough, the naval photographs will transport you into a forgotten era of fishing and carefree times.
There is no better way to know the intimate customs and traditions of Kallirachi locals in the previous century.
7. View the stone bridges of Kallirachi
In 1750, after Kakirachi was finally destroyed by pirates, the locals moved to the current spot of the village. Because they wanted to connect Kakirachi with Kallirachi, they built several arched stone bridges with the help of Epirotes builders, who were proficient in the job.
Today, you can still admire their work and even walk on old intact stone bridges. Just imagine tracing the steps of 19th-century locals who used the bridges to carry water into their homes.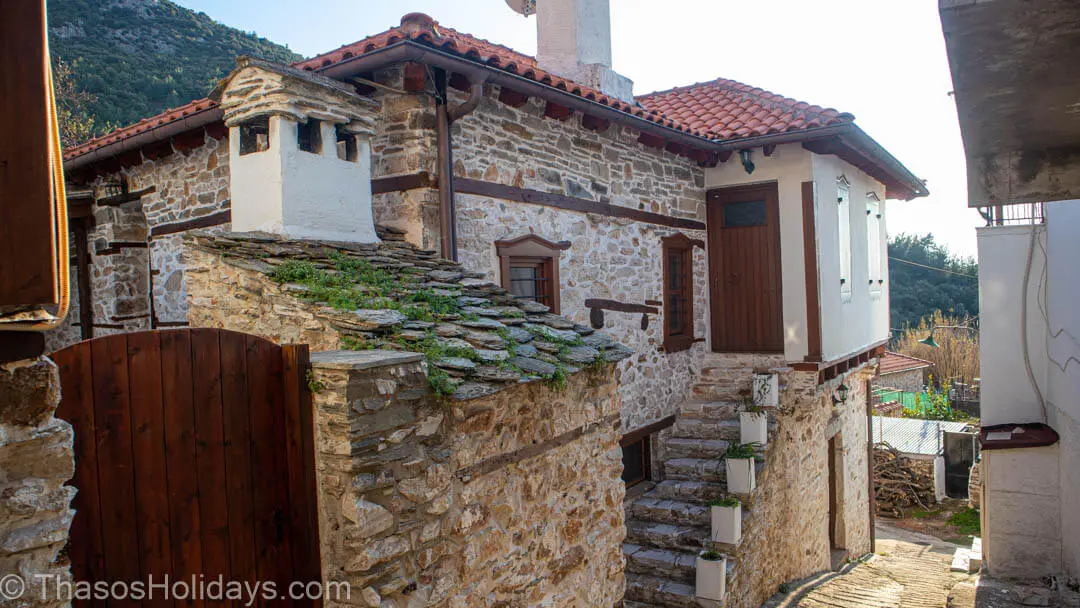 Don't miss the opportunity to savor the delicious Greek cuisine in Kallirachi and the surrounding area. Try traditional dishes like moussaka, souvlaki, and fresh seafood at local tavernas and restaurants.
Explore the coastline of Thassos by taking a boat trip from Kallirachi. Discover hidden coves, swim in secluded beaches, and enjoy the island's breathtaking views from the sea.
Remember to check local guidelines and opening hours for attractions and businesses, as they may vary. Enjoy your time in Kallirachi and Thassos!
10. Go Mountain biking in Kallirachi
If you're looking for something active, you will love Thassos mountain biking in the terrain around Kallirachi.
But even if you don't want to have a workout or break a sweat, you can explore the Kallirachi mountains on an electric mountain bike.
You can even have these e-bikes delivered to your hotel for free! See the bikes here!
I hope this condensed guide about things to do in Kallirachi proves helpful.
If you want to hear of more activities, here are 101 thigns to do in Thassos.
In any case, I would like to hear your opinion about Kallirachi.
Are you looking forward to exploring this traditional village?
Or, if you have been to Kallirachi before, what are your thoughts about it?
Either way, leave a quick comment below now!
And if you like what you see, follow ThasosHolidays on Facebook or share this post!