The Tzines Cave in Thassos
Have you ever been to the Tzines cave in Thassos?
It is probably the most underrated place in Thassos that is not on Google maps yet!
That's weird, especially if you consider it's more than 20,000 years of age!
Here is everything you need to know about the ochre cave with the oldest mining activity in Europe.
Prepare to be amazed!
What is Tzines Thassos
Tzines is a prehistoric cave in Thassos, between the villages of Maries, Limenaria, and Kastro. It dates back to 18,000 BC when hunters from the mainland visited the island to collect ochre. This was possible because, at the time, the island was part of the mainland. The earthquake that gave birth to Thassos as we know it came much later.
What is Tzines cave in Thassos known for?
The 20,000-year-old Tzines is the ochre cave with the oldest mining activity in Europe. Today, it is a somewhat forgotten archaeological destination in Thassos that deserves all the attention you can give.
Not only will your visit allow you to explore such an ancient cave, but it will also be an opportunity to connect with nature and enjoy a short hike. Here is a video of Tzines cave and the view from its entrance:
What is ochre?
Once you enter the Tzines cave in Thassos, you cannot but notice how red its ceilings are. Your hands will even turn red as you may need to grab the ground as you approach its entrance. That red color on your hands comes from ochre, an important earth material that ancient man used for painting and ceremonial purposes.
In more scientific terms, ochre is a mineral consisting of clay, iron oxide, and siliceous materials. In prehistoric times, ochre was as valuable as gold is today. Kings and priests considered it an indispensable part of their formal appearances and ceremonies.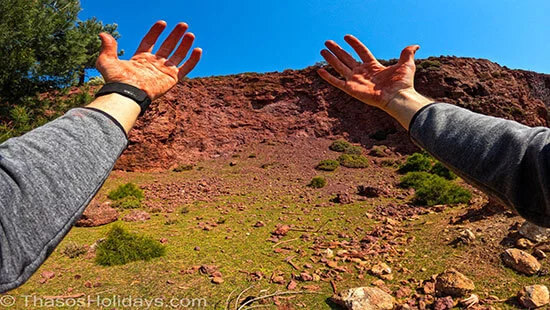 How did Thassos hunters collect ochre?
The prehistoric man used Paleolithic tools made of horn or hematite to extract ochre from the cave walls. Think of deer horns being used as wedges and cobbles as hammers. These cobbles were usually made of marble or slate and were found in the nearby streams.
Archaeologists also found tools made of bones and flint blades. They believe the prehistoric man used spatulas or sharp edges to take the ochre and collect it into specially designed horns. On other occasions, stone percussions or hammers were the main extraction tools.
How did the prehistoric man use ochre?
Although scientists claim we can only speculate, evidence around Europe hints at the use of ochre. When searching ancient tombs, they found ocher pellets and nuggets that probably symbolized blood and life. In other words, ochre may have played a role in funeral rituals.
At the same time, ochre was a vital component of paintings in prehistoric caves. Apart from that, experts also think that ochre could be used to add shadows in ordinary paintings. However, that was most probably an invitation that came later in time.
How to get to Tzines Cave?
The shortest way to get to Tzines cave is to drive until the Maurolakos position, park your car there, and take the path you will see on your left. After you walk about two kilometers, you will see Tzines cave on your left. If you have a keep or 4×4, you can also drive all the way to the cave.
Another option is to rent an electric mountain bike, get to Tzines cave, and explore the area from the comfort of your seat. Once you reach Tzines, you will notice the cave is a bit high, making entering it a bit difficult. So, pay attention to the ground on your way up, use your hands, and you will be okay.
Map of Tzines Cave in Thassos
Currently, Tzines is not on Google Maps, but I have requested to be added. In any case, you may need a map of Tzines cave and the nearby area, so you can know where to park and where exactly you will find Tzines cave. For that reason, I have created a specific map you can download for free today. There, you can also find hyperlinks to the exact location of Tzines cave and the parking spot. You can download the map below:
Conclusion
Tzines cave is probably one of the most undervalued attractions in Thassos, especially if you consider it is more than 20,000 years old. You don't always have the chance to visit such an archaeological venue! If you haven't been there already, it's more than worth the effort.
In any case, let me know what you think about Tzines Cave in the comments below!
And if you like what you see, follow ThasosHolidays on Facebook or share this post!